21mai2:00 pm3:00 pm#BeTheDrum: An IntroductionRemoteRemote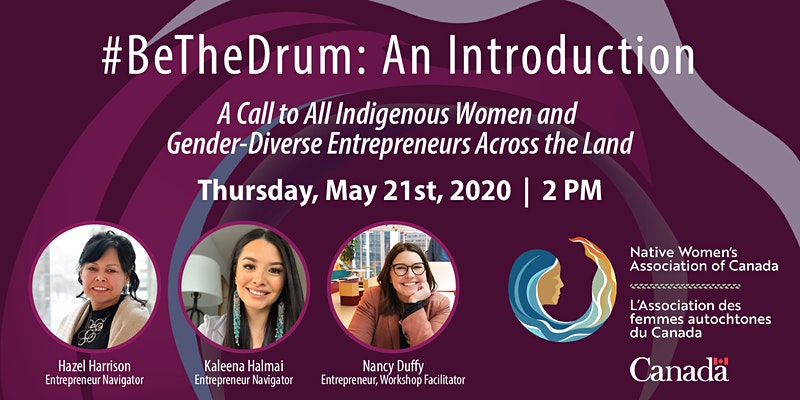 Détails

#BeTheDrum Launch Event for Indigenous Women & Gender-Diverse Entrepreneurs! Program Introduction and the Role of Business During a Crisis
About this Event
With this year's loss of nearly 2 million jobs and the closing of hundreds of businesses across Canada, there's no question that doing business during a pandemic is challenging. But that's what makes this event so timely!
The #BeTheDrum Entrepreneur Navigation Program is a new initiative through the Native Women's Association of Canada to help Indigenous women and gender-diverse entrepreneurs build and grow their businesses in spite of and even especially because of COVID19. The whole world may have come to a standstill… But there are things we can do right now to change our future.
Who Should Attend
Indigenous Women and Gender-Diverse Entrepreneurs across Canada who feel compelled to make a difference through entrepreneurship!
Those already signed up for the program!! If you've already signed up for #BeTheDrum, great! This event will help you maximize the next steps in your journey!
What to Expect
An Introduction to the Navigation Team with more ways to help
A discussion on the role of business during a crisis such as now!
An introduction and discussion of how to become involved in peer support groups within your community!
Discussion on the sharing of resources and technology
Next steps Q&A
This is an exciting opportunity, with no cost to join!
——
Heure

(Jeudi) 2:00 pm - 3:00 pm EDT
Organizer
Entrepreneur Navigation Program, Native Women's Association of Canada