27janv6:00 pm8:00 pmBoss Women Entrepreneurship Training Program 3.0!Remote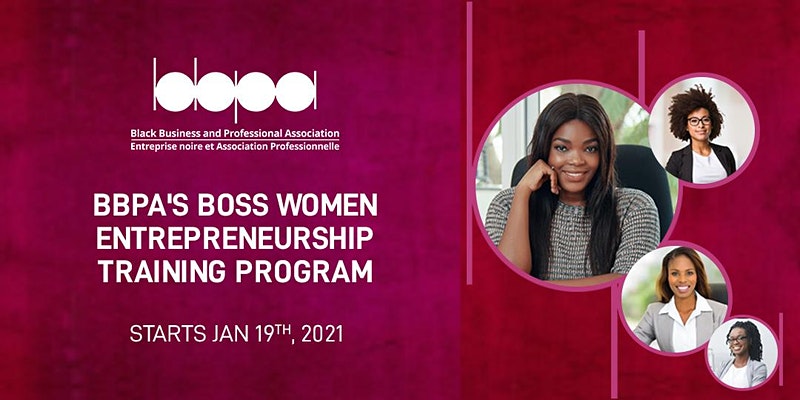 Détails

Join us for an impactful 13week curriculum training program, helping women to become thriving successful bosses in their businesses. Sign Up
About this Event
Wondering what to expect? If you are nursing an idea, thinking of starting a business or scaling up your existing business, or looking for tools to become a more influential boss, then this course is for you!
Nadine Spencer, one of Toronto's most prominent Black female entrepreneurs, together with other influential partners will be teaching a the third cohort of the sort after Master Class BBPA Boss Women Entrepreneurship Training Sponsored by Ryerson.
It's a 13 week long training program with the goal of helping black women across Canada become thriving successful bosses of their businesses. Spencer, president of the marketing agency BrandEq, and president of the Black Business and Professional Association (BBPA), together with facilitators from Ryerson, BDC, Ogilvy, RBC, Google, TJMaxx, Loblaws, Government of Canada and more, will be offering inside tips, tactics and strategies for running a successful business.
Each week these industry professionals will share expert insights to women in this hands on workshop. It will be an immensely practical and engaging session each week.
Sign Up to get your zoom access details!
Heure

(Mercredi) 6:00 pm - 8:00 pm EST
Organizer
Black Business Professional AssociationFounded in 1983, the BBPA is a non-profit, charitable organization that addresses equity and opportunity for the Black community in business, employment, education and economic development. MISSION To advance Canada's Black communities by delivering programs that support business and professional excellence, higher education and economic development. VISION To be the organization of choice serving the Black community's business, professional and economic development needs. PURPOSE To encourage and support the pursuit of entrepreneurship, business, professional excellence, higher education and economic empowerment. To facilitate access to people and resources. To identify and reward excellence in achievement. To establish linkages and co-operate with other organizations on matters pertaining to business, education, economic development and community wellness. To build cross-cultural understanding and promote equity. The BBPA produces the annual BBPA Harry Jerome Awards, a national awards event that recognizes and honours excellence in achievement and supports higher education through the BBPA National Scholarship. In addition, the BBPA sponsors a Black History Month Business Event, The National Black Business and Professional Conference, and we work in partnership with to support community initiatives.