09mars12:00 pm1:00 pmHer-Spective Speaker Series presented by Invest Ottawa and Syntax StrategicRemote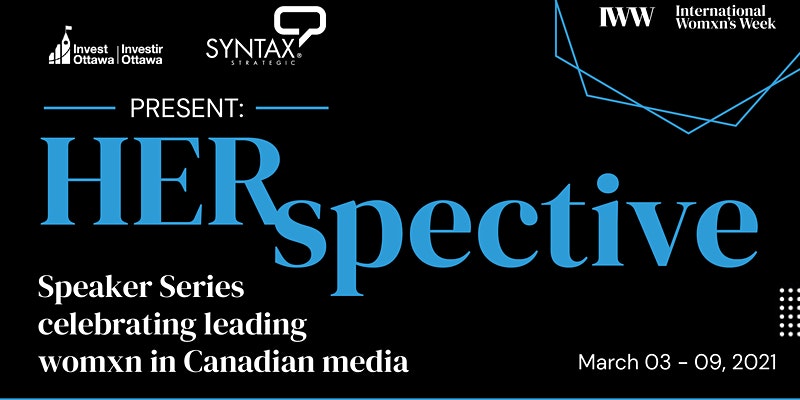 Détails

On March 3rd, 4th and 8th, 9th from Noon – 1 pm EST, Invest Ottawa and Syntax Strategic will lead virtual fireside chats with some of Canada's leading womxn in media.

Through engaging conversations, we will take a deep dive into their lives during the pandemic, what it's like to be in Canada's media in 2021, and chat about balancing personal and career ambitions in one of the world's fastest-moving industries.

Daily Speaker Schedule*:

Wednesday, March 3: Tanya Talaga; Ojibwe author and truth-teller. Tanya is a visionary for Canada's reconciliation journey, with many awards and recognitions to her name. Register by selecting date through Eventbrite or click here

Thursday, March 4: Adrienne Arsenault, Co-Host, The National, CBC TV. Register by selecting date through Eventbrite or click here

Monday, March 8: Farah Nasser; one of Toronto's most recognizable faces in news, Farah Nasser is an award-winning journalist, bringing extensive experience to her role as anchor on Global News at 5:30 & 6 pm. Register by selecting date through Eventbrite or click here

Tuesday, March 9: Susan Delacourt & Julie Van Dusen; a dynamic duo, Susan Delacourt is an award-winning Canadian journalist, current columnist for the Toronto Star and author, and Julie Van Dusen is a Canadian media legend, having reported for CBC News for more than 30 years. Register by selecting date through Eventbrite or click here

To learn more about Invest Ottawa's International Womxn's Week events and initiatives, visit: https://www.investottawa.ca/iww/

*schedule subject change. Note: if you wish to attend multiple Her-Spective sessions, you must register for each event day.
Heure

(Mardi) 12:00 pm - 1:00 pm EST
Organizer
Invest OttawaInvest Ottawa is the lead economic development agency for knowledge-based industries in Canada's Capital, facilitating economic growth and job creation in the City of Ottawa. Guided by a vision to help realize Ottawa's full potential as a globally-recognized, innovative and future-ready city, and the best place to learn, work, live, and play, Invest Ottawa delivers venture development and global expansion programs and services that catalyze the growth and success of entrepreneurs and firms. These include: small business training; mentorship; acceleration for technology firms; foreign business and investment attraction; local business retention and expansion in targeted sectors; commercialization; and marketing Ottawa's diversified economy and high quality of life. Since 2012, Invest Ottawa has worked with thousands of startups, scale-ups and SMEs; helped firms to attract more than $565 million in capital; contributed to the creation of more than 7,670 jobs; and attracted more than $446 million in domestic and Foreign Direct Investment.