30juin1:00 pmEn vedetteNova Scotia Indigenous Women's Entrepreneurship RoundtableRemote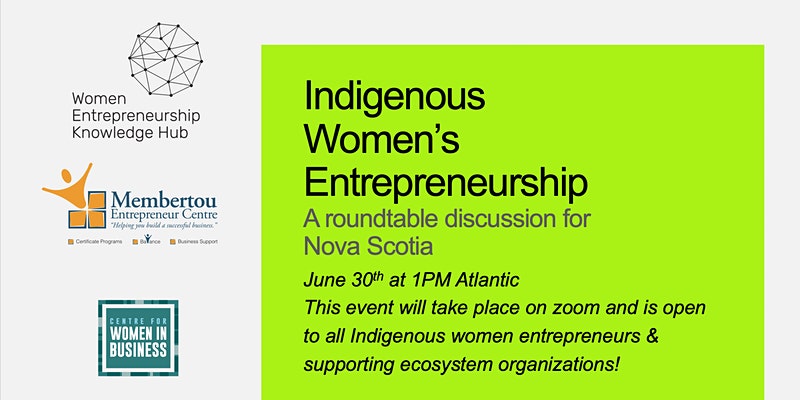 Détails

A virtual roundtable discussing opportunities, challenges, and successes for Indigenous women entrepreneurs in Nova Scotia!
About this Event
The Women Entrepreneurship Knowledge Hub (WEKH) has been working hard with our ecosystem partners on supporting women's entrepreneurship. Ashley Richard is the National Indigenous Outreach and Partnership Development Lead for WEKH and is hosting a series of virtual roundtable discussion events for Indigenous Women entrepreneurs and those organizations supporting them. At these Zoom roundtables, Indigenous women will have the opportunity to share their experiences as an entrepreneur, what needs they have as business owners, any challenges faced, and in light of recent events, will have the opportunity to share how COVID-19 has affected them. The purpose of the roundtables is so that WEKH can put together a comprehensive needs analysis on Indigenous women entrepreneurs.
We are pleased to be joined by the following organizations who will share exciting opportunities they hav available for Indigenous women entrepreneurs:
Women Entrepreneurship Knowledge Hub, Indigenous
Membertou Entrepreneur Centre
Centre for Women in Business
National Aboriginal Capital Corporations Association
Native Women's Association of Canada
Ulnooweg
At this roundtable, we will discuss the following questions:
What does Indigenous women's entrepreneurship mean to you?
What are the barriers Indigenous women face in terms of entrepreneurship?
How has COVID-19 affected your business?
What can we do to improve the situation?
We continue to aggregate a list of resources on the WEKH website for women entrepreneurs as they navigate the current uncertainty. Please let me know if there are any additional links or info that you think should be included: https://wekh.ca/covid-19-resources/
Heure

(Mardi) 1:00 pm ADT
Organizer
Women Entrepreneurship Knowledge Hub (WEKH)