09juil11:00 am12:00 pmThe Future (of Work) is Now: COVID-19 Won't Be Enough to Reach the FutureRemote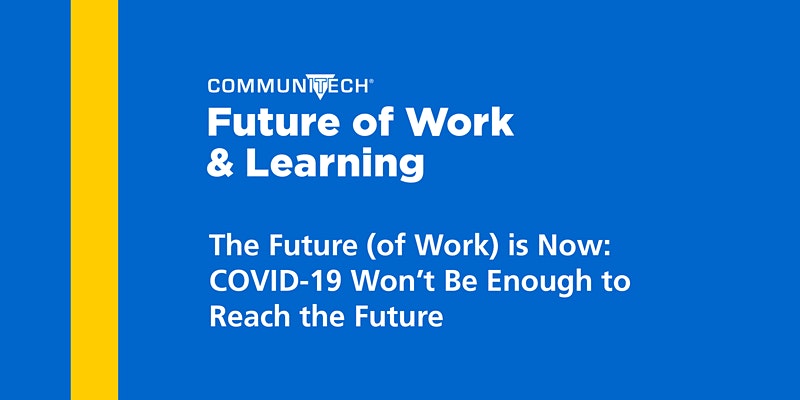 Détails

The Future (of Work) is Now: COVID-19 Won't Be Enough to Reach the Future

Thursday, July 9 , 2020 | 11 a.m. – 12 p.m. ET | Zoom Webinar

Just a few months ago we were under the impression we had more time to get ready for the Future of Work & Learning. The last three months have featured an incredible acceleration of trends including:
The rapid adoption of remote work.
Changes to workplaces.
Online being the primary method for work-integrated and post-secondary learning.
It's an easy time to get excited about how work is changing. However, COVID-19 will not be enough to get us to our best 'new normal'. The way work is currently organized needs a fundamental rethink. What transformations do our organizations need to make to see real change? How do we combat declines in productivity? What are the skills and capabilities needed to move forward? Most importantly, what can your organization do to ensure you are not left behind and be future-ready?
Join us on July 9 for an insightful panel discussion moderated by Deloitte Canada's Future of Work Advisory leader Stephen Harrington on how to proactively design the future.
Panelists:
Jaigris Hodson – Associate Professor at Royal Roads University
Lindsay Gibson – Chief Operating Officer, TextNow
Wendy Cukier – Professor, Entrepreneurship and Strategy, Ted Rogers School of Management and Academic Director, Diversity Institute.
The session will be streamed live using Zoom Webinar. Further details will be provided via email after your registration is complete.
Heure

(Jeudi) 11:00 am - 12:00 pm EDT