Advancing Indigenous Women Entrepreneurs in Alberta
A unique event convening Alberta's Indigenous women entrepreneurs and the ecosystem that supports them.
Celebrate. Connect. Learn.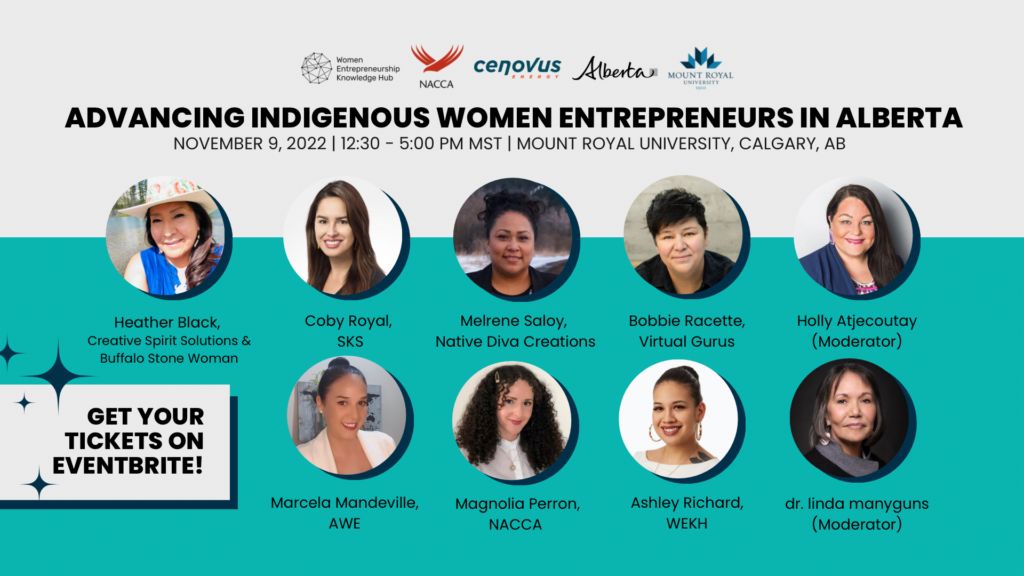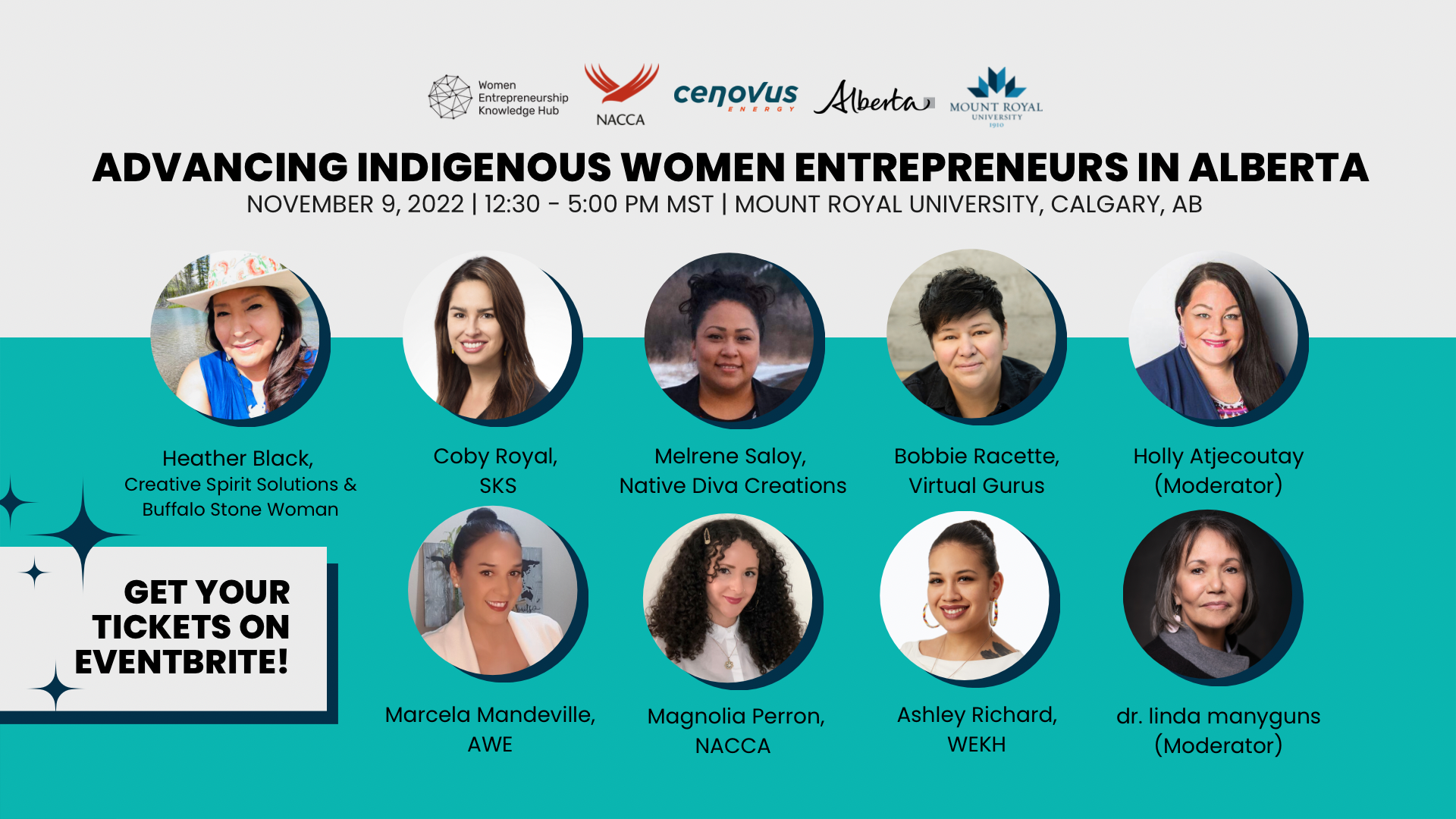 Indigenous women are, and always have been at the very heart of our communities, and today are reclaiming their place and power in the economy. As we journey towards truth and reconciliation, moments of learning help us address current issues and create a better future for Indigenous women and girls, together.
On November 9, you're invited to join us at Mount Royal University for a special in-person event to celebrate Indigenous women entrepreneurs in Alberta.
Indigenous and non-Indigenous women entrepreneurs, innovators, and sector leaders will leave this inspiring afternoon with new connections and new perspectives on how economic reconciliation is an integral part of the future of an inclusive innovation ecosystem.
Don't miss this unique opportunity to connect with other Indigenous women entrepreneurs and the ecosystem that supports you. Register before tickets are gone
Learn more about the wonderful folks that will be joining us for this celebration:
ELDER
Ek-Kanakii Mekaisto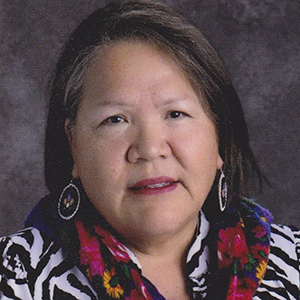 Ek-Kanakii Mekaisto, was raised in Siksika Nation until her Grandmother had a stroke at which time her family then had to move to Calgary to care for her. Ek-Kanakii moved back to Siksika in 1990 (Wanting to be close to her Ancestors (Sikotan…)) Ek-Kanakii has 5 Grown Children and 18+ Grand Children, Ek-Kanakii's grandkids also Pohkaiks she works with call her Kaasee.
Ek-Kanakii's Learning consists of; Bachelor Degrees, A Masters Degree, at present Ek-Kanakii is working on her next Degree.
Ek-Kanakii has been facilitating Helping and healing programs to enhance awareness and build self-worth within the helping field. As an Entrepreneur (Sikotan Ikimmapii®) Ek-Kanakii is passionate about sharing the teaching of the History and Culture of Niitsitapiiks.
As a Residential School Survivor, Ek-Kanakii works daily for her well-being!
EMCEE
Lowa Beebe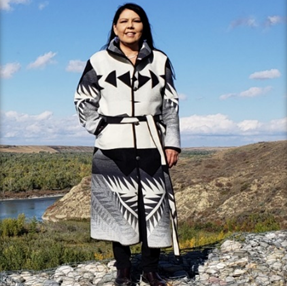 Lowa is a Manager with MNP, an MBA Candidate, and is from the Piikani Nation of the Blackfoot Confederacy & Treaty 7 in Southern Alberta. She is recognized for her work in Public Relations, Advocacy, Governance, Media, Strategy and Communications.
Over the years, she has worked in Indigenous communities locally, provincially, and nationally with First Nation, Inuit and Métis communities in areas such as: Policy, Custom Election Codes, Engagement, Governance, Consultation, Strategic Planning and more. During this experience, she worked directly with Chief and Council Members, Consultation Offices, Land, and Administrations.
Lowa is a radio host, speaker, facilitator, advisor, consultant, trainer, and writer and leads workshops on Indigenous Awareness and has been doing so for 25 years. Lowa was educated at Lethbridge Community College and Athabasca University. She is very active in the community as a volunteer and advocate for Indigenous rights in Canada.
MODERATORS
dr. linda manyguns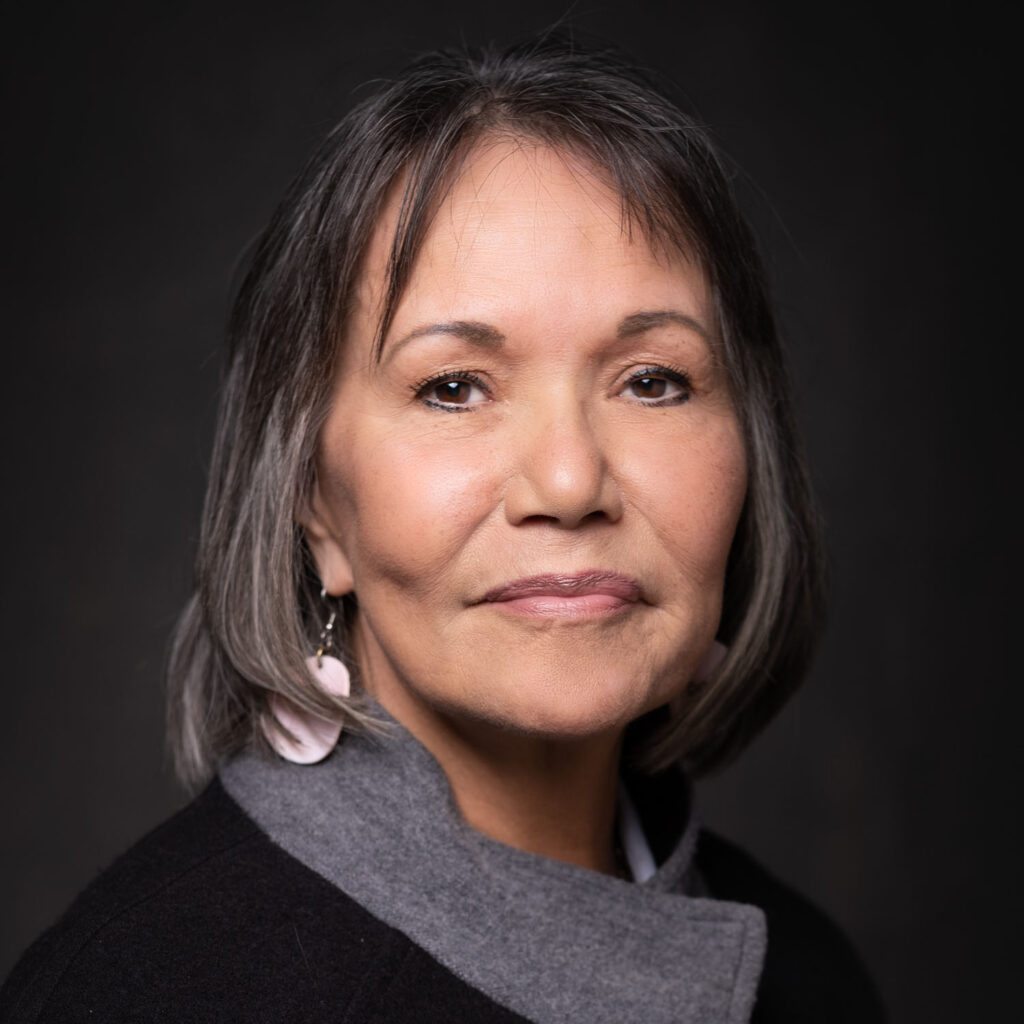 she is a Blackfoot woman born on the tsutina nation, now registered at siksika. she is the grandmother to five children. She grew up in europe as an airforce brat. in early years she worked as a high steel construction worker, a red seal chef, and was a union leader for cupe.
she has 4 degrees: (ba sociology; ma sociology; llb university of ottawa and a ph.d in indigenous philosophy from trent university. at law school, fellow students nominated her for the karim green spon award for outstanding achievement. she worked at the Indian lands claims commission in Ottawa. Was a professor for over ten years and she is now the associate vice president of Indigenization and decolonization at mount royal university.
Holly Atjecoutay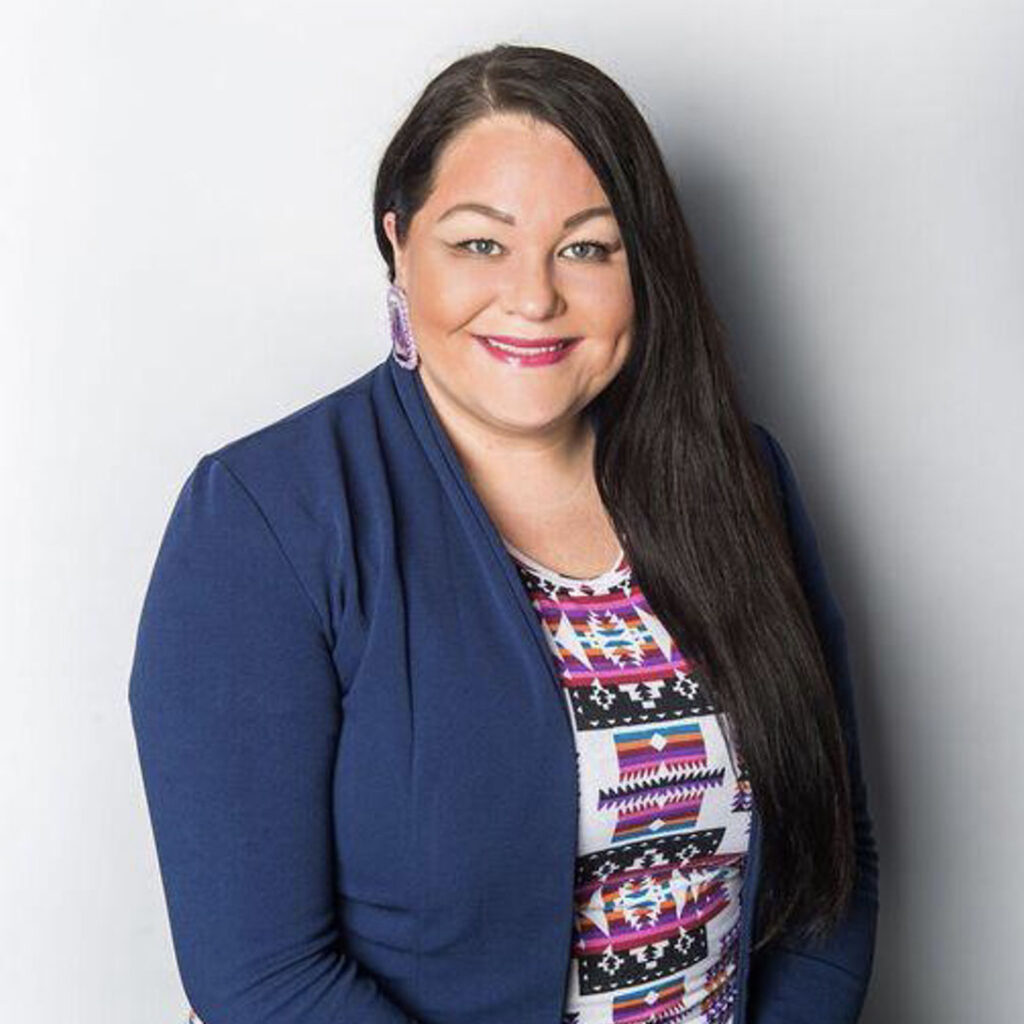 Holly is the Director of the Indigenous Entrepreneur Startup Program at Futurpreneur, leading a team of passionate and knowledgeable Indigenous small business experts across the country. Futurpreneur is a national non-profit organization that provides support, tools, resources, and financing to young entrepreneurs in Canada. Holly is Cree and Saulteaux from Cowessess First Nation in Treaty 4 territory in Saskatchewan and is proud and honoured to call Mohkinstsis (Calgary) in Treaty 7 territory her home. Holly holds a Bachelor of Arts Degree in English with a minor in Indigenous Studies. Her background is in Oil and Gas, Non-profit, Legal, and Community Economic Development, and she has always worked within and alongside rural and urban Indigenous Communities.
Holly's main passion and driving force is challenging and breaking stereotypes of First Nations peoples in mainstream society, encouraging education of First Nations youth, and involvement in Indigenous economic development.
PERFORMERS
Sandra Lamouche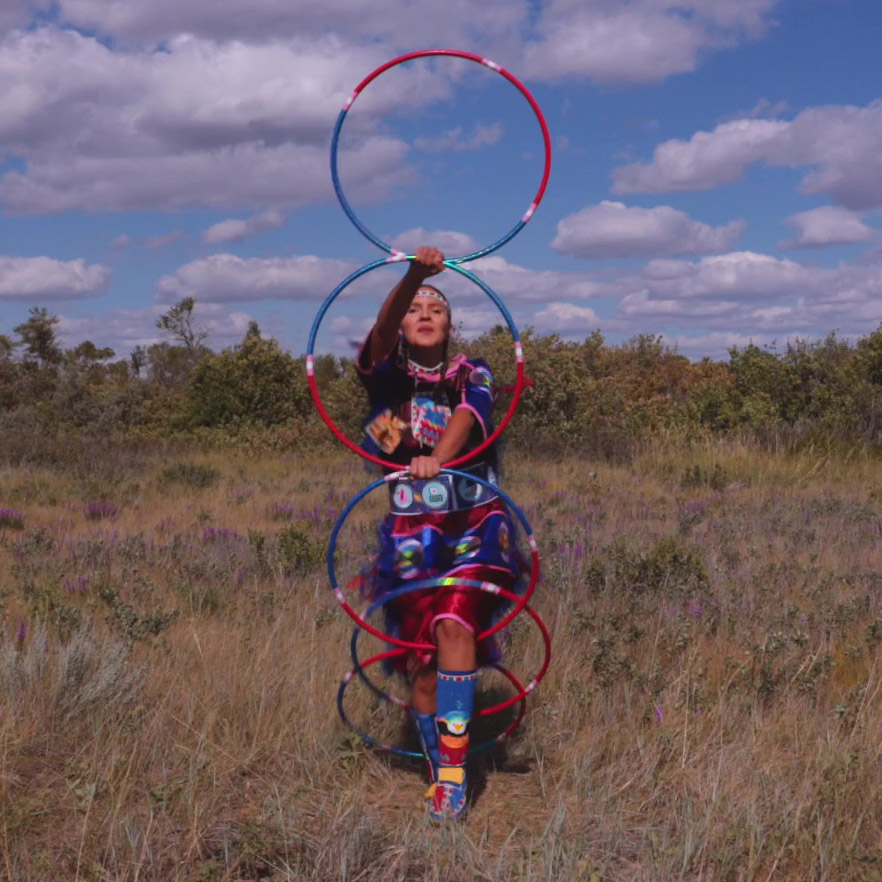 Sandra Lamouche is a Nehiyaw Iskwew (Cree Woman) from the Bigstone Cree Nation in Northern Alberta and married into the Piikani Nation in Southern Alberta and mother to two boys with braids. She completed her B.A. in Native American Studies from the University of Lethbridge in 2007. In 2022 she completed her M.A. at Trent University, titled "Nitona Miyo Pimadisiwin (Seeking a Good Life) Through Indigenous Dance" which examines Indigenous Dance as a Social Determinant of Health and Well Being.
Sandra is a Champion Hoop Dancer, award winning Indigenous Educational Leader, two-time TEDx Speaker, artist, and writer.
Alanna Bluebird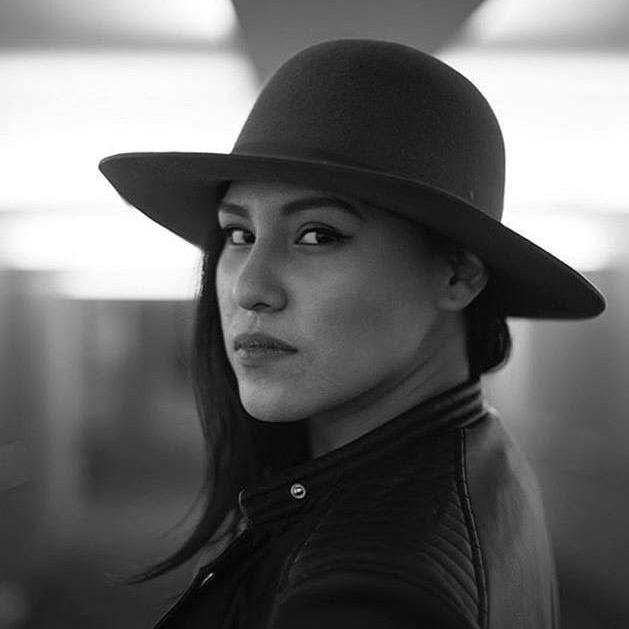 Alanna Bluebird is a human being that comes from the Siksika Nisiitapi and Tsuut'ina Dinatii, in Treaty 7 territory. She makes her living through art that comes from eternal creativity to empower and uplift the next generation of Indigenous youth.
Art is her means of expression through performing arts, dance, poetry, cinematic arts, and quillwork.
vv
ENTREPRENEURS PANEL
Heather Black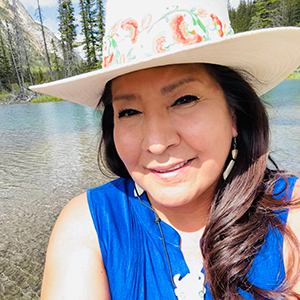 Heather is from the Kainaiwa Nation and her ancestral name, given to her by her grandparents, is O'takii Tsowakii. She is a seasoned entrepreneur who opened her second business, Buffalo Stone Woman, in September 2020. Buffalo Stone Woman was created because Heather recognized the opportunity to share her Indigenous history and culture with people from around Canada and the world in one of the most beautiful places on earth, the Rocky Mountains. She walks the same mountain paths her ancestors did and provides an exclusive Indigenous experience to those who join her.
As a spirited entrepreneur, she is a workshop facilitator, strategist, advisor and always supporting economic development in the Business and Education sectors. Heather also runs Creative Spirit Solutions a consulting organization that supports both start-up and long-term Indigenous business around the country in finding growth and success.
Bobbie Racette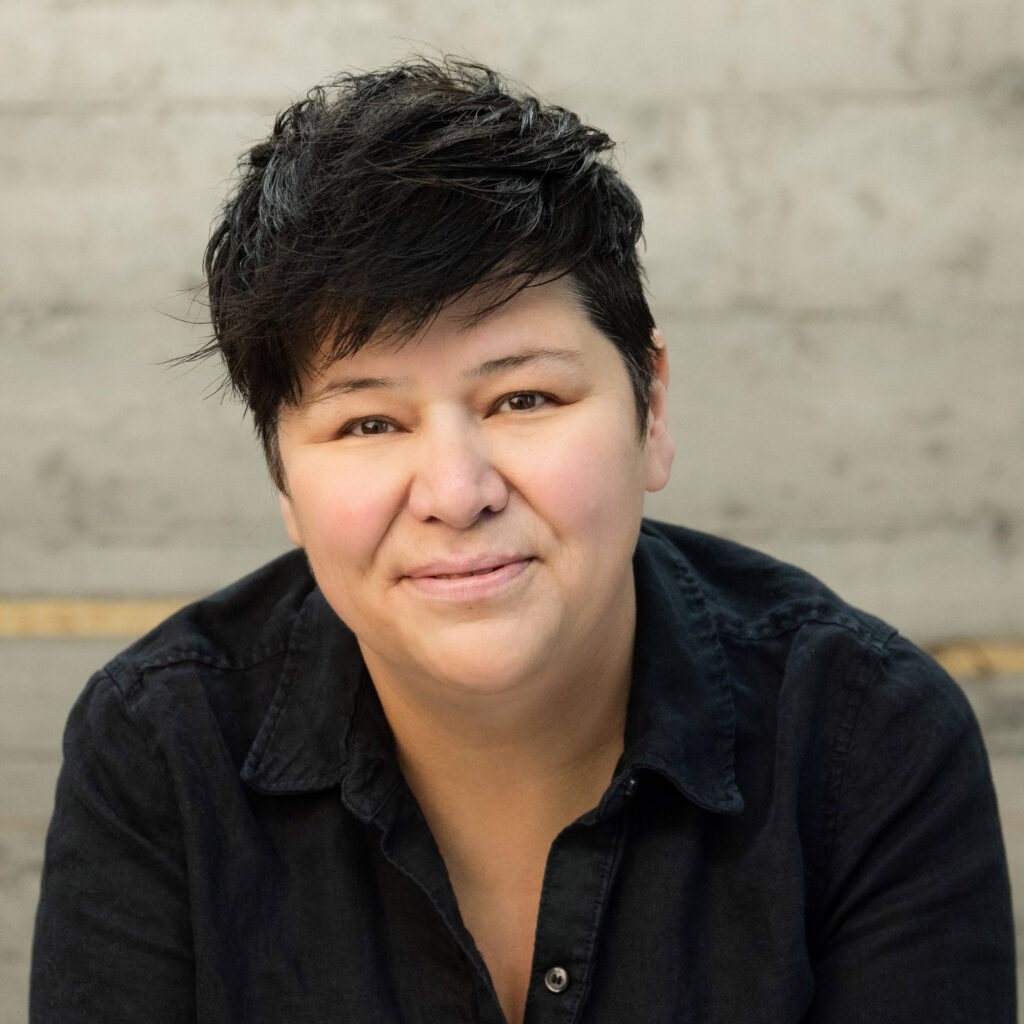 Bobbie Racette is the Founder and CEO of Virtual Gurus, a talent marketplace that leverages proprietary technology to match organizations and entrepreneurs with highly skilled Canadian and American fractional administrative workers. Forbes recently announced Virtual Gurus as one of the top 19 Innovative Tech Startups to watch.
Bobbie is on a mission to create employment opportunities for underrepresented individuals, setting a mandate within her own company that 95% of her workers will identify as female, 65% a part of the BIPOC community, and 45% part of the LGBTQ+ community.
An unstoppable force in the Canadian startup community, Bobbie acts as a mentor for eCommerce North and serves on the Board of the Telus Friendly Future Foundation, helping to build brighter futures for at-risk youth through the power of technology. She's also a member of The51's Community Council and Calgary's CORE Working Group, ensuring the voices of underrepresented folx are included at both local and national levels.
Named as one of 50 Changemakers for 2021 by Report on Business magazine, Bobbie was also recently honoured by Startup Canada as Indigenous Entrepreneur and Woman Entrepreneur of the Year. Bobbie is a Cree-Metis woman who prides herself on building an inclusivity-first company, championing indigenous people and the LGBTQ+ community.
Melrene (EagleSpeaker) Saloy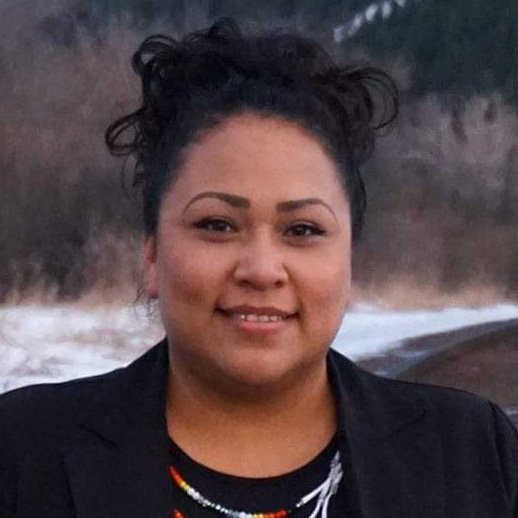 Melrene Saloy is from the Blood Tribe of Southern Alberta, Canada and resides in Calgary, Alberta.
Melrene is the proud mother of two children and has been a small business owner for a little over 4 years. Her business was started with a dream, passion, and a whole lot of support.
Now as an established artist with influences from the beading traditions of her family, the Blackfoot people, and the land, Melrene primarily is a beading artist and jewelry maker, but also includes design, graphic design and mixed media. Combining her love of crafting, beadwork, fashion and business, Melrene developed Native Diva Creations. This blend of traditional and modern sets her jewelry apart from the everyday jewelry and accessories.

Melrene operates her business out of her home and sets up shop at many trade shows, conferences, symposiums and local and international fashion shows, such as Santafr fashion week, NYC fashion week 2021 and will be going to Paris France September 2022. Melrene's products can also be purchased via her e-store and website. Native Diva Creations goods can also be purchased at 12 different gift shops across Canada and the United States. Native Diva Creations also has a strong social media presence on Facebook and Instagram where items can be seen and sold.
Melrene has shared her entrepreneurial journey success and struggles with others through speaking engagements on small business panels to help encourage others in their business endeavors. She also helps fellow entrepreneurs by helping find selling opportunities locally in Calgary as a co creator of Authentically Indigenous.
Coby Royal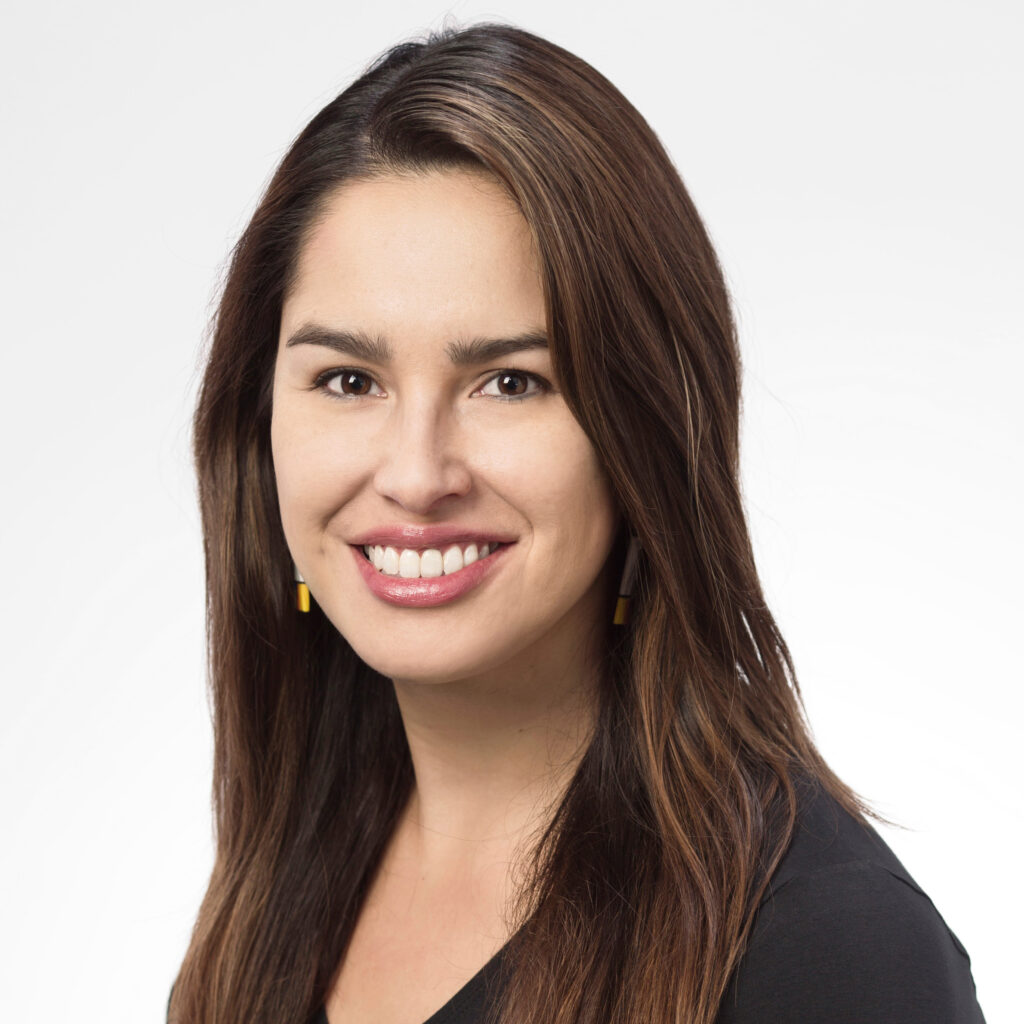 Coby Royal graduated from the University of Lethbridge in 2008. Since graduation, Coby has had many opportunities with the Alberta provincial government and worked over 10 years in various capacities: Advanced Education, Income Support, and Child Welfare. Coby has also worked for the Blood Tribe and Siksika Nation. Coby was also an instructor the Lethbridge College and received an award for her volunteer work for the Lethbridge Aboriginal Community. Coby has experience with boards and committees that support First Nation men, women, and children. Coby has also been able to overcome systemic barriers that First Nation people encounter.
More recently, Coby has begun her venture as a First Nation Consultant and started her own consulting business. Sahmii Knowledge Solutions was involved in the Blackfoot Women's Empowerment Project, and the Indian Business Corporation (IBC) Indigenous Business Women Report. Coby also completed the Indigenous Women in Leadership 2019 Cohort of Coady Institute of St. Francis Xavier University. Currently, Coby is working with Indian Business Corporation as the Business Support Officer under the Indigenous Women Entrepreneurs program.
Erin Creegan-dougherty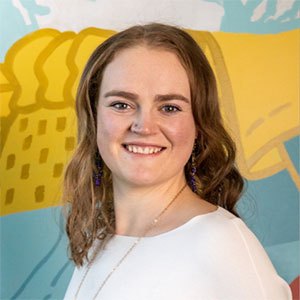 As a student and Métis entrepreneur I am driven by my passion for all things business, food and the outdoors. I grew up in Calgary Alberta, which gave me the chance to spend much of my child hood in the outdoors, it was through this and my experience working in the backcountry and in various businesses that I saw that there was a opportunity to combine Métis culture and nutritious recipes. I also was lucky enough to spend much of my childhood cooking with my grandparents and later working in various food industries both which fostered my love of cooking. All of these experiences are what drives my motivation behind the goal of Maskwa backcountry as a company, as I have the desire to share Métis culture through food and create healthy alternatives to traditional backcountry and prepared foods.
ECOSYSTEM PANEL
Magnolia Perron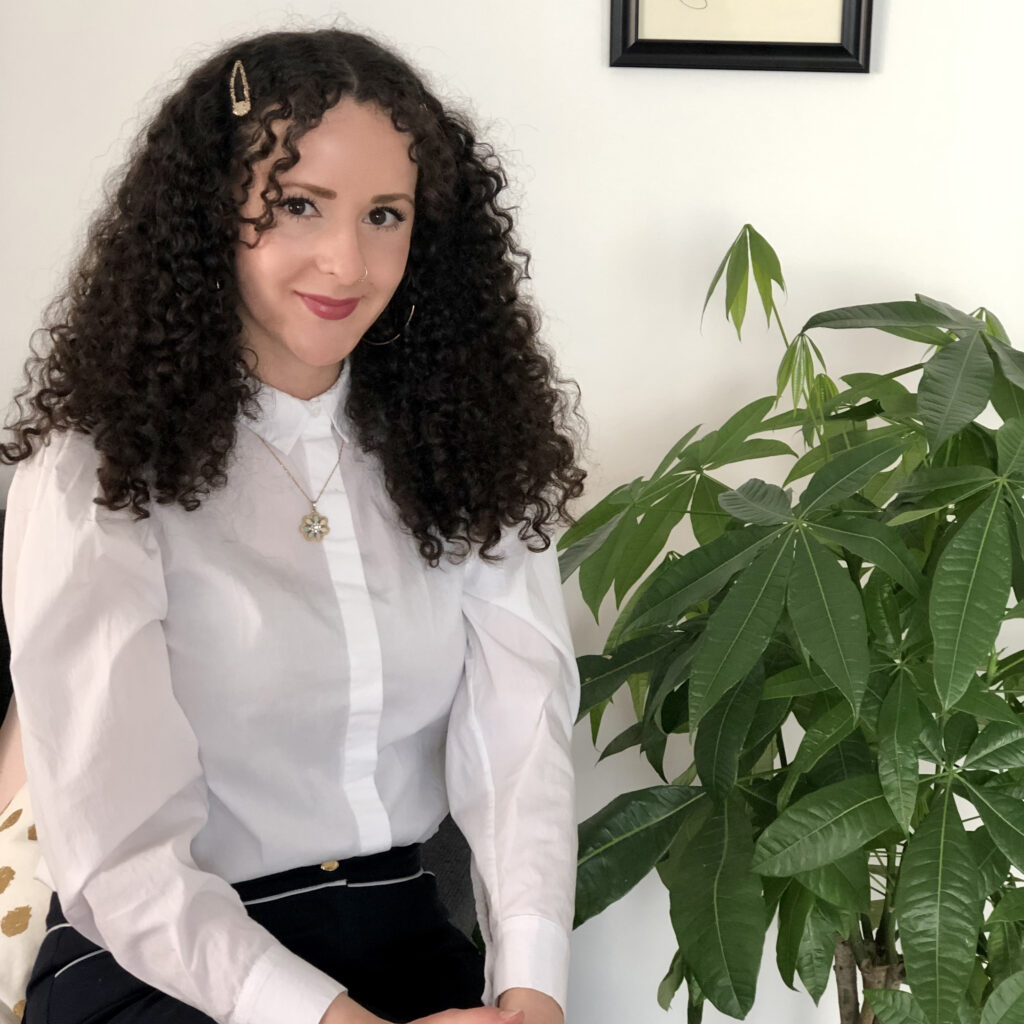 Magnolia Perron is the Indigenous Women and Youth Team Lead at the National Aboriginal Capital Corporations Association (NACCA). She holds a Graduate Diploma in Indigenous Policy and Administration from Carleton University and a Masters in Indigenous Nationhood at the University of Victoria where she focused on entrepreneurship and economic development in Indigenous communities. Magnoliahas experience in advocacy, research, policy, and program development and has worked with many Indigenous non-profit organizations including the BC Association of Aboriginal Friendship Centres (BCAAFC) and the First Nations Information Governance Centre (FNIGC). Magnolia is from Tyendinaga Mohawk Territory and a proud member of the Mohawks of the Bay of Quinte.
Marcela Mandeville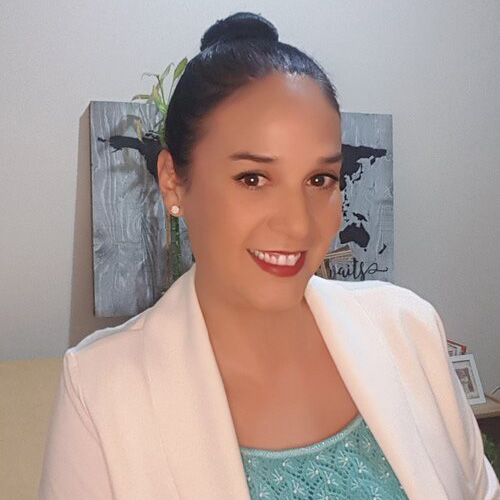 Marcela has explored the world of business through a globally focused business undergraduate degree, designation as a Certified International Trade Professional and more than twenty years of global experience developing and implementing business strategies.
A career highlight has been taking on leadership roles at Alberta Women Entrepreneurs (AWE) to support AWE's goal to build stronger communities and economies through women's participation in entrepreneurship.
Ashley Richard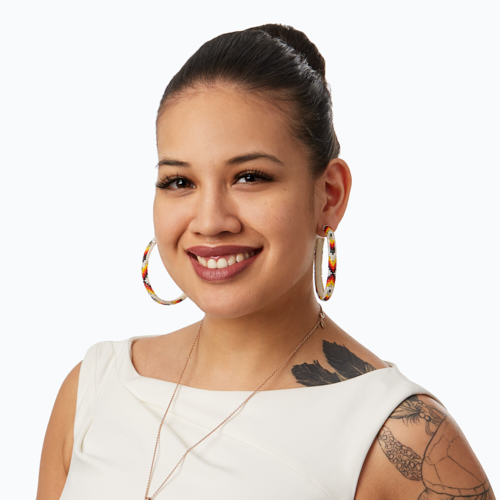 Ashley Richard is a proud Ojibwé and Métis and Filipina woman residing in Winnipeg, Treaty 1 Territory. Her Spirit Name is Forever Woman.
For the past 11 years, Ashley has worked at both the regional and national levels with organizations on their Indigenous programming, including strategic design and partnership development. She completed her Masters at Queen's University in the Masters in Management Innovation and Entrepreneurship program. Ashley sits on the Board of Governors at Red River College and is the Chair of the Walking Together Grants at The Winnipeg Foundation.
Ashley is currently the Associate Director for the National Indigenous Hub, a project with the Women Entrepreneurship Knowledge Hub (WEKH), focussed on building an inclusive innovation ecosystem for Indigenous women entrepreneurs. Outside of WEKH, Ashley's current projects include WellNest, a social enterprise initiative focussed on improving the livelihood and wellbeing of young Indigenous women aging out of care, and contract work in anti-racism training, public speaking, event planning, and research.
Shannon Pestun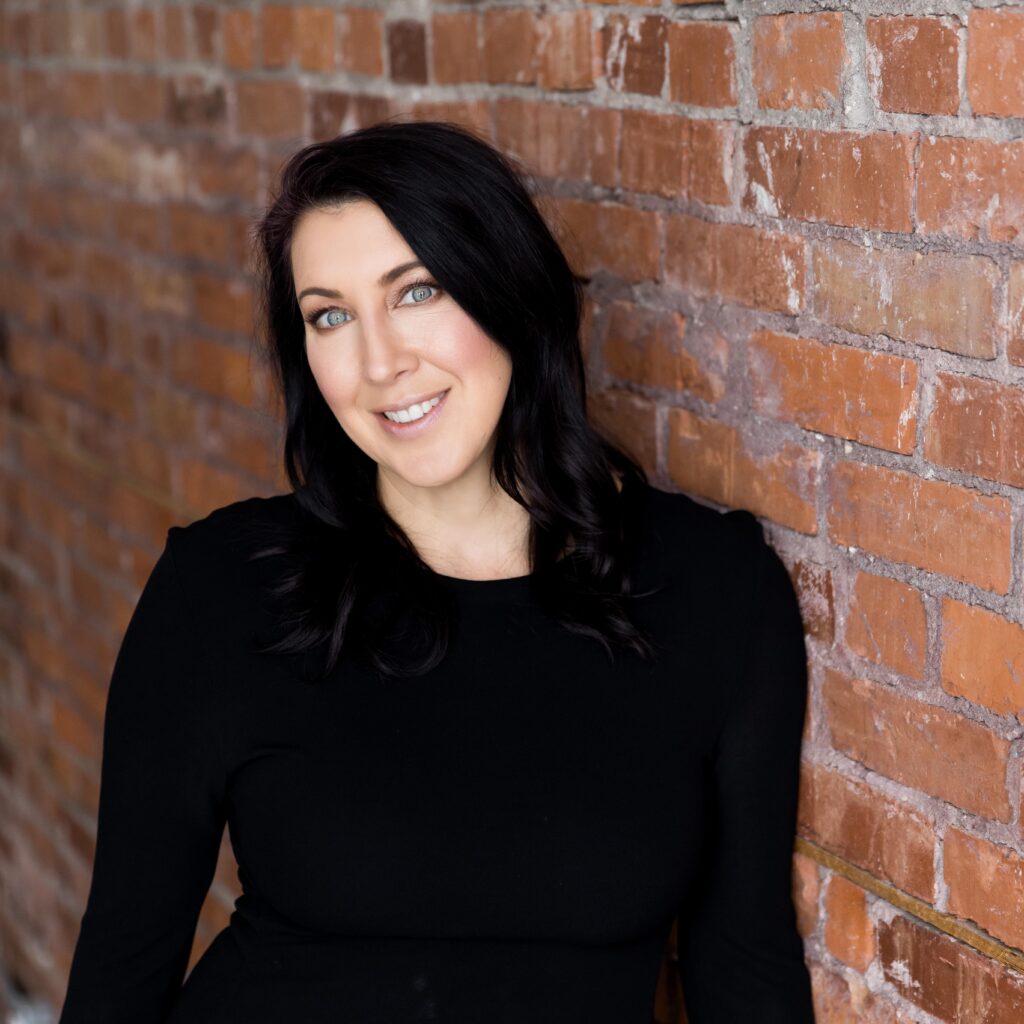 Shannon is the Senior Adviser, Business and Finance for Canada's Women Entrepreneurship Knowledge Hub (WEKH) where she leads WEKH's work in mapping Canada's financial ecosystem and builds programming that increases women's access to financial, social and entrepreneurial capital. Shannon is also the co-founder of The Finance Cafe.
A former business banker, Shannon was one of the first women in the country to lead a women's banking strategy and one of seven women appointed to serve on the expert Panel for Canada's Women's Entrepreneurship Strategy.
As a proud member of the Métis Nation of Alberta, Shannon is committed to bolstering Indigenous economic prosperity and wellness by driving regional economic growth and bringing an Indigenous-centred approach to her work. In 2020, she created the Gifting Circle Bursary for Indigenous women entrepreneurs, the first community-funded bursary that supports Indigenous women who pursue entrepreneurship that to date has raised close to $20,000.
Show your support
Can't attend but want to show your support? Consider supporting the future generation of Indigenous women entrepreneurs by donating to the Gifting Circle Bursary Fund at Mount Royal University. Donate here.
Thank you to our community partners: