See It. Be It.
Women need to see successful entrepreneurs so they can dare to become one.
Introduction
When asked to name three entrepreneurs, many Canadians might think of Steve Jobs, Bill Gates or Mark Zuckerberg. The stereotypes that tie the word "entrepreneur" to [white] men and technology are one of the most challenging barriers women in entrepreneurship face. They shape the way funding programs, training, and incubators are designed, and the way financing and investment decisions are made. Perhaps even more importantly, they shape the aspirations and confidence of women because "If you can't see it, you can't be it." These barriers are amplified for diverse women entrepreneurs.
We need to challenge stereotypes of entrepreneurship in the media, in policies and programs throughout the innovation ecosystem. We need to apply a gender and diversity lens to uncover how biases create barriers. More than anything, we need to celebrate successful women entrepreneurs who serve as role models and inspiration to other women.
The Research
Women Entrepreneurs Beyond the Stereotypes
Download the Women Entrepreneurship Knowledge Hub's new research, See It. Be It. Women Entrepreneurs Beyond the Stereotypes, for more on how gendered and culturally specific assumptions about entrepreneurship present barriers to women.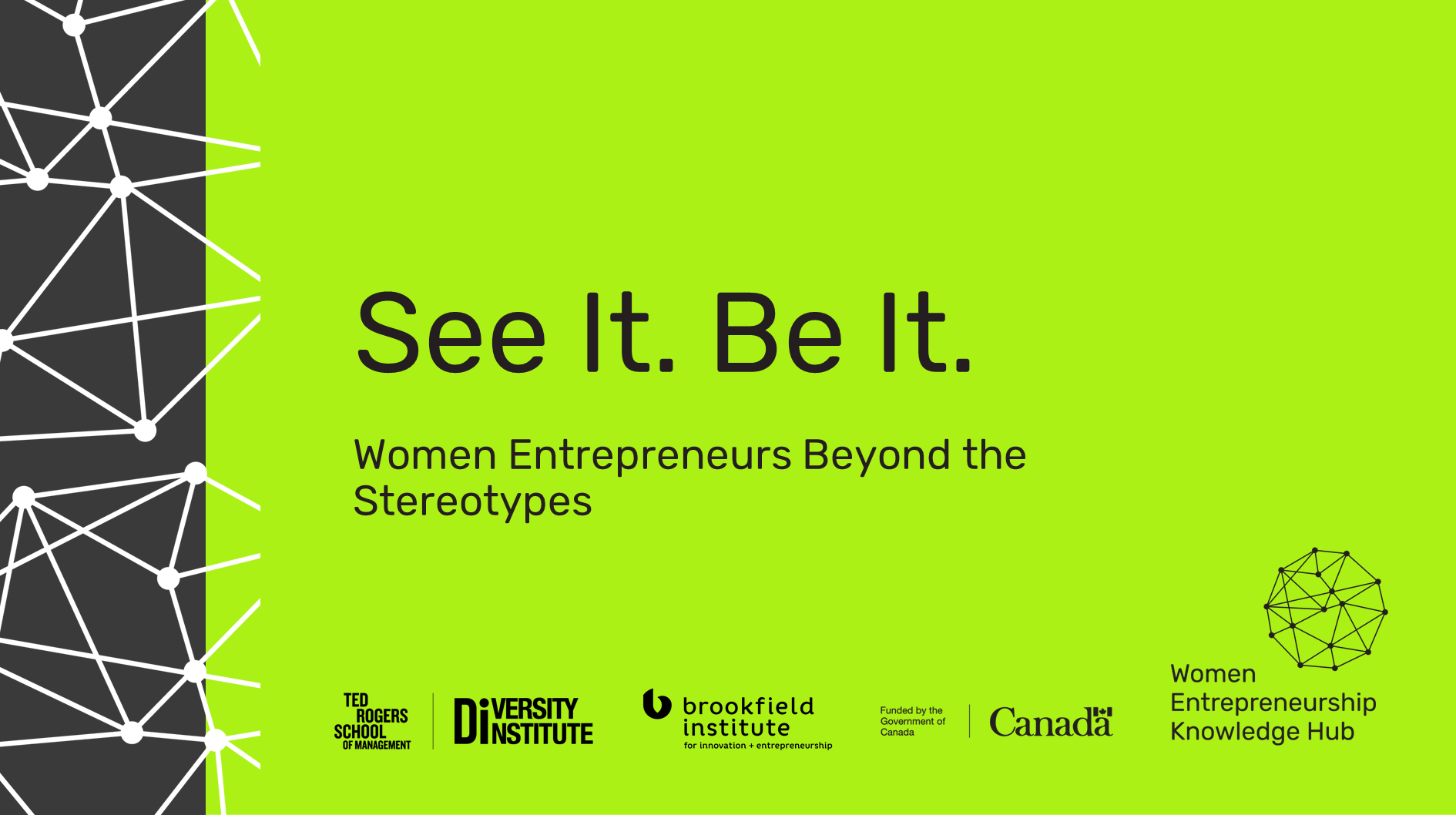 Crushing Stereotypes
Women entrepreneurs, from every corner of the nation, and every sector of the economy, are beating the odds, growing businesses, having social impact and exporting around the world. We already have a database of more than 700 diverse, award-winning, women entrepreneurs and these are but a few of their stories.
Do you know an award-winning, successful woman entrepreneur who should be included in our See It. Be It. database? Please get in touch to submit them for consideration.
Women entrepreneurs are…
Pioneering new technology business models
Shahrzad Rafati
Founder and CEO, Broadband TV – Vancouver, BC
After graduating from computer science at the University of British Columbia. Shahzrad identified an opportunity in the new online video world: to connect content owners, creators, audiences and advertisers. She attracted a $36 million investment in 2013 and built Broadband TV into a global, digital entertainment company – the third largest video property in the world, right after Google and Facebook. Shahzrad is credited with pioneering new technology and business models.
Flying high in transportation
Teara Fraser
LEO and Founder, Iskwew Air – Richmond, BC
For Teara Fraser, LEO and founder of Iskwew Air, the sky is nowhere near the limit. At the age of 30, Teara first realized her passion for aviation while on a flight in Africa. Since then, she's been unstoppable. Teara is a proud Métis bridge builder, commercial pilot and the former CEO of Kîsik Aerial Survey, an air operation she built from the ground up. As a trailblazing pioneer in aviation and the first Indigenous woman to launch an airline in Canada, Teara continues to soar to new heights in uncharted territories.
Developing environmentally friendly products
Patrice Mousseau
CEO and Founder, Satya Organic Skin Care – Coquitlam, BC
Patrice Mousseau is a social entrepreneur impacting global change. She started Satya Organic Skin Care to fulfill a need that hit close to home. After her eight-month-old daughter developed eczema, Patrice knew she had to find a way to help. Today, her organic care products used to treat a number of varying skin conditions are available in 800 stores across Canada. With each purchase of a Satya Stick, funding goes to support environmental projects in developing countries.
Defining social entrepreneurship
Suzanne Siemens
Co-Founder and CEO, Aisle – Vancouver, BC
While feeling dissatisfied and burnt out from her career as a controller of a publicly traded company, a series of traumatizing personal events were the catalyst for Suzanne to switch careers to work that was more meaningful and aligned with her values. She co-founded Lunapads (now known as Aisle) which is a product line of reusable feminine hygiene products and performance underwear. Aisle seeks to remove shame and secrecy around menstruation and bladder leakage, while providing an affordable and sustainable product. Suzanne has no regrets about making the switch: being a social entrepreneur has given her the opportunity to travel, speak, and continuously learn while enjoying a rewarding family life.
Moving money
Geeta Sankappanavar
CEO of Akira Impact, Co-Founder, President, Grafton Asset Management – Calgary, AB
Geeta Sankappanavar is an impact-driven thought leader breaking ground in the energy sector. Through her work as co-founder and president of the Calgary-based corporation, Grafton Asset Management, Geeta invested just over $1 billion to Calgary companies. Geeta has also served on a number of different non-profit and for-profit boards, including Daytona Power Co., UNICEF Canada, Pipestone Energy Corp and the Palix Foundation. In her current role as CEO of Akira Impact, Geeta is advocating for a global agenda that will directly impact gender equality, water and energy projects.
Lifting others while they rise
Manjit Minhas
Co-Founder and CEO, Minhas Breweries, Distilleries and Wineries – Calgary, AB
Manjit Minhas is brewing up a storm in the beer and spirits industry. Manjit runs the 10th largest brewery in the world, which to date has produced over 90 brands of beers, spirits, liquor and wine and is currently worth an estimated $187 m. Over the years, Manjit has branded herself as a standout expert in brand development, marketing, sales management, and brewing operations distribution and manufacturing. Minhas is most widely known for her role as a celebrity judge on Dragons Den, defying gender stereotypes while also paving new pathways for entrepreneurs everywhere.
Bootstrapping ventures
Michele Romanow
Founder, Clearbanc – Calgary, AB
Michele Romanow is an unstoppable force in the sphere of tech entrepreneurship. She's come a long way since starting her first business, a coffee shop founded in 2006 while studying at Queen's University. Now, her long list of accomplishments includes tech entrepreneur, board director, venture capitalist, and television personality as the youngest cast member on Dragon's Den. A self-described "serial entrepreneur", Michele has founded five companies, three of which did not raise any external funding – but now as the co-founder of Clearbanc, a financial services platform for startups, she is focused on providing alternative financing options for young companies struggling to get off the ground.
Leading tech innovation
Katherine Regnier
CEO of Coconut Software – Saskatoon, SK
Coconut Software was born in 2011, after founder and CEO Katherine Regnier took a rather daring move to quit her full-time job so she could focus solely on building the company. Since founding her company, Regnier has successfully raised over $11 million and expanded her team to close to 50 employees. Regnier is a passionate advocate for entrepreneurs and women in technology. She freely shares her knowledge in the efforts to support young women business owners and hopefully open up more opportunities for them in the world of tech innovation. She hopes to one day be seen as a symbol for women everywhere in the fields of tech and STEM.
Transforming health care services
Elba Haid
President and CEO, Realcare Inc. – Winnipeg, MB
Elba Haid is the beating heart behind what compassionate healthcare looks like today. In 1996, Elba founded Real Care Inc, a leader in home and institutional healthcare services. An active member of the community, Elba has served on many boards including the Manitoba Theater Centre and the Canadian National Institute for the Blind (CNIB). In 2018, Elba was instrumental in the development of The Gail Asper Award, which is given to outstanding individuals who demonstrate exemplary leadership in a field. Elba is a passionate advocate for women who donated $100,000 to the Heart and Stroke Foundation as part of a $1 million initiative to save women's lives.
Fuelling success through financial literacy
Evelyn Jacks
Founder and President, Knowledge Bureau – Winnipeg, MB
Evelyn Jacks is the founder and president of Knowledge Bureau, Canada's leading financial national education institute for professionals in the tax and financial services. As a firm advocate of lifelong learning, her career as a respected tax educator has been solely dedicated to helping men and women discover their limitless potential. Evelyn is a prolific author of 55 tax and financial books, on a number of different topics, including personal tax and family wealth management. She is also a national commentator on federal and provincial budgets, tax planning and personal wealth management and made several guest appearances on national media outlets to discuss current tax and economic issues.
Representing Canada on the world stage
Priti Shah
CEO, Praxis Consulting – Winnipeg, MB
Lawyer and consultant Priti Shah is the CEO of Praxis Consulting in Winnipeg. She has been open about her personal experiences with racism in Canada and has dedicated her career to helping individuals and organizations build inclusive spaces. In 1997, she set out to build her own consulting firm and has not looked back. Priti's background as a former legal counsel for the Canadian Disability Rights Council uniquely situated her to provide a wide spectrum of expertise to her clients. What sets Praxis apart from other consulting firms? Praxis offers a unique one-stop shop for legal services as well as workplace culture and development consulting.
Harnessing science to feed the world
Susan Niczowski
Founder and President, Summer Fresh Salads – Toronto, ON
As president of Summer Fresh Salads, Susan Niczowski is adding a dash of passion and brilliance to the food industry. In 1991 she founded her company Summer Fresh Salads with her mother in response to what she saw as a gap in the market for consumers looking for fresh foods that they could grab-and-go. Today, Summer Fresh Salads brings in nearly $100 million in sales a year and continues to grow. Susan has a background in microbiology and uses her scientific curiosity to birth new ideas that will promote fresh, wholesome foods for today's everyday consumer.
Redesigning and building businesses
Mandy Rennehan
CEO, Freshco – Yarmouth, NS
At just 19 years old, Mandy Rennehan founded Freshco, "not the grocery store", one of the largest retail maintenance companies in the country. The now-booming construction empire was birthed out of her early experiences growing up as one of six children in a Nova Scotian fisherman's family. Today, Freshco has three collaborative divisions serving big-name retail brands including Apple, Banana Republic, Bell Media, Home Depot, Nike, RBC, and Tiffany & Co. As a leading business owner, Mandy is a prominent advocate for women in the trades while succeeding to knock down barriers that exist for women in the construction industry.
Redefining brands
Nadine Spencer
CEO, BrandEQ; President, Black Business Professional Association – Toronto, ON
Nadine Spencer is standing out on top in the communications world. As the CEO of BrandEQ Nadine is a top-level branding expert and communicator who helps accelerate strategic growth and brand visibility for leading global non-profit and corporate organizations.  She also applies her considerable talents as the volunteer President of the Black Business and Professional Association (BBPA) which she has built into one of the most influential business organizations in Canada.
Leading technology startups
Emma Todd
Founder and CEO, MMH Blockchain Group – Toronto, ON
Emma Todd is a larger-than-life innovator who is taking the technology world by storm in her role as CEO of the MMH Blockchain Group. As a Black woman serving in the largely underrepresented tech sector, Todd is charting new territory, having gone head to head with some of the biggest tech tycoons in the world. In addition to her work in financial consulting, she is known widely as the host of the world's longest-running mining conference, the largest free blockchain event in Canada.
Taking on the world's "to-do list"
Vicki Saunders
Founder, SheEO – Toronto, ON
For most women entrepreneurs, funding is one of the biggest barriers to the growth of their business. That's why Vicki Saunders created SheEO, an initiative to radically transform how we finance women entrepreneurs. What started out as a crowdfunding campaign has since expanded to a thriving international community on a path to a $1 billion fund. Through SheEO, nearly 100 ventures led and owned by women-identified and non-binary entrepreneurs have received funding from SheEO's radically generous Activators. Vicki is a social-driven entrepreneur who has run four ventures in Europe, Toronto, and Silicon Valley.
Building inclusion
Maayan Ziv
Founder and CEO, Access Now – Toronto, ON
Maayan Ziv is paving the way to a more accessible world, one step at a time. In 2015, she founded AccessNow, a crowdsourced platform designed to map out the most accessible spots worldwide. As a prominent disability advocate, Maayan frequently speaks out in the media to raise awareness on disability issues and work towards greater inclusivity. Currently, she serves as an advisor to the Government of Canada on disability and inclusion initiatives. AccessNow is currently mobilizing voices in an estimated 34 countries around the world.
Crushing stereotypes in tech
Huda Idrees
Founder and CEO, Dot Health – Toronto, ON
Huda Idrees is the Founder and CEO of Dot Health, a real-time personal health data platform. With a background in engineering from the University of Toronto she has had a prolific career at some of Toronto's best known startups including Wattpad, Wave, and Wealthsimple. Her latest venture is transforming the way people access and control their own health information for good.
Leading in fintech
Eva Wong
Co-Founder, Borrowell – Toronto, ON
Eva, a former management consultant, did not have a background in technology or in financial services prior to co-founding Borrowell but rose to the challenge of leading a fintech startup. Borrowell is now one of Canada's largest financial technology companies, with more than 900,000 members and partnerships with most of Canada's financial institutions. Borrowell helps people make great decisions about credit by providing free credit score and report monitoring, automated credit coaching tools, and AI-driven financial product recommendations. The data team at Borrowell is gender balanced, reflecting Eva's commitment to support women in tech and in technical roles.
Scaling passions into empires
Tonia Jahshan
President and Founder, Steeped Tea – Ancaster, ON
Tonia Jahshan turned a passion for loose-leaf tea into a small business, and turned that small business into an empire with more than $20 million annual sales. After appearing on Dragon's Den while 8 months pregnant, she successfully pitched her direct-sales tea company to investors David Chilton and Jim Treliving. Along with other investors, Steeped Tea has grown into a successful company in both Canada and the US. In 2016, Tonia earned the number 1 spot on W100's list of Canada's Top Female Entrepreneurs. As a keynote speaker, Tonia shares her story and seeks to inspire others to follow their passions.
Moving millions
Louise Vonk
Owner and President, Messenger Freight Systems – St. Thomas, ON
After leaving her 9-5 job in banking, Louise Vonk grew the family business Messenger Freight Systems from $1 million to $13 million in annual sales. In a fiercely competitive and notoriously male-dominated industry, her unique approach paid off. Her secret? Great customer service that differentiated the company from others. Despite being named one of Canada's top entrepreneurs by Chatelaine and Canadian Business Magazine in 2014, Louise is perhaps most proud that Messenger's success has brought recognition to her small town of St. Thomas, Ontario.
Investing in their communities
Jenn Harper
Founder, Cheekbone Beauty – Niagara, ON
For Jenn, cosmetics are a powerful tool for self-expression. Seeing a gap in the market for a Canadian-made, cruelty and paraben-free product, she founded Cheekbone Beauty. Cheekbone donates 10% of proceeds to the First Nations Child & Family Caring Society, a non-profit that promotes the safety and wellbeing of First Nations children and their families. Jenn is committed to pursuing her vision of Cheekbone as a socially-responsible enterprise, and turned down an offer from Dragons Den's Vincenzo Guzzo. Jenn aspires to be the first Indigenous woman to run a $1 billion cosmetics company, and become so big that no Indigenous kid will ever question their beauty or their worth ever again.
Growing their businesses and empowering others to do the same
Danièle Henkel
President, Danièle Henkel Cosmetics – Montréal, QC
Danièle Henkel, founder and CEO of Daniele Henkel Enterprises, is a force to be reckoned with in the entrepreneurship world. In her current role, she markets avant-garde and non-invasive technologies for medical aesthetic centers. After fleeing an Algerian civil war, Henkel immigrated to Canada where she created her first product: an exfoliating body glove. She has placed herself at the forefront of health care innovation through the development of medico-aesthetic express services and a wide range of cosmetic products. DanieleHenkel.TV is her platform dedicated to advancing other women entrepreneurs.
Rocking the world stage
Celine Dion
Founder, Feelings Inc. – Charlemagne, QC
Most people may not think "entrepreneur" when they hear "Celine Dion". They should think again. Her company, Les Productions Feeling Inc or Feeling, the Quebec-based artist-management company behind Dion's widely successful career which has spanned the globe, is estimated to be worth almost $1 billion. Singer, producer and artist specialist, Céline is a music icon whose chart-topping hits have charmed millions she is also, like many artists, a consummate entrepreneur.
Harnessing tech to solve pain points
Katherine Homuth
CEO, Sheertex – Montréal, QC
Katherine Homuth is providing a solution to a problem that affects most women throughout their lives.  She makes pantyhose last longer. The Y Combinator graduate raised $14 million for Sheertex, which makes rip-proof pantyhose harnessing leading technology – patent-pending antimicrobial material, made of ballistic-grade fibers, and should last dozens of wears. Sheertex has grown into a business with more than 140 employees that expects $10 million in revenue this year.
Creating inclusive businesses
Vickie Joseph
Co-Founder and General Manager, Nu.i by Vickie – Laval, QC
As an eminent fashion icon, Vickie Joseph is lighting up the global fashion world in elevated brilliance. In 2006, Joseph founded Nu.i by Vickie, an exclusive women's clothing line breaking the mold of traditional beauty stereotypes. She is also cofounder of Groupe 3737, one of the largest private business incubators in Quebec. In 2015, Vickie co-founded V Kosmetik, an inclusive line of cosmetics. Over the years, Vickie and her husband Frantz Saintellemy have invested over 4 million dollars in the neighbourhood of Saint Michel, where she grew up. Vickie – who remains committed to catering to traditionally underserved areas – is a highly inspiring figure for the aspiring female entrepreneur.
Leading in AI
Sarah Jenna
Co-Founder and CEO, My Intelligent Machines – Montreal, QC
Sarah Jenna has a knack for translating research into business, which has allowed her AI startup My Intelligent Machines (MIMs) to thrive. She is a Professor in Genomics at the University of Quebec in Montreal, as well as the CEO and co-Founder MIMs. MIMs is a leader in artificial intelligence and systems biology, and is one of five companies in Canada to be selected for a Google Accelerator targeting the most promising women-led startups. Sarah leads a gender balanced team, with half the team (including more than half of the executive team) being composed of women.
Using science to impact the world
Natasha Dhayagude
Co-Founder Chinova Bioworks – Moncton, NB
Natasha Dhayagude is a young scientist cooking up some big things in the food-tech department. In 2016, she co-founded Chinova Bioworks, a food technology company seeking to impact the world positively through their innovative solutions. In her role as CEO and co-founder at Chinova Bioworks, Dhayagude developed a world-shattering piece of technology – a clean-label perseverative derived from mushrooms. Over the years she has successfully raised an estimated $2.5 million in investments and was also instrumental in forming strategic partnerships with several multinational food producers in the food tech industry.
Providing innovative strategy
Cynthia Dorrington
CEO, Vale and Associates – Halifax, NS
Cynthia Dorrington, owner and CEO of Vale & Associates, has an other-centred approach to business. Established in 2004, Vale & Associates specializes in producing strategic management, business consulting and HR services to organizations. For over two decades, Cynthia has excelled at providing small-to-mid businesses in three continents with the keen foresight to strengthen and expand their reach for greater impact. In 2018, Cynthia was appointed as the chair of the Halifax Chamber of Commerce's board of directors and is now sits on the Chamber's board of governors. She was the fourth woman and the first African-Nova Scotian to serve as chair in the organization's 268-year history.
Nourishing their local economies
Sheena Russell
Founder and CEO, Made with Local – Dartmouth, NS
Sheena was born and raised in rural PEI, and maintains her deep roots in the maritime community as the founder and CEO of Made With Local. She strives to nourish the East coast market with healthy snacks made with locally-sourced ingredients. Made With Local's commitment to supporting local extends to their workforce – they partner with social enterprises committed to employing those with barriers to employment, including those with intellectual or physical disabilities. The federal government recently invested $100,000 in the company to scale up operations. From early beginnings at farmers markets, Made With Local products can now be found in over 1,000 stores including Sobeys, Loblaws, and Whole Foods.
Doing well and doing good
Zita Cobb
Founder and CEO, Shorefast – Fogo Island, NL
Zita Cobb is the founder and CEO of Shorefast and Innkeeper of the Fogo Island Inn. After completing high school on Fogo Island, Cobb decided to pursue business in her efforts to gain insider knowledge on the global economic systems that had disadvantaged Fogo Island and numerous other small communities, resulting in their gradual demise.Shorefast has a suite of charitable initiatives, including Fogo Island Arts,  the world-class artist-in-residence program Fogo Island Arts and innovative social businesses whose operating surpluses are reinvested in further community development work. Following her success as a successful high-tech innovator, she applied the same entrepreneurial knowhow into transforming Fogo Island and putting it on the map as a unique, luxury tourism destination.