15octJournée complèteAccelerateOTTRemote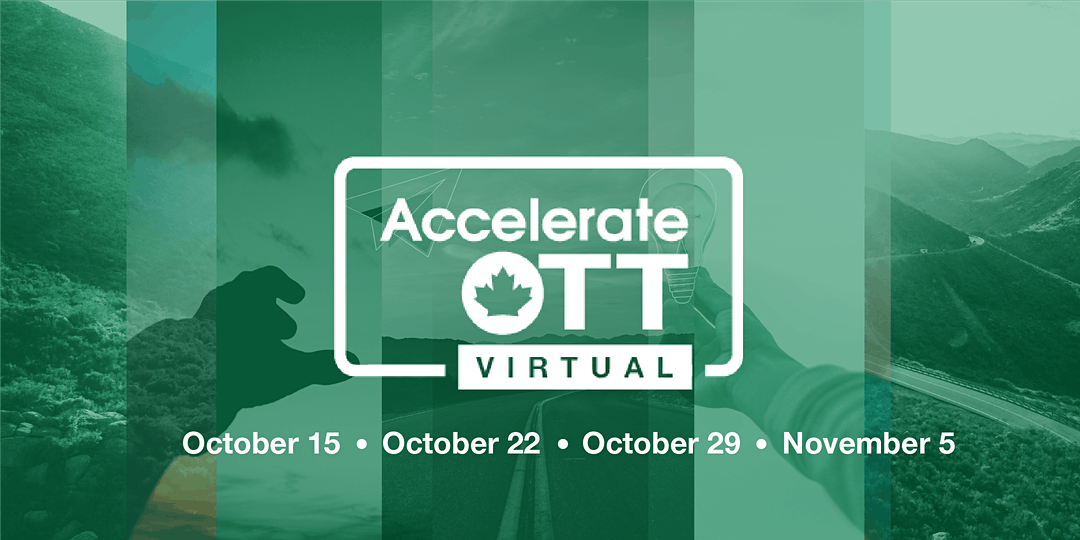 Détails
AccelerateOTT 2020
Different delivery. The same epic event.
Now in its eighth year, our annual flagship entrepreneurial conference has gone virtual. AccelerateOTT 2020 kicks off on October 15. Instead of just one high-impact day, we're bring the actionable insight and meaningful connections to you four weeks in a row.
If you're an entrepreneur, investor, or looking to advance your business, mark your calendar.
What this year looks like
Every Thursday afternoon, for four Thursdays in a row, join in. Watch an exciting $100,000 pitch competition. Listen to top speakers from Ottawa and around the world. Learn from impressive panelists with raw experience. And do it all from anywhere you want.
Oh and did we mention – tickets are free!
Here's what you can expect:
4 easy-on-your-schedule sessions
4 hot topics
8+ hours of content
20+ speakers and panelists
1 pitch competition, 10 womxn founders, 1 winner for $100,000
$0 from your bank account
Heure

Journée complète (Jeudi)
Organizer
Invest OttawaInvest Ottawa is the lead economic development agency for knowledge-based industries in Canada's Capital, facilitating economic growth and job creation in the City of Ottawa. Guided by a vision to help realize Ottawa's full potential as a globally-recognized, innovative and future-ready city, and the best place to learn, work, live, and play, Invest Ottawa delivers venture development and global expansion programs and services that catalyze the growth and success of entrepreneurs and firms. These include: small business training; mentorship; acceleration for technology firms; foreign business and investment attraction; local business retention and expansion in targeted sectors; commercialization; and marketing Ottawa's diversified economy and high quality of life. Since 2012, Invest Ottawa has worked with thousands of startups, scale-ups and SMEs; helped firms to attract more than $565 million in capital; contributed to the creation of more than 7,670 jobs; and attracted more than $446 million in domestic and Foreign Direct Investment.