02mars12:00 pm4:30 pmImmigrant Womxn Entrepreneur WorkshopRemote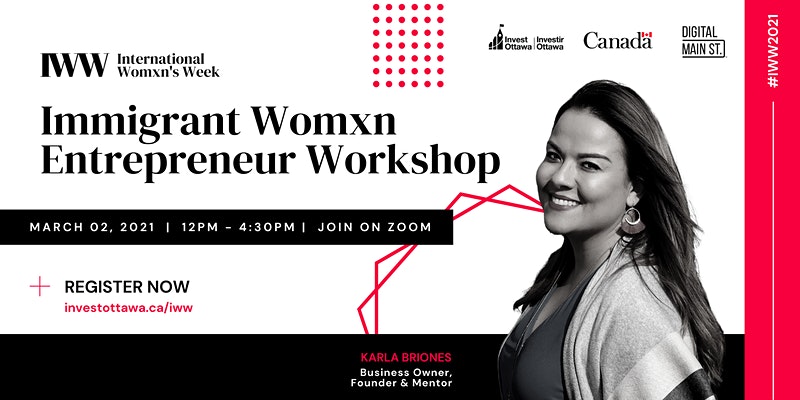 Détails

Immigrants Developing Entrepreneurs Academy presents this short-form introduction to entrepreneurship in Canada. This workshop is designed for newcomers who identify as women and are at the early stages of their entrepreneurial journey. It's broken down into three modules.

Each module helps build a stronger business foundation. The modules cover the business environment, resources available to newcomers, and tried-and-true methods for developing and validating viable business ideas based on Canadian benchmarks.

Students will finish the workshops with:
A solid understanding of what is available to them to get started in Canada.
The tools and strategies to use to come up with viable business ideas
Knowledge on how to research business idea's potential success in Canada.
An understanding of how to create a simple business model canvas before getting started
A new network of fellow immigrant women interested in entrepreneurship – the beginning of an encouraging and supportive community
Workshop breakdown:
Module 1 – Business Culture and Community in Canada (1.5 hours)
Module 2 – What business to open in Canada (1.5 hours)
Module 3 – Business Model Canvas (1 hour)
All students will leave the workshop with the following tangible takeaways:
A downloadable resource workbook with guides, templates, checklists and cheat sheets that will help you apply what you've learned.
A live follow-up one-hour private group session one month after the workshop.
This workshop is offered as a part of a series of workshops delivered during International Womxn's Week, supported through the Digital Main Street Program.
Heure

(Mardi) 12:00 pm - 4:30 pm EST
Organizer
Invest OttawaInvest Ottawa is the lead economic development agency for knowledge-based industries in Canada's Capital, facilitating economic growth and job creation in the City of Ottawa. Guided by a vision to help realize Ottawa's full potential as a globally-recognized, innovative and future-ready city, and the best place to learn, work, live, and play, Invest Ottawa delivers venture development and global expansion programs and services that catalyze the growth and success of entrepreneurs and firms. These include: small business training; mentorship; acceleration for technology firms; foreign business and investment attraction; local business retention and expansion in targeted sectors; commercialization; and marketing Ottawa's diversified economy and high quality of life. Since 2012, Invest Ottawa has worked with thousands of startups, scale-ups and SMEs; helped firms to attract more than $565 million in capital; contributed to the creation of more than 7,670 jobs; and attracted more than $446 million in domestic and Foreign Direct Investment.