21oct3:30 pm5:00 pmInnovate 2020 with the CWB, DNS & WEKHAn annual celebration of innovation and diversity and tech.Remote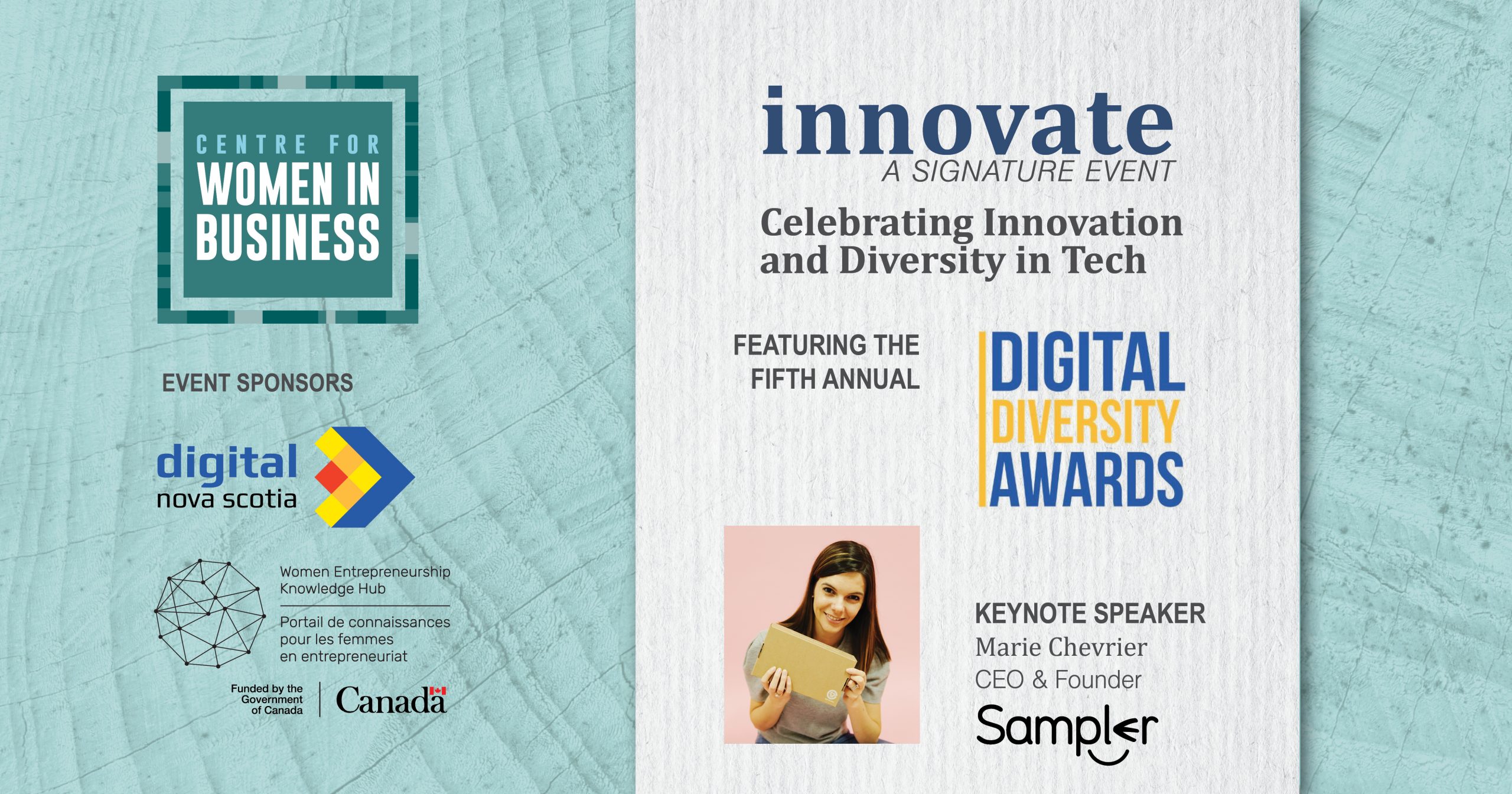 Détails

You're invited! Join the Centre for Women in Business in Nova Scotia, Digital Nova Scotia and the Women Entrepreneurship Knowledge Hub on Wednesday, October 21 from 3:30-5pm AST for our annual INNOVATE event celebrating innovation and diversity in technology. This free, online event will feature virtual networking, award presentations, and a keynote that you won't want to miss.

Now in its fifth year, the Digital Diversity Awards presented by Digital Nova Scotia continue to highlight inspiring and influential female leaders working in the information and communication technology sector in Nova Scotia.

This year, we are pleased to welcome Marie Chevrier, Founder and CEO of Sampler, as our keynote speaker. Sampler is the leading direct-to-consumer product sampling platform, allowing brands such as L'Oréal and Nestlé to target, track and measure their sampling programs from start to finish.

Marie will be joined on our virtual stage for an armchair style chat with Dr. Wendy Cukier. Dr. Cukier is the Founder of Ryerson University's Diversity Institute. Wendy also leads the Women Entrepreneurship Knowledge Hub (WEKH) made up of 10 regional hubs, including a network of over 250 organizations such as CWB. The WEKH reaches more than 100,000 women entrepreneurs and is aimed at developing an inclusive innovation ecosystem.
Heure

(Mercredi) 3:30 pm - 5:00 pm
Organizer
Centre for Women in Business - Nova Scotia