27août10:00 amVoices of Youth - What Really Matters to Be Successful at Work and as an EntrepreneurRemote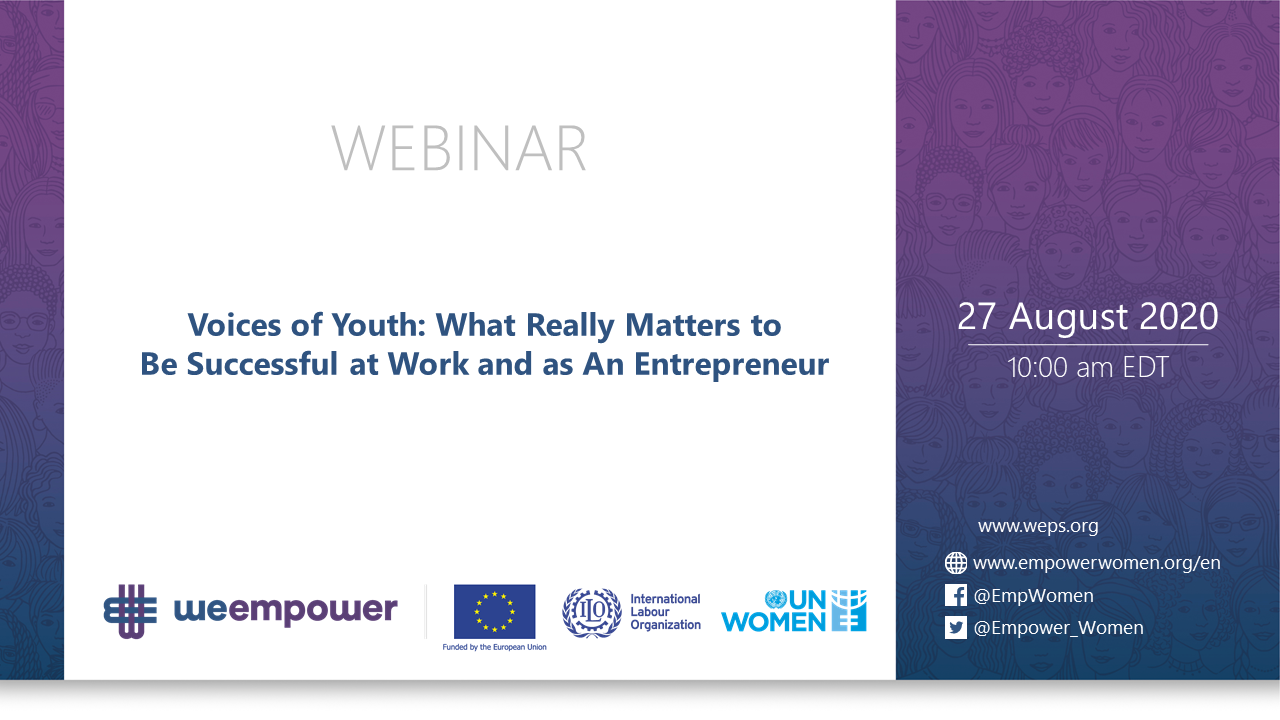 Détails

August marks the celebration of two important days: The International Youth Day (12 August) and the World Entrepreneurs' Day (21 August 2020).

The theme of International Youth Day (IYD)2020, "Youth Engagement for Global Action" seeks to highlight the ways in which the engagement of young people at the local, national and global levels is enriching national and multilateral institutions and processes, as well as draw lessons on how their representation and engagement in formal institution can be significantly enhanced. The aim of IYD 2020 was to shed light on the need to enable the engagement of youth by making local, national and global institutions more inclusive for the purpose of strengthening their capacity (and relevance) to achieve global action. International Youth Day gives an opportunity to celebrate and mainstream young peoples' voices, actions and initiatives, as well as their meaningful, universal and equitable engagement.

Every year, 21 August is the World Entrepreneurs' Day (WED). The purpose of the WED is to create awareness for entrepreneurship, innovation, and leadership throughout the world. WED is the perfect day to celebrate the people who starts a business alone. WED is the day of founders, managers, producers, contractors, industrialists, innovators, administrators, designers, and producers. WED is a great opportunity to feature women entrepreneurs and speak about their accomplishments.

WE EMPOWER G7 Programme is organizing the Voices of Youth: What Really Matters to Be Successful at Work and as an Entrepreneur to explore what are the policies and support mechanisms governments and companies need to establish to allow youth professionals to progress in the workplace and as an entrepreneur.

Another important element to discuss are the skills needed in the current world of work. Due to the Covid-19 pandemic the world is becoming increasingly digital and digital skills are now more critical than ever as we build a new normal that is more digital, more sustainable and more innovative in setting up systems that advance gender equality in the workplace, marketplace and community.

The private sector is a key actor in the discussion. Young people are more willing to work for companies or build businesses that care and support the Sustainable Development Goals, the Women's Empowerment Principles, respect human rights, gender equality and have a reach diversity and inclusion policy.

A Nielsen survey revealed that 66 per cent of global respondents, both women and men, said they were prepared to pay a premium for products and services from companies that are committed to positive social and environmental impact. Young women and men are also increasingly requesting information from companies regarding their corporate commitment to diversity, inclusion and gender equality in supply chains.

Committed companies lead by example, showcasing their commitment to gender equality and women's empowerment. Community leadership and engagement can take many forms. Companies can leverage influence, alone or in partnership, to advocate for gender equality and collaborate with business partners, suppliers, and community leaders to promote inclusion.
Heure

(Jeudi) 10:00 am EDT