Procurement Resource Guide
Governments and corporations are among the largest buyers of goods and services in Canada. Yet procurement processes are not well understood and not often on the radar screens of women entrepreneurs.
This guide defines specific terminology relating to procurement and includes the Demystifying Procurement & Diversifying the Supply Chain webinar series, research on perceptions of supplier diversity, and resources to empower diverse women entrepreneurs seeking and competing for procurement opportunities.
Key Terms
Procurement
The process by which a government, corporation or organization buys the products or services it needs from other organizations
Diverse Supplier
A business that is owned, operated, and controlled at a minimum of 51% by one or more women, Indigenous Peoples, other equity-deserving groups, and persons with disabilities
Supplier Diversity
A strategic process that aims to provide diverse suppliers with an equal opportunity to do business with major corporations or governments across Canada
Inclusive Procurement
The process of diversifying a company's supply chain by intentionally doing business with newer, smaller, diverse or innovative suppliers
Social Enterprise
A business with a core social, cultural or environmental mission that reinvests the majority of profits into their mission.
Social Procurement
An effort to use existing purchasing to capture social, economic, cultural, environmental and/or workforce planning objectives to achieve overarching institutional, governmental, or individual goals that help shape inclusive, vibrant and healthy communities
"When we talk about rebuilding better, procurement is—without question—one of the largest strategic levers we have" – Wendy Cukier, Founder & Director, Women Entrepreneurship Knowledge Hub
"Every purchase has an economic, environmental and social impact—whether intended or not" – Tori Williamson, Director of Education & Communications, Buy Social Canada
Demystifying Procurement & Diversifying the Supply Chain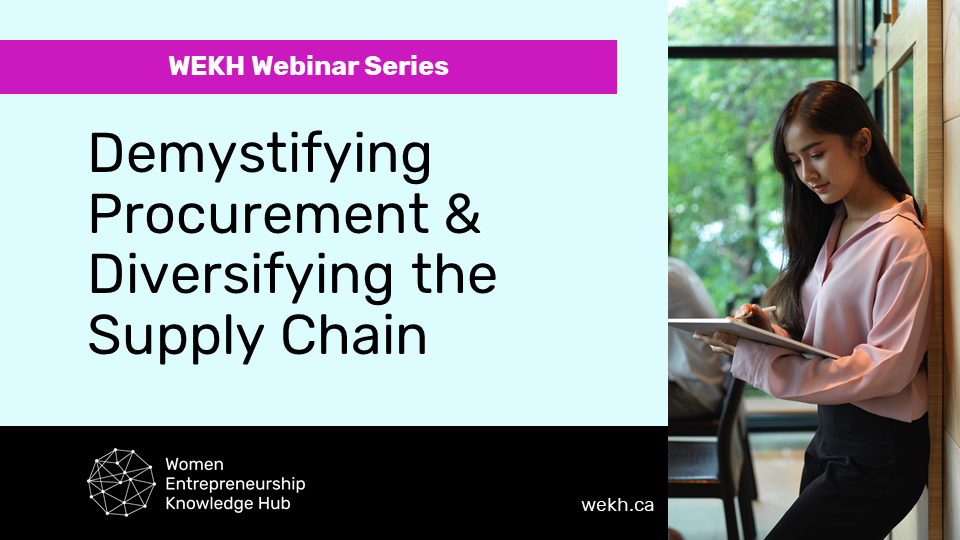 Beginning in September 2021, the Demystifying Procurement & Diversifying the Supply Chain webinar series brought together experts, business leaders, government representatives, and women entrepreneurs to share insights to help diverse women entrepreneurs access procurement opportunities and the benefits of diversifying supply chains.
Replays of each discussion are now available on our YouTube Channel.
Perceptions of Supplier Diversity: Media Analysis and the Experience of Change Agents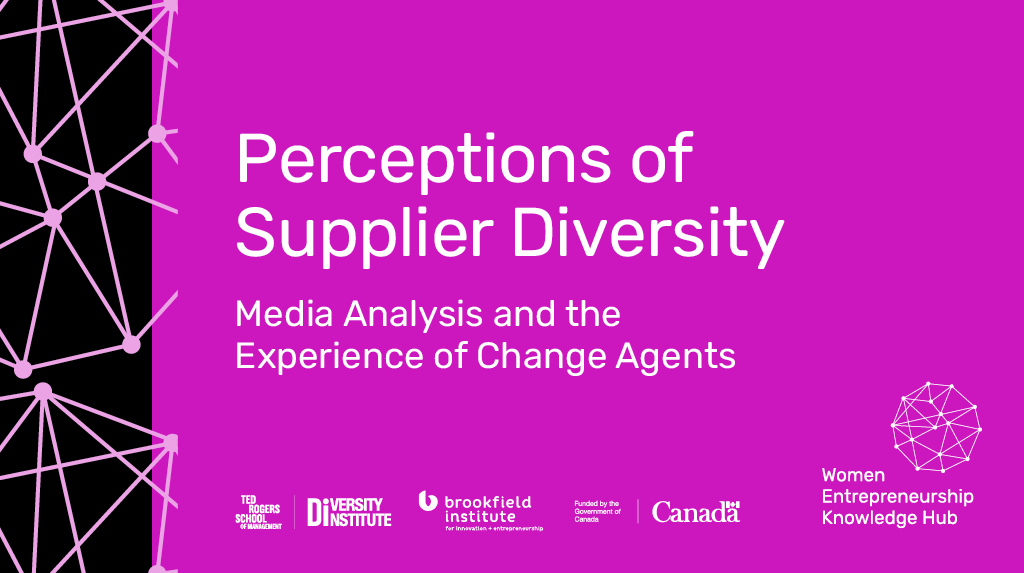 In Canada, entrepreneurship by women, racialized people, and Indigenous Peoples is on a steady rise, but these entrepreneurs face unique challenges in successfully competing in the marketplace to enter into public and private sector contracts.
This report outlines a two-part study on perceptions and attitudes toward supplier diversity. First, the report provides a comparative analysis of how topics related to supplier diversity are covered by the mass media and at procurement conferences in the United States and Canada. Second, the report highlights key takeaways from a qualitative analysis of data from 27 in-depth interviews with corporate directors, leaders of non-profit organizations, and legislators from the supplier diversity ecosystem in the U.S. and Canada, with a focus on the role and experience of "change agents" involved in supplier diversity programs.
Resources
National Supply Councils & Certifying Bodies
Supplier Diversity Initiatives & Programs
Do you know of a resource or organization that should be added to this page? Please reach us at [email protected] to let us know!