BMO Celebrating Women Grant Program 2021: Women Business Owners and Their Contributions to Sustainability – Executive Summary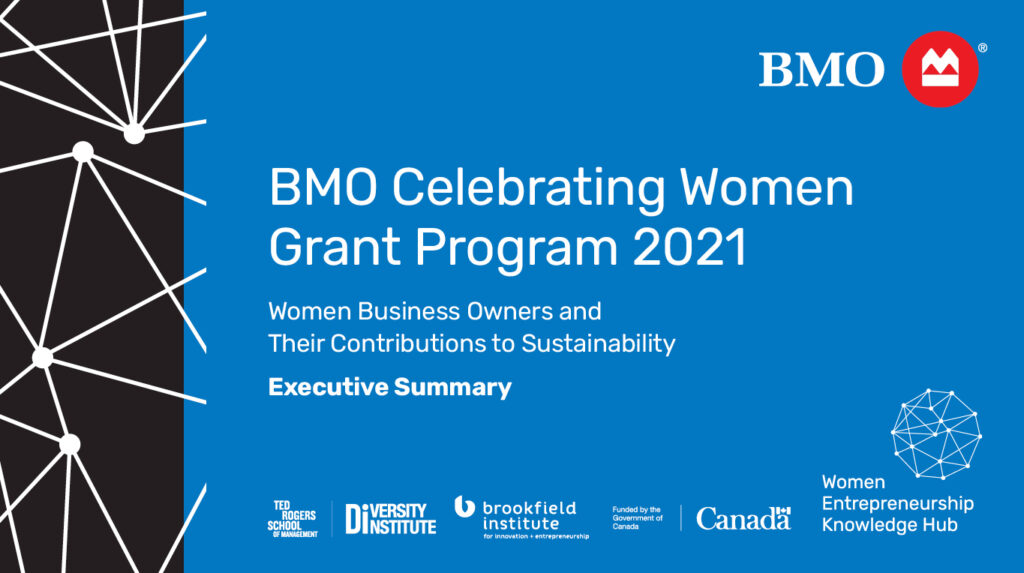 The BMO Celebrating Women Grant Program was launched in Canada in 2020, and 10 grants of $10,000 were awarded to women who demonstrated resilience and innovation with their businesses during the pandemic. In 2021, the BMO Celebrating Women Grant Program focused on sustainability and was expanded to the U.S. Applicants across Canada and the eight states where BMO Harris has a footprint were evaluated for their contributions to social, environmental, and/or economic sustainability outcomes. Applicants were asked to demonstrate how they are creating positive impacts, or minimizing negative impacts, for their customers, communities, employees, and/or other stakeholders. The grant pool in Canada was enhanced to 10 grants of $10,000 and 8 grants of $2,500. In the U.S., 8 grants of $10,000 were awarded. A total of 952 women entrepreneurs applied for the grant, with around 60% applicants from Canada and 40% of applicants from the U.S.

This Executive Summary is part of a larger research project that explores how women business owners are driving social sustainability outcomes by changing organizational culture and human resources (HR) practices, improving women's representation in business leadership and in the workforce, and removing barriers for other women entrepreneurs. They have created thousands of jobs for women and other equity-seeking groups, including racialized, Indigenous, 2SLGBTQ+ groups, immigrants, and newcomers. They have supported education and capacity building for many aspiring girls and women entrepreneurs from underrepresented groups. Working from equity, diversity, and inclusion (EDI) principles, women business owners take note of, and measure inequality in, incomes or jobs as a metric of their economic sustainability goals; many use insights from their personal experiences of poverty or unemployment to guide their efforts.
Read More