Supplier Diversity: The Experience of Change Agents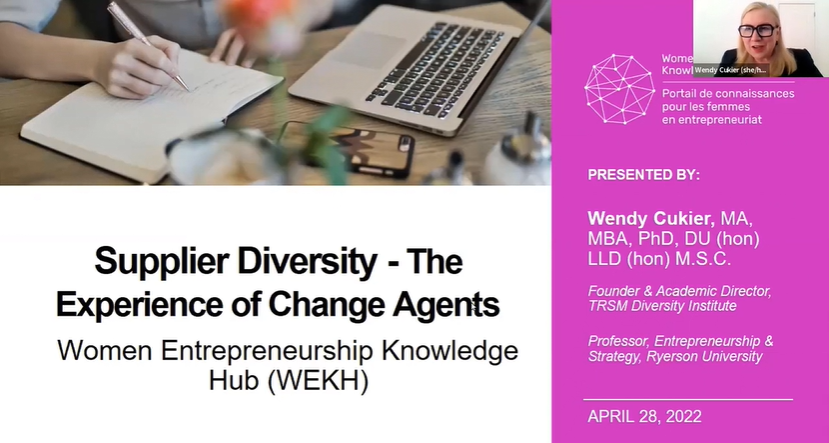 Governments and private sector organizations are increasingly establishing equity, diversity and inclusion strategies and more and more are including supplier diversity targets. However, moving from good intentions to actions requires a strategic approach that considers not just the demand side (purchasers) but also the supply side (entrepreneurs).
On April 28, 2022, WEKH Academic Director Wendy Cukier joined Supply Chain Canada for a session on the importance of supplier diversity for both organizational diversity strategies and supply chain resilience.
Global forces have shifted how we assess our supply chains towards a greater emphasis on flexibility and resilience. While Supplier Diversity has been seen in the past as a corporate social responsibility initiative, it has become evident that it is valuable for businesses to engage with diverse suppliers. Supplier Diversity is key to resilience in supply chains, as vendor consolidation caught organizations flat footed during the pandemic.
Increasing supplier diversity is a two-sided challenge, and is also an issue of suppliers not having the capacity and skills they need in order to participate. However, there is work to be done beyond setting the targets for diverse spend. Removing barriers is essential to achieving diversity goals. For instance, organizations should address the complexity of processes by simplifying and balancing risk management using proportionality. Relying on traditional processes is insufficient: action must be intentional and framed as an investment.
Learn More
Watch the discussion to learn more about the importance of supplier diversity.
Join the WEKH mailing list and follow us on Twitter, LinkedIn, Instagram and Facebook to stay up-to-date on the latest research, opportunities and events from WEKH.