WEKH Indigenous Q3 Ecosystem Meeting
On December 8th, 2021, the Women Entrepreneurship Knowledge Hub (WEKH) Indigenous engagement team hosted their Quarter 3 Ecosystem Meeting: The Impact of Networking and Mentorship for Indigenous Women Entrepreneurs. Organizer and host, Ashley Richard, Associate Director – Indigenous at WEKH, was joined by leaders from three organizations championing these spaces for IWEs: Ecko Alek, SheEO; Michele Young-Crook, NATOA; and Vanessa Lesperance, The Indigenous LIFT Collective. Through a panel discussion, the event explored the practice of creating safe spaces for aspiring and established Indigenous women entrepreneurs (IWEs) in mentorship and networking.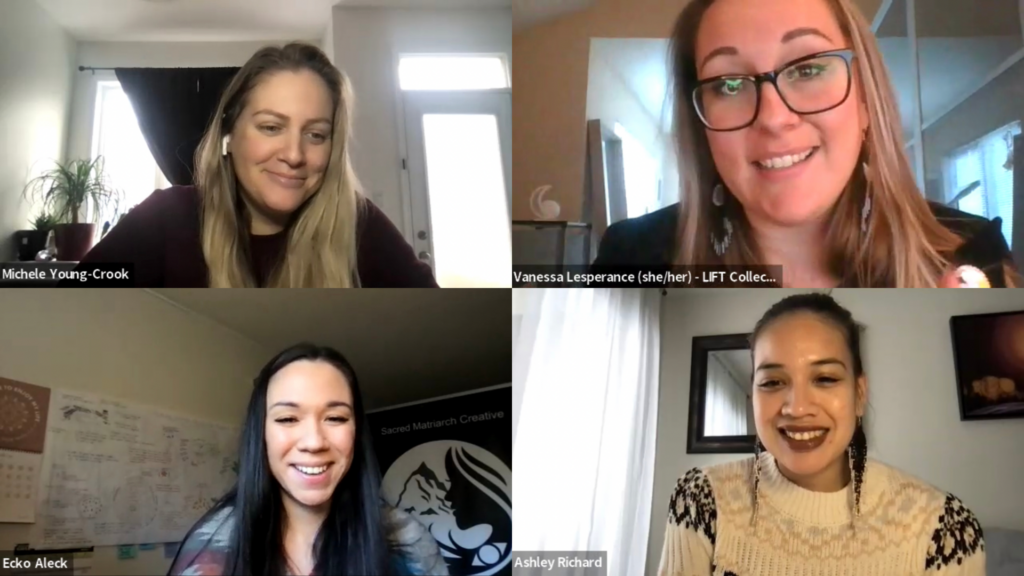 To begin, our panelists delved into the question, "What is the importance of networking and mentorship for IWEs?"
An insight that all three panelists shared was that entrepreneurship is inherently a lonely place. An often autonomous yet isolating career choice, entrepreneurs don't always have people in their life that understand the struggles of owning and operating a business. Based on their work, each of our panelists agreed that when IWEs have the opportunity to connect with one another and find support within a network it can make the entrepreneurial journey much less isolating.
Many individuals are familiar with 'self-care', a term that has been used in personal development, health care, and more recently in the corporate world. However, the value of networking is a concrete example of why 'community-care' is so vital in the pursuit of entrepreneurship. The Indigenous LIFT Collective's weekly LIFT Circles are a superb example of community care and Indigenous women finding strength and support among one another.
Ecko (SheEO), who's also a member of the Indigenous LIFT Circle, shared, "We fall a lot as entrepreneurs, as CEOs…we're so used to being the only ones picking ourselves up, so it's like having all of these hands at your back constantly being there supporting each other".
Aside from networking, the opportunity to engage with and be mentored by an experienced entrepreneur/business leader is another way that IWEs are looking for support. Typically approached in a top-down manner, this colonial-style of mentorship is not always the most beneficial, or well-received approach when building these relationships for IWEs.
Vanessa (The Indigenous LIFT Collective) reminded us that in Indigenous ways of knowing and being that learning is often seen as a reciprocal relationship, indicating that the traditional hierarchical mentorship structures were not developed by/for Indigenous peoples. For example, at NATOA's Annual Indigenous Womxn's Summit, workshops are developed for Indigenous women and facilitated by Indigenous women who "talk with" rather than "talk at" participants, according to Michele (NATOA).
This one-way exchange of knowledge also fails to consider the insights and experiences that not only the mentors, but also mentees bring to the discussion. Recognizing this, WEKH and the Indigenous LIFT Collective created Circles of Matriarchy; an event series that aims to dismantle the traditional, top-down approach to mentorship, and instead enforces a circular mentorship model in which all 'mentors' and 'mentees' knowledge and experiences are valued.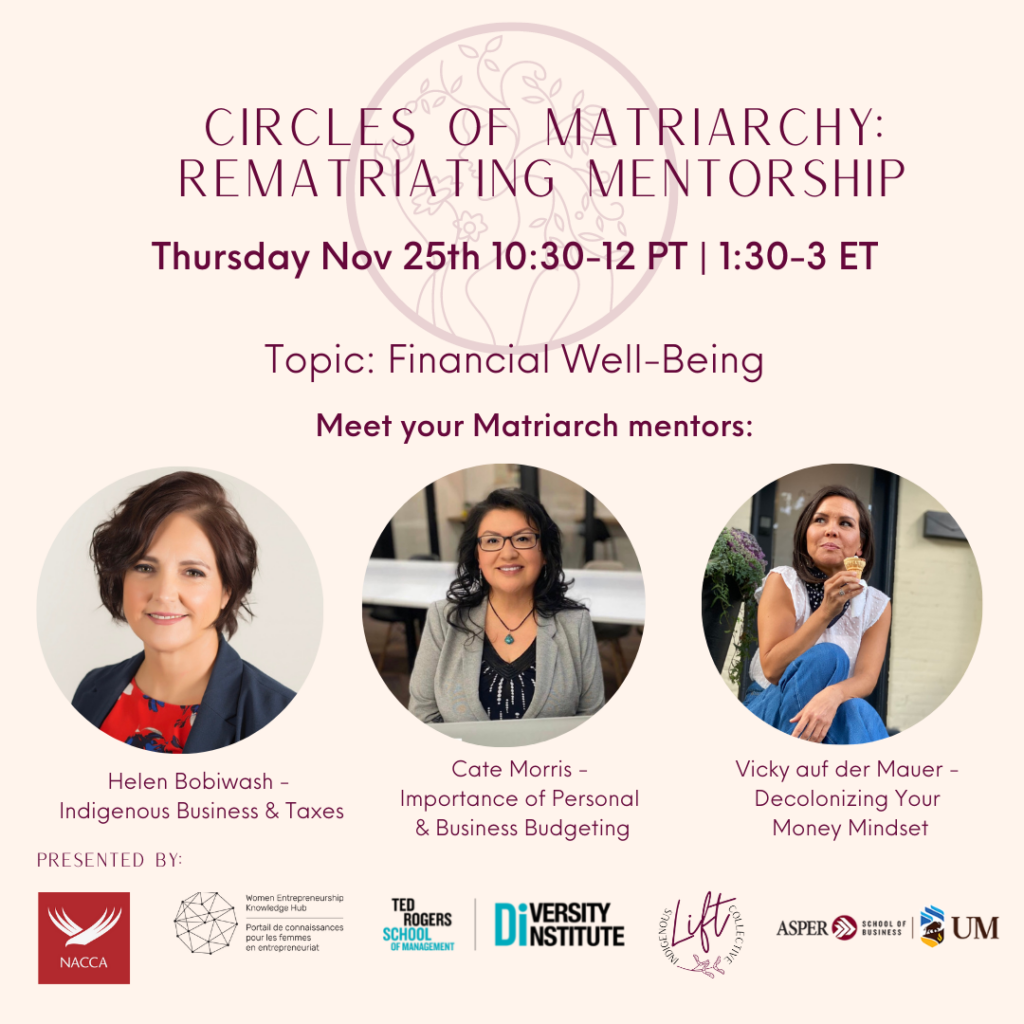 "The word mentorship can be overwhelming, when really in fact the act of mentorship is simply sharing knowledge. Essentially what you're doing is helping someone grow." – Michele Young-Crook
However, it is important to remember that when it comes to developing and creating these spaces for IWEs there is no 'one-size fits all' answer. SheEO, which funds women-owned ventures across Canada, Australia, New Zealand, and the U.S., reminds us that people all over the world have different ways in which they have been separated from their teachings and their lands.
It is imperative to recognize how diverse and unique Indigenous nations, Indigenous people, and Indigenous languages are across not only Canada, but the world, when creating these spaces. However, SheEO, NATOA, and The Indigenous LIFT Collective exhibit that when organizations create these spaces with good intentions and from a place of understanding, Indigenous women will want to take up that space.