A WE-Hub Success Story: Janelle's Fusion Fit Foods
"I know I would not have started a successful business if it weren't for WE-Hub."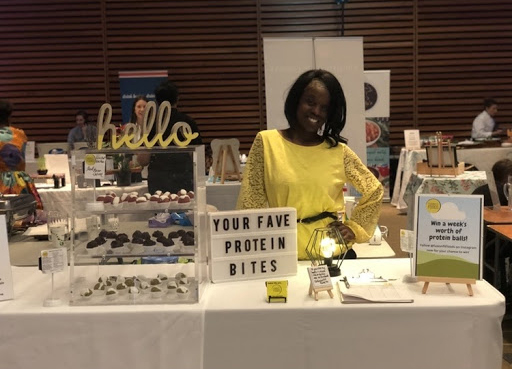 These are the words of entrepreneur Janelle Jordan, founder of Fusion Fit Foods. Janelle launched her business through the Women's Entrepreneurship Hub (WE-Hub) in 2019, a program which has supported over 200 women in starting their own businesses and becoming financially independent. The program offers entrepreneurship training on topics such as finance, marketing, funding and business planning. Participants also gain access to long-term one-on-one mentorship, market testing opportunities, and wrap-around supports such as childminding, language and settlement supports, and counselling. All these services are offered free of charge through the Diversity Institute at Ryerson University and Scadding Court Community Centre.
Janelle found WE-Hub in January of 2019 while on a job hunt. At the time, Fusion Fit Foods was only an idea but WE-Hub gave her the resources to bring that idea to life. She says that WE-Hub empowers women by encouraging them to be leaders. Janelle continues to access WE-Hub resources even now, a year after the program has ended, through the program's alumni supports. This includes access to a graduate student intern to help support her business's marketing needs.
WE-Hub, like the Women Entrepreneurship Knowledge Hub, is one of several initiatives led by the Diversity Institute (DI) which aim to advance opportunities for diverse women entrepreneurs. Additionally, DI leads the federally funded Workforce Inclusion and Innovation Project (WIIP), which brings together diverse employers, non-profits and settlement agencies to address employment needs of newcomers and produce a skilled, resilient Canadian workforce. Through WIIP, DI has supported newcomer women entrepreneurs in Halifax, Calgary and Saskatoon. These action-research projects serve to fill critical support needs of women in these communities, while serving a dual purpose of providing data on the needs and best practices that can fosters inclusion within the broader entrepreneurship and innovation ecosystem.
With over 20 years of experience in the diversity and inclusion space, DI continues to use evidence-based strategies and leverage its diverse networks to advance knowledge about the complex barriers faced by underrepresented groups in Canada's economy. DI's work also addresses gaps in immigrant employment and entrepreneurship services, through projects like the Workforce Innovation and Inclusion Project and the federally-funded Newcomer Entrepreneurship Hub, and has worked extensively with both private and public organizations to help them improve diversity and inclusion across their value chains. 
Fusion Fit Foods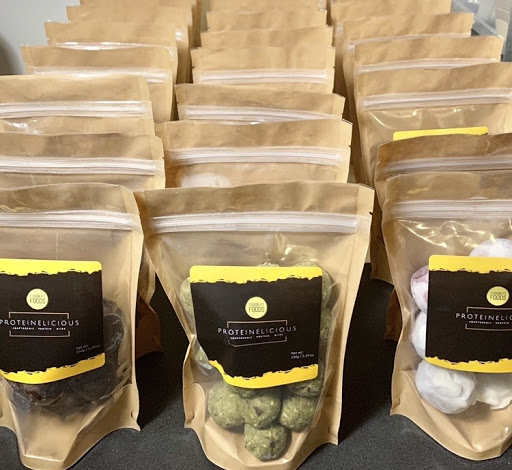 Fusion Fit Foods is a Toronto-based healthy snack business which combines Asian and Caribbean flavours. Over the past year Janelle has been selling her foods mainly in pop-up markets around Toronto. In recent months, Janelle has expanded her online presence to adapt to the changing market during the pandemic. She now has a selection of snacks available for purchase online at fusionfitfoods.com. Most notably is her line of protein bites, Proteinelicious, including flavours such as "Caribbean Spice" and "Mango Matcha."
Showcasing Diversity
Fusion Fit Foods goes beyond simply selling snacks. Janelle's business aims to put a spotlight on different cultures, and celebrates Black culture and diversity.
Throughout her time working as a nutritional coach and personal trainer, Janelle saw many people struggle to maintain healthy diets because there was a lack of appealing and culturally diverse options for healthy snacks. This inspired Janelle to start a snack business that is not only nutritious and delicious, but also draws on flavours from cultures that are typically underrepresented in this industry.
Empowerment Through Entrepreneurship
After spending 20 years of her life working as a corporate and freelance writer, nutrition coach, and personal trainer, Janelle saw the opportunity to combine her passions for health, wellness and writing into a business. She describes writing as the backbone of her business as she uses her journalism experience to promote her products on social media, her website and an upcoming blog. Building this business has made her feel empowered and free by not only allowing her to explore and combine many of her passions but also allowing her the freedom of working for herself.
Janelle hopes that through her business people will feel inspired to take charge of their health in a way that is fun, celebrates different cultures and brings people together.
Looking for more information?
Visit WE-Hub online to learn more about the opportunities and resources the program offers. 
To learn more about Janelle and Fusion Fit Foods, visit her website, Facebook and Instagram.
Join the Sharing Platform produced by WEKH in collaboration with the Forum for Women Entrepreneurs to easily connect with women entrepreneurs and support organizations across the country. Learn about how to get started.
Author: Jessica Ayoub Jessica is delighted to be working with the Diversity Institute as a WE-Hub Project Associate. Jessica is passionate about working with women of diverse and marginalized backgrounds and hopes to continue her career in the field of Social Work and policy.