An Expert Look at Finance for Women Entrepreneurs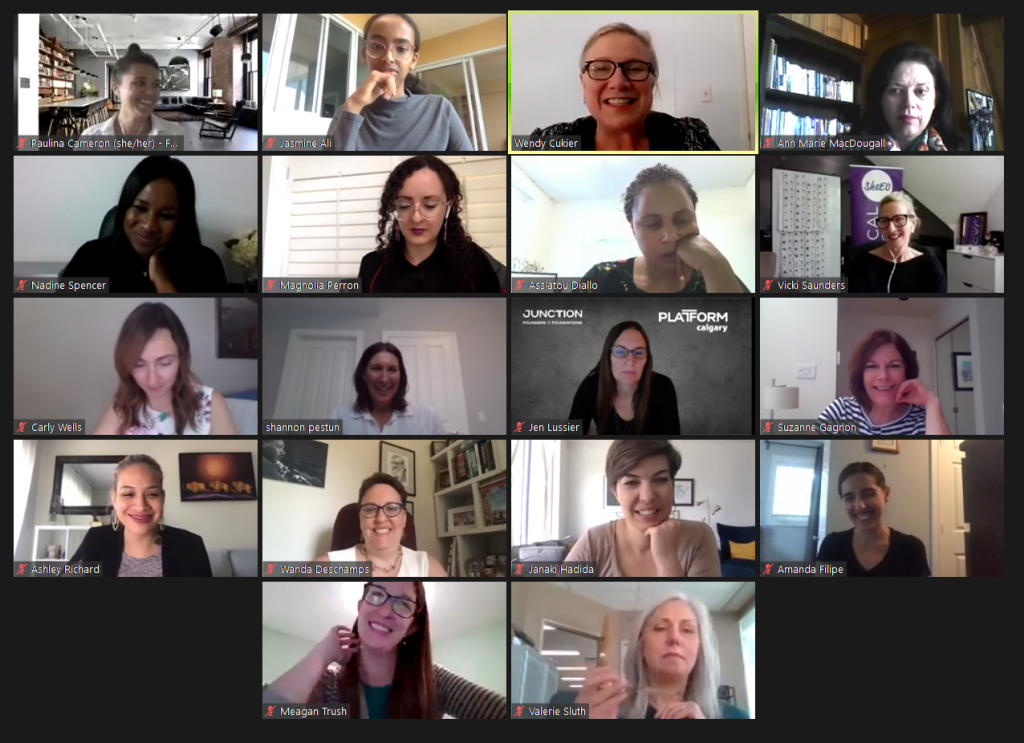 While all businesses in Canada and around the world have been affected by COVID, some have felt the effects more than others. Recent research and consultations by the Women Entrepreneurship Knowledge Hub (WEKH) have demonstrated that structural gaps facing women entrepreneurs have been exacerbated by COVID while many of the programs designed to support recovery do not address their needs.
Yet as Atkinson Fellow on the Future of Workers Armine Yalnizyan said: "There is no recovery without a she-covery." 
A recent webinar, hosted by WEKH, attended by representatives from more than 100 organizations from across Canada, explored the specific financial challenges women entrepreneurs are facing as well as innovative models designed to address them. According to Wendy Cukier, who leads the WEKH initiative, women entrepreneurs are particularly vulnerable because their businessed tend to be concentrated in the services sector, smaller, less capitalized, and newer.
Access to capital remains the biggest challenge facing women entrepreneurs and while COVID has reinforced the important role the financial industry plays in the success of women-led businesses, many of the pre-existing barriers have been amplified. Women, for example, lead 15.6% of SMEs with one or more employees but represent 38% of all self-employed Canadians.
Many of the existing financial instruments and processes are not well adapted for women entrepreneurs and these issues are exacerbated when we consider the impact of COVID on Indigenous women entrepreneurs, on Black women entrepreneurs, on racialized women entrepreneurs, on women entrepreneurs with disabilities, and with different gender identities and sexual orientations. A piece by Wendy Cukier recently published in The Conversation explores these issues in more depth.
The first panel, hosted by Ashley Richard – WEKH's Outreach and Partnership Development Lead focused on engaging Indigenous peoples – took another look at some of these gaps.
Financial Inclusion: A Look at the Gaps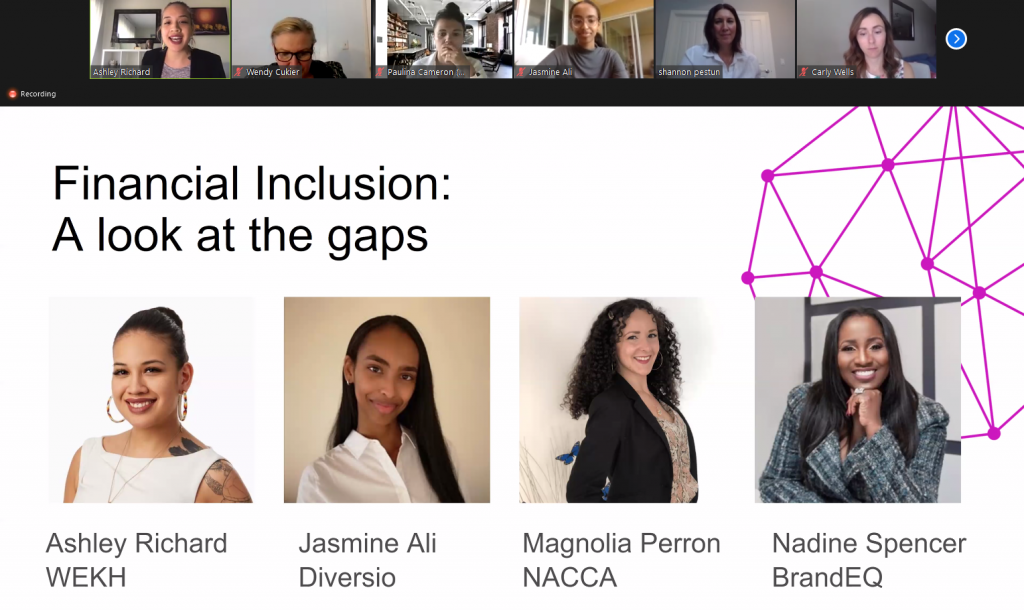 Nadine Spencer, CEO Brand EQ and President/CEO of the Black Business and Professional Association (BBPA) kicked off the discussion noting, "There's been a long history of systemic racism coupled with gender bias…but I think it is important that investors understand the nuances within our unique groups." Recent research by BBPA has confirmed that Black business-owners are not receiving the same amount of financial support compared to others across the country during the pandemic. Generations of systemic racism has meant that many Black entrepreneurs have less liquidity to rely on in times of crisis, so their businesses are more likely to close permanently due to COVID-19.
Magnolia Perron, Indigenous Women and Youth Program Officer at NACCA noted that Aboriginal Financial Institutions (AFIs) were established in the late 1980s by Indigenous leaders specifically to address issues accessing capital that Indigenous entrepreneurs were facing and continue to face today. AFIs play an important role in closing the funding gap and are uniquely situated to respond to the needs of the communities they serve. However, other financial institutions charged with playing a key role in the recovery are not as accessible. Perron suggested that the criteria for business loans must be reexamined to meet the realities of Indigenous women entrepreneurs who may operate small businesses on a part-time basis or who cannot use property on reserve land as collateral due to the Indian Act.
Jasmine Ali, Research at Diversio emphasized the need for an intersectional lens to ensure that the financial system and investors better support diverse women entrepreneurs. "Taking a stand for racial equality means taking a stand for gender equality and all of these other intersections at the same time." She noted the importance of a data-driven approach to diversity and inclusion in financial to hire and retain more Black and Indigenous investors who better understand businesses led by marginalized entrepreneurs as well as better tracking and transparency regarding who is being served.
Innovative Financing Approaches to Closing the Gaps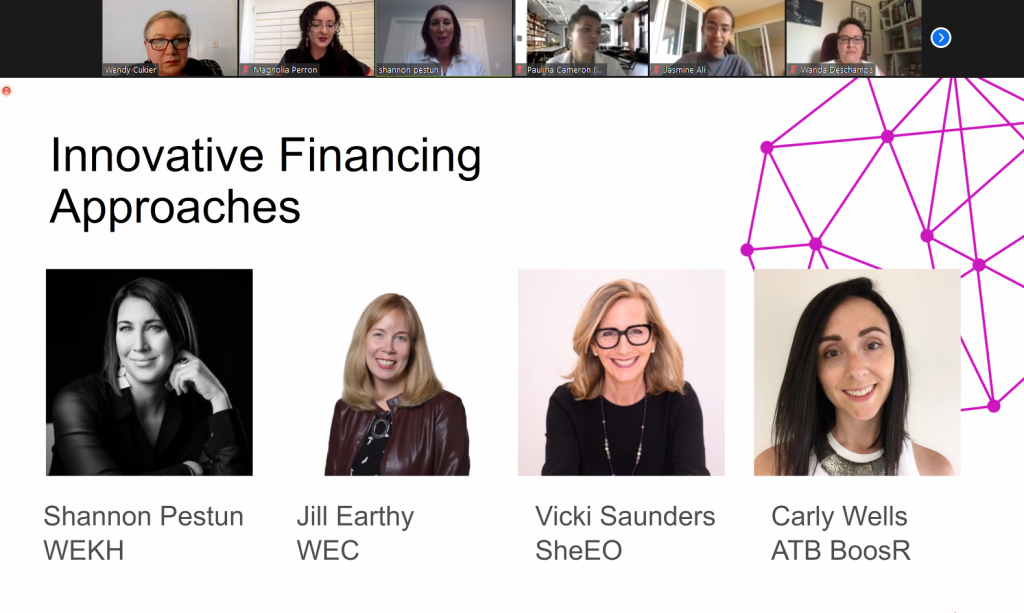 Shannon Pestun, WEKHs new Senior Advisor, Financing and Business Services moderated a panel discussion to examine innovative approaches to financing women entrepreneurs.
Jill Earthy, CEO, Women's Enterprise Centre BC described the value of approaches tailored to women. WEC for example offers women entrepreneurs in British Columbia loans of up to $150,000—and boasts a repayment rate of over 94%. As the COVID19 outbreak took hold, the Centre proactively engaged their clients to ask what they needed to sustain their businesses. In response, they deferred payments and forgave interest fees during the height of the crisis. They are now offering interest-only loan payments for the next six months as their clients' businesses recover. Recently, in partnership with VanCity, the WEC has also established the Unity Women Entrepreneurs Program to connect women entrepreneurs to sizable loans with favourable terms and streamlined access to additional support services. The model, of partnering traditional financial institutions with women-centered organizations with deep experience successfully funding and supporting women entrepreneurs, is one she hopes will scale across the country.
Vicki Saunders, Founder, SheEO, reminded the group of the need for new models given the deep structural barriers facing women: "51% of the population get 2.2% of the venture capital globally. If you are Latina it is 0.2%, and if you are a Black woman entrepreneur, it is 0.006%…Massive structural inequalities are built into all of our systems." SheEO has built a radically generous community of women in business deeply connected to one another and the resources they need to tackle "the world's to-do list." They continue to offer a 0% interest loan to social innovators who create businesses that make a better world. SheEO also developed the Ask/Give practice that powers the new WEKH/FWE: Sharing Platform to connect women entrepreneurs to the help they need.
Carly Wells Sr. Manager, ATB BoostR at ATB Financial described an innovative rewards-based crowdfunding platform, that offers women entrepreneurs in Alberta the opportunity to raise capital for their businesses without losing equity. Rewards-based crowdfunding allows entrepreneurs to test their ideas, and presell a product, service, or experience to the crowd. During COVID19, the BoostR platform has pivoted to enable business owners who do not have an online presence to have an online market to sell or presell products, services, or experiences. More recently, ATB hosted an Indigenous art market that raised over $15,000 in just a few days.
"We tell stories of a reality that isn't everyone's reality," Saunders concluded. Many believe that the only businesses of value are those that are venture funded. Saunders argued that uncovering and publishing data about the kinds of businesses women entrepreneurs lead is important to highlight the contributions women entrepreneurs are making to our world, and to ensure that programs designed to help them are reaching those who most need it.
WEKH/FWE: Sharing Platform
The women entrepreneurship ecosystem is working hard to address the needs of women entrepreneurs being excluded by traditional business supports. With the Sharing Platform, produced by WEKH in collaboration with the Forum for Women Entrepreneurs and built by SheEO, women entrepreneurs can ask for what they need. "Everything you need is here. The hard part is you have to step-in and ask," Saunders said.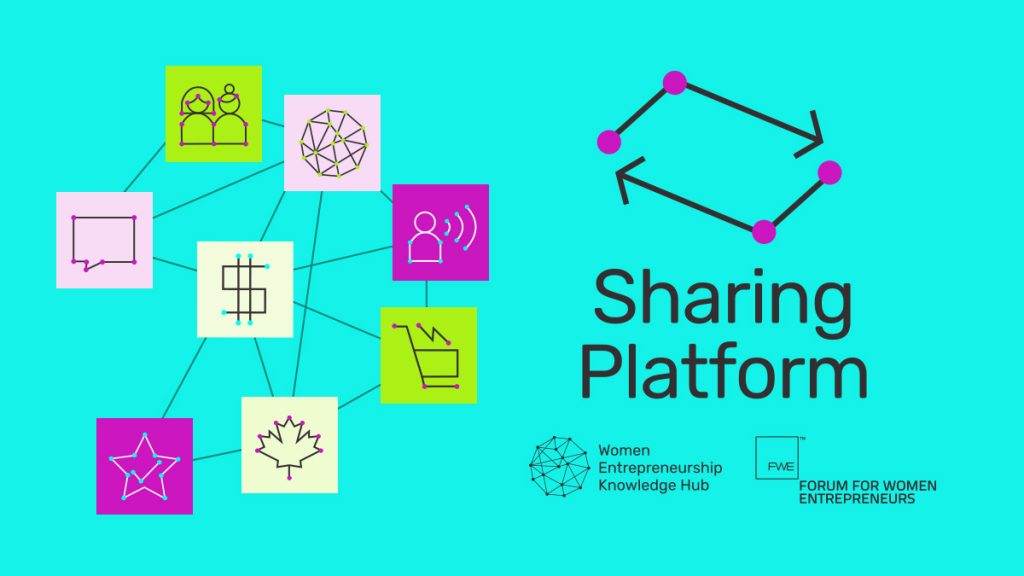 If you have something to offer that may help others in the ecosystem—like a service, your expertise, or a new webinar series—post it as a Give on the platform so members of the ecosystem can find you.
Connect with the WEKH
We are planning additional virtual discussions with experts across the country on several different topics that women entrepreneurs and the organizations who support them may benefit from. Join our mailing list to be among the first to know what's coming next.
Follow us on Twitter for all the latest news and opportunities for women entrepreneurs.