Majoun: Giving People a Taste of History
Manal Khader is an entrepreneur passionate about showcasing the origin story of edible cannabis through the delicious experience of her all-natural and vegan brand.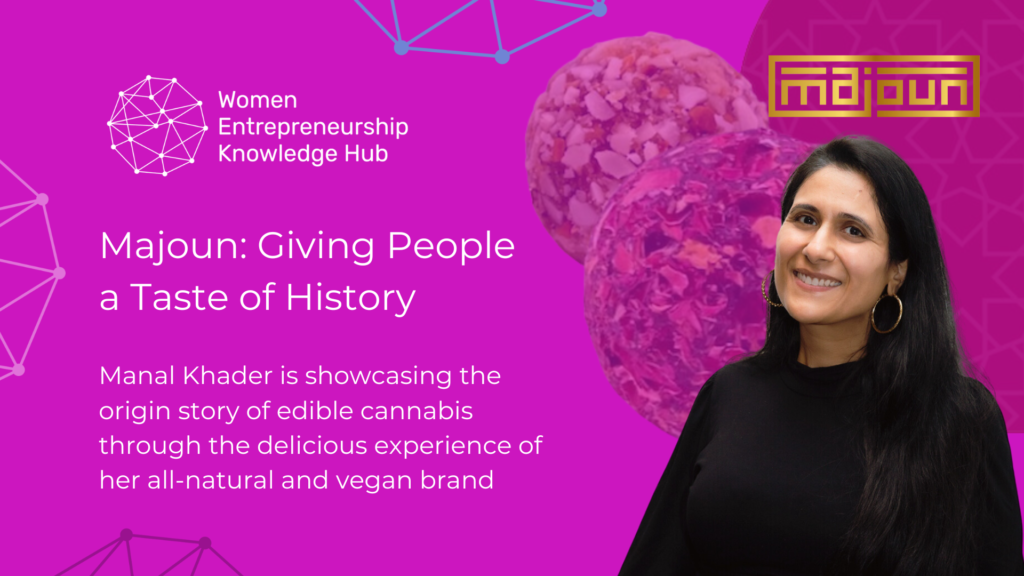 Website: https://majoun.ca/
Instagram: @theOriginalEdible
Email: [email protected]
---
DI: What inspired you to become an entrepreneur?
Khader: I come from a career in social programs and I had never considered entrepreneurship before Majoun. I had been making this hashish-infused dried fruit and nut-based confection for family and friends for 15 years. Then, in 2021, I decided to take the leap to launch Majoun as the cannabis industry was quite new and there was nothing like Majoun available. We are not often afforded this opportunity to enter an industry in its infancy.
I also have a historical connection to the product. The origin of edibles goes back over a thousand years and in a region that people might not expect—the Islamic world. People from the region were the first to consume cannabis in a confectionery form, and I don't want to lose that vibrant history and tradition. I wanted to make sure this product is brought to the market in an accurate, authentic and respectful way to the history and the people. So that's the reason why I wanted to be the person to do it.
DI: What sets your brand apart from other competitors in the edible cannabis industry?
Khader: There is nothing in the market like Majoun that is made exclusively of natural ingredients. I use high-quality ingredients without additives and fillers. You're getting an unadulterated experience with Majoun.
Another key feature is the flavour profiles. The edibles in the market were conventionally gummies and chocolates, and I'm not a big candy person. I grew up eating confections with nuts, dried fruits and spices instead. So that's why I initially started making them. I wanted to stay as authentic to the roots as possible, using traditional recipes with ingredients unique to each region.
I am also showcasing a more sophisticated way of consuming cannabis. There is a stigma associated with cannabis, and so people have a narrow idea of what a cannabis consumer looks like. In reality, over 70% of consumers are over 30 years old. It is one thing to pop a gummy, but with Majoun, you get to sit down and enjoy it as a dessert or a snack. I am giving people the chance to enjoy cannabis as a full experience from start to finish.
DI: Could you share your experience getting your products to market?
Khader: The cannabis industry is heavily regulated and it can be a costly industry to get into. It can take upwards of a year-and-a-half to get the licences and it's very expensive. So I tried to find the most cost-effective and quickest route to bring it to market.
I decided to go into a co-packing arrangement by finding someone to produce my product for me, which was a major challenge. The vast majority of the cannabis edible manufacturers want to keep their facilities nut- and allergen-free.
As I was seeking out a producer, I found Slow Ride Bakery. They had just got their licence, and I knew they made peanut butter cookies, so nuts were not going to be an issue for them. I reached out and said, 'Hey, I have a proposal. Do you want to chat?' and it started from there. They are a small mom-and-pop shop, which is great for me to work with.
There was over a year of delay from when it should have been launched. But despite some of the unexpected barriers, I pushed through because I really believe in the brand and the products that I'm selling.
DI: What's been your proudest accomplishment so far?
Khader: My product officially launched in May 2023 and to actually see my products available in stores for the first time was a very proud moment.
When I see people get excited about the brand, it is really meaningful because it affirms that the brand speaks to people, either through the history, the culture or the ingredients. This was my hope when I was starting the business.
DI: How have you navigated the banking challenges specific to the cannabis industry?
Khader: The banking industry has not caught up to cannabis yet even though it has been legal now for five years in Canada. They don't permit us to open bank accounts or get loans. In terms of financing, I fund myself completely. I've been trying to operate at the lowest cost for as long as possible and do it without the banking industry.
I won a $15,000 pitch competition when I was a student at Queen's [University] and I also got support from a program called RAISE that was run by Parkdale Centre for Innovation last year. They work with racialized entrepreneurs, and I was given a $10,000 grant. That combined $25,000 is just a drop in the bucket in the cannabis industry, but it meant the world to my business.
DI: What's your advice for aspiring women entrepreneurs?
Khader: I would say take your time, learn as much as you can and do not rush it. I think it is very important to pace yourself and not worry if things are moving slowly. For me, it took two full years of just planning and doing everything I needed to do. You're not making any money during that time, and that's okay. You should take the time to make sure you're thoughtful and intentional about the process.
DI: How do you envision the future of your business in 2024 and beyond?
Khader: In 2024, my goal is expansion—to have Majoun across Canada. Right now, I am exclusively operating in Ontario and trying to get into other provinces. Majoun has been in the market for about six months now, but I really need to grow the sales and foster one-on-one relationships with retailers in other provinces.
DI: Any last words you would like to share with people about Majoun?
Khader: I often attend industry expos and pop-up events. My brand is all about creating an experience, so I set up an Arab-style seating area with Persian rugs and I serve non-infused samples of Majoun paired with tea. I love doing this because I get to be face-to-face with the consumer and I get to share the brand story.
While it seems novel to serve cannabis in this way, this is the traditional way of consuming it. This is the origin story. I'm taking it back to its roots, and I am excited to give customers the opportunity to experience cannabis edibles the way it was meant to be consumed.