Breaking Barriers: A Decade of Indigenous Women's Entrepreneurship in Canada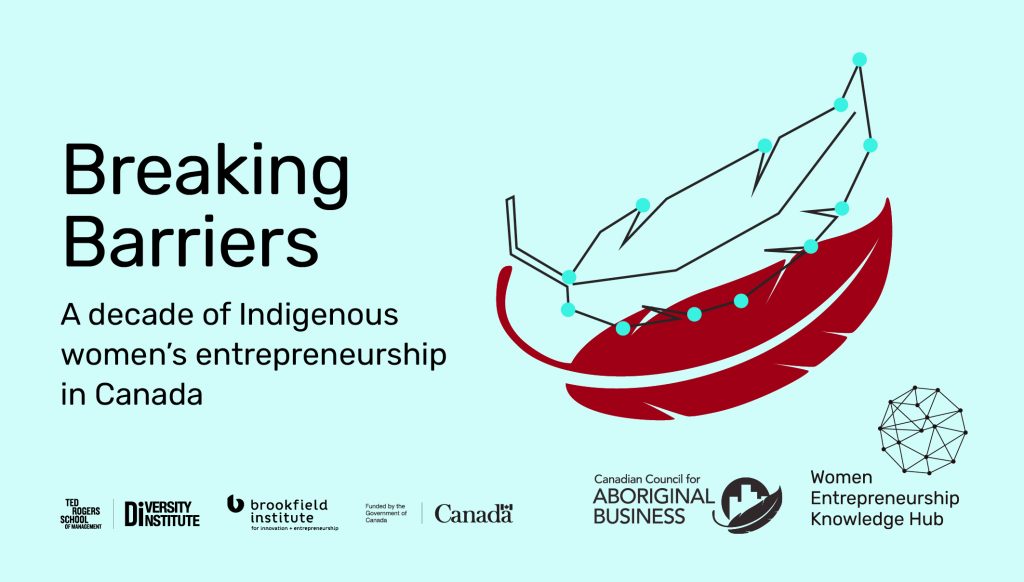 The goal of this study is to provide a review of Indigenous women entrepreneurship in Canada's economy, identify the barriers to their entrepreneurial success, understand Indigenous women entrepreneurs' unique approaches to innovation, and provide recommendations for a more inclusive ecosystem to support Indigenous women in their economic pursuits and social activities. The study uses a gender perspective to explore the profiles of women-owned Indigenous businesses, and takes a preliminary look at their use of traditional knowledge (collective knowledge of traditions used by Indigenous groups to sustain and adapt themselves to their environment over time).
This report provides new data from the Canadian Council of Aboriginal Business' extensive body of research with Indigenous-owned businesses, including surveys conducted in 2010, 2015, and 2019. Data from the 2016 Census on self-employed Canadians is included wherever possible to compare the profiles of Indigenous women-owned businesses to Canadian businesses overall. A brief literature review is provided to add context about the position of Indigenous women entrepreneurs in the business world, and to connect this small but crucial group to the broader economic picture. The report considers past research on Indigenous women entrepreneurs and notes the impacts that structural barriers have had on their business practices.
Research Highlights
Approximately two in five (40%) Indigenous self-employed people are women, representing a higher proportion than self-employed non-Indigenous Canadian women overall (36%).
Indigenous women-owned businesses are more likely to have a smaller staff but have a higher percentage of Indigenous employees compared to men-owned Indigenous businesses. In fact, women-owned Indigenous businesses are more likely to have a 100% Indigenous staff (44% of women-owned vs. 26% of men-owned Indigenous businesses).
Indigenous women-owned businesses skew towards service industries (62%), although the proportion operating in the primary sectors (12%), such as mining and agriculture, and secondary sectors (22%), such as manufacturing and wholesale and retail trade, have increased over time.
About 73% of Indigenous women who own businesses say they use either traditional knowledge (TK) or traditional cultural expressions (TCE) in their businesses, which is more widespread than among Indigenous men-owned businesses (55%). Indigenous women-owned businesses often produce arts and crafts, storytelling, clothing, jewellery, and non-medicinal products.
How to cite
Jakobsh, K., & Boskov, S. (2020). Breaking barriers: A decade of Indigenous women's entrepreneurship in Canada. Women Entrepreneurship Knowledge Hub, Canadian Council for Aboriginal Business. https://wekh.ca/wp-content/uploads/2020/12/Breaking_Barriers.pdf
Read More