Gender, Race, & Entrepreneurship: Current Understandings and a Future Research Agenda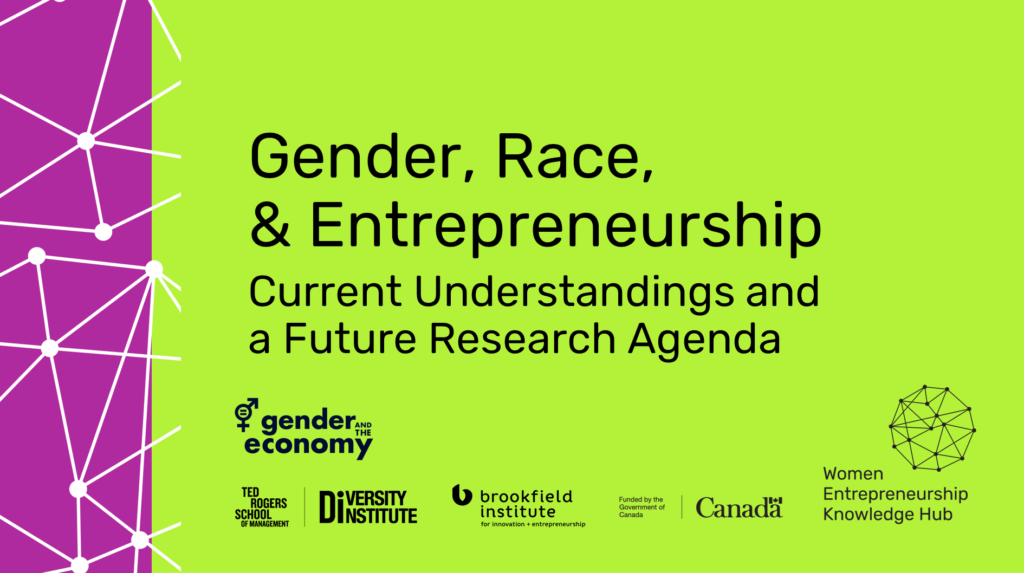 Entrepreneurship is an important path to job creation and economic growth in the modern economy, yet women and racialized people remain underrepresented in entrepreneurship. Research to date has documented both "supply-side" factors showing that women and racialized people are less likely to enter entrepreneurship and "demand-side" factors highlighting the struggle these entrepreneurs face in obtaining funding and other resources. A 2013 review by Jennings and Brush documents many of these insights. We know less, however, about how the supply side and demand side interact and what kinds of interventions might improve outcomes.
To explore these challenges, the Institute for Gender and the Economy at the University of Toronto's Rotman School of Management convened a six-week workshop series in October and November 2020, sponsored by the Government of Canada's Women Entrepreneurship Knowledge Hub. Organized by Camille Hebert and Sarah Kaplan, the workshop hosted over 150 scholars from around the world, who heard cutting edge research from sociology, economics, management, and finance researchers, including Asia Bento (Rice), Ruiqing Cao (Harvard), Alexia Delfino (Bocconi), Stefan Dimitriadis (U Toronto), Sabrina Howell (NYU Stern), Song Ma (Yale), Milan Miric (USC Marshall), Tiantian Yang (Wharton), Emmanuel Yimfor (Michigan Ross), and Jonathan Zandberg (Boston College). In the final session, senior scholars Mike Ewens (Caltech), Fiona Murray (MIT Sloan), and Zulema Valdez (UC Merced) discussed the future research agenda for gender, race, and entrepreneurship. The workshop and discussions underscored a number of debates and controversies in the entrepreneurship literature, which are highlighted below, along with a roadmap for the future research agenda.
How to cite
Lee, H., & Kaplan, S. (2021). Gender, race, & entrepreneurship: Current understandings and a future research agenda. Women Entrepreneurship Knowledge Hub, Institute for Gender and the Economy. https://wekh.ca/wp-content/uploads/2021/03/Gender_race_and_entrepreneurship.pdf
Read More