Girls and Women: The Venture Capital Conundrum
Creating Investoready's Console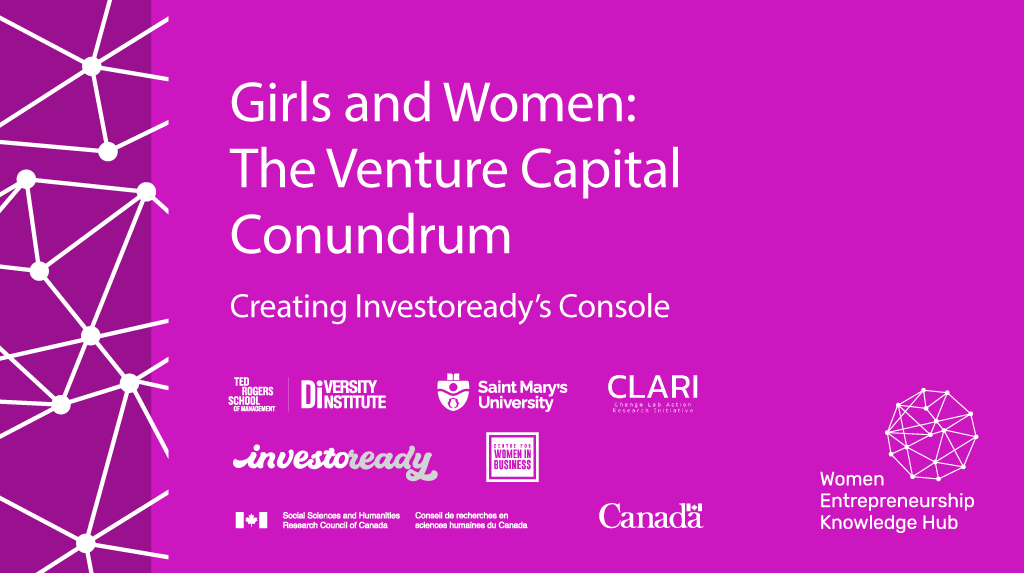 There is a gender gap in the Canadian venture capital (VC) investment sector. Toward the goal of improving women entrepreneurs' access to VC funding, this report provides an overview of a training/coaching program, Investoready. Investoready is a program that informs and equips women entrepreneurs with competencies in answering questions posed by VC investors in order to help them secure investment funding in the entrepreneurial ecosystem.
VC plays a critical role for start-ups and rapidly growing companies that occupy the small and medium-sized enterprise (SME) sector. VC provides the funding, the contacts, and the networks of financiers needed for growth, research and development, validation, product-market fit, and commercialization. However, empirical research has repeatedly confirmed there is a gender gap in accessing VC in Canada and globally. Although women and men entrepreneurs have the same level of need for capital, women start-up entrepreneurs not only obtain fewer rounds of finance, but also receive less VC funding per round, compounding the detrimental effect on their total raised.
Research shows that the expression of unconscious bias by men and women venture capitalists is a significant contributor to the VC gender gap because investors ask women different questions than they ask men during typical investor Q&As. The investor Q&A is a salient element of investment decision-making, but new evidence shows that venture capitalists ask women questions which, when answered as asked, position their ventures in a negative fashion. Men are asked questions that incline their answers toward a self-promotional, visionary type of response. Women are asked questions that incline their answers toward a preventative/security-type response. Undoubtedly, being denied by VC funding dampens women's advances in technology, business, and innovative future community resources.
In this context, the Investoready program was developed to support women entrepreneurs by providing training and coaching to women founders to help them develop skills in responding to typical investor conversations. The program uses a software console designed specifically for women to practise answering investor questions and to convert negative-type questions into more aspirational answers.

This report's findings are generated from an analysis of the pilot participants' and ecosystem partners' observations. A total of 47 pilot participants took part from six provinces across Canada, with backgrounds from 10 different countries. Ecosystem partners included venture capitalists, incubators, accelerators, entrepreneurship centres (ECs), and government departments and agencies, who were consulted for their insights and observations about the findings and The Console. In total, 60 people from 29 participating organizations advised and consulted on the science-based objectives, the purpose of the training, Investoready's Console, and its ability to support women.
Key observations of the workshop participants of the workshops centre on the following themes:
Women founders need better insight and support concerning venture start-up processes.
Women need to control Q&A conversations; they need to lead instead of being led.
Successfully navigating away from obstacles is a skill that requires practise but can be learned.
Q&A is most important and women want to know the typical questions and how they should respond.
Read More