Perceptions of Supplier Diversity: Media Analysis and the Experience of Change Agents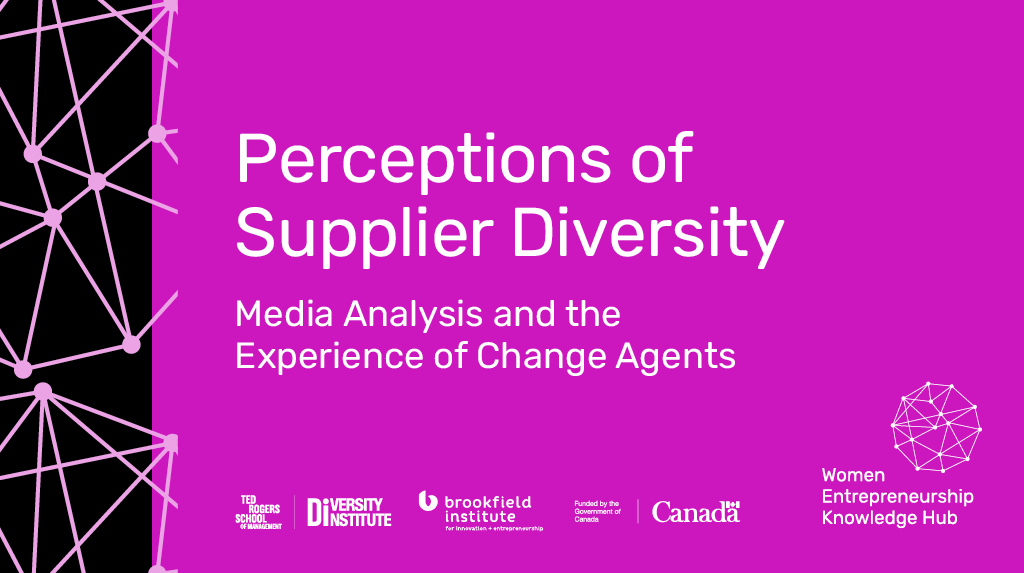 In Canada, entrepreneurship by women, racialized people, and Indigenous Peoples is on a steady rise, but these entrepreneurs face unique challenges in successfully competing in the marketplace to enter into public and private sector contracts.
The concept of supplier diversity centres on the idea that small and medium-sized enterprises (SMEs) owned by women, Indigenous Peoples, and racialized people have value-adding capabilities not only for the larger corporations they do business with, but also for the national economy as a whole. A supplier diversity strategy can offer an organization numerous benefits, including opportunities to expand into new markets, increased employee satisfaction due to inclusive practices, increased flexibility in the supply chain, and the ability to respond to diverse customer needs. While there is an increasing number of supplier diversity programs, many Canadian organizations still lack the policies and mechanisms to properly incorporate supplier diversity within their procurement processes. Furthermore, gaps exist between the targets and implementation of government programs.
This report outlines a two-part study on perceptions and attitudes toward supplier diversity. First, the report provides a comparative analysis of how topics related to supplier diversity are covered by the mass media and at procurement conferences in the United States and Canada. Second, the report highlights key takeaways from a qualitative analysis of data from 27 in-depth interviews with corporate directors, leaders of non-profit organizations, and legislators from the supplier diversity ecosystem in the U.S. and Canada, with a focus on the role and experience of "change agents" involved in supplier diversity programs.
Read More