The State of Women's Entrepreneurship in Canada 2020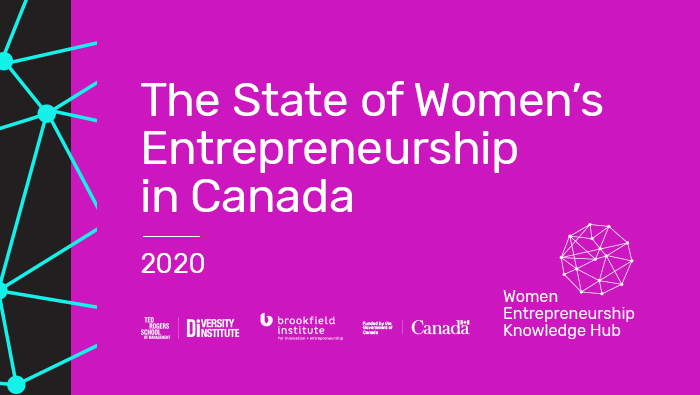 The State of Women's Entrepreneurship in Canada 2020, the first annual report from the Women Entrepreneurship Knowledge Hub (WEKH), synthesizes government, academic, and expert research to highlight some of the structural barriers facing diverse women entrepreneurs in Canada. The research shows clearly that COVID-19 has amplified structural barriers, has affected women entrepreneurs more than men and has affected Indigenous, racialized and other diverse entrepreneurs most of all.
While the study showed that more data are needed on diverse women entrepreneurs, it highlighted some important issues:
Women are majority owners of about 15.6 percent of Small Medium Enterprises (SMEs) with one or more employees – about 114,000 companies (2017). But women account for over 37 percent of self-employed Canadians or 1,050,000 (2019).
Women entrepreneurs are more likely to be in services, social, health and beauty, and food sectors than in manufacturing and technology.
Women are less likely to seek and receive financing than men (32.6 percent vs. 38 percent) and firms owned by men are more likely to receive venture capital or angel funding and other forms of leverage such as trade credit or capital leasing.
SMEs with under 20 employees have been the hardest hit during the pandemic and women are more likely to own newer and smaller businesses, making them the most affected.
During the pandemic, the percentage of women-owned businesses that laid off staff, 40.6 percent, is about equal to the percentage of men-owned businesses overall (40.5 percent). However, the percentage of women-owned businesses that have laid off 80 percent or more of their employees is substantially greater than that of businesses overall (62.1 percent vs. 45.2 percent).
How to cite
Cukier, W., Gagnon, S., Hodson, J., Saba, T., Grandy, G., Morton, S., Elmi, M., Stolarick, K., & Chavoushi, Z.H. (2020). The State of Women's Entrepreneurship in Canada: 2020. Women Entrepreneurship Knowledge Hub. https://wekh.ca/wp-content/uploads/2020/10/WEKH_State_of_Womens_Entrepreneurship_in_Canada_2020_EN-1.pdf
Read More