Supports for 2SLGBTQ+ Entrepreneurs Across Canada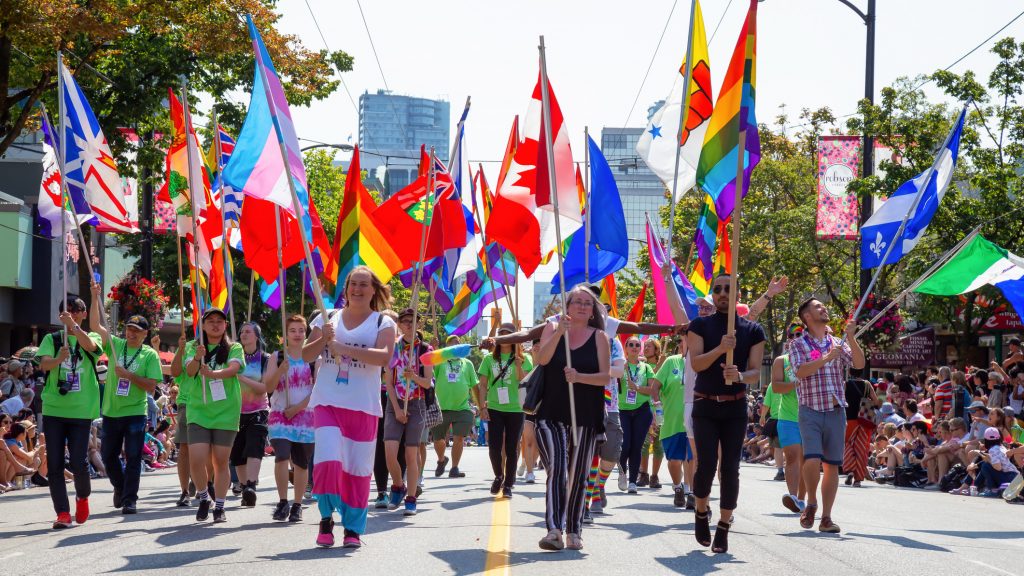 For 2SLGBTQ+ business-owners in Canada, the turn to entrepreneurship may be taken out of necessity.
Many Two-Spirit, Lesbian, Gay, Bisexual, Trans, and Queer people in Canada, particularly trans and gender non-conforming individuals, face persistent barriers blocking their path to success at work. A 2016 survey of over 800 Canadians designed to examine lesbian and gay experiences in the workplace found that 37% of respondents believe that their workplace was not inclusive of lesbian and gay people. Additionally, 45% of those surveyed thought their workplace was not inclusive of trans employees.
Data from the 2020 Trans Pulse Canada Survey shows that while 89% of trans people have some college or university education, about half make $30,000 per year or less. A 2017 Public Service Employee Survey found that gender diverse federal employees are almost three times more likely to have experienced discrimination on the job in the two years prior to the study compared to fellow cisgender employees.
Black, Indigenous, East Asian, South Asian, Latinx and disabled 2SLGBTQ+ individuals, and those from other marginalized groups, face compounded discrimination that can make their experiences at work even more trying.
"2SLGBTQ+ people, as well as marginalized people of many different stripes, have trouble accessing meaningful, inclusive and affirming employment. When you are constantly not seeing a space for yourself in the organizations that are out there, becoming an entrepreneur is sometimes the only way you can go," says Jade Pichette, Pride at Work Canada's Manager of Programs.
New 2SLGBTQ+ entrepreneurs are not alone in this endeavor: It is estimated that there are approximately 28,000 LGBT+-owned businesses in Canada.
A variety of supports exist across Canada that may help 2SLGBTQ+ entrepreneurs and those interested in beginning their entrepreneurship journey. We are delighted to share resources that may assist individuals bring their ideas to life, scale their enterprises, connect with other business-owners and leaders in the community, and learn more about 2SLGBTQ+ inclusion in Canada's economy.
Business Networks
CGLCC – Canada's LGBT+ Chamber of Commerce
The CGLCC has been building links between LGBT+ businesses in Canada and the wider business community since 2003. It helps LGBT+ entrepreneurs thrive by offering opportunities for access, engagement, visibility, and specialized support. It is also the certifying body for LGBT+ businesses in Canada. Every year, the CGLCC hosts a LGBT+ Business Summit that brings together business owners, corporate leaders, young entrepreneurs, government and academia to connect, and develop and share knowledge.
CCLGBTQ – Chambre de commerce LGBT du Québec
The CCLGBTQ has represented and promoted the needs and successes of the LGBT business community in Québec since 1997. They work jointly with government and organizations to amplify the voices of LGBT business-owners in economic and social issues.
LOUD Business has evolved out of the Gay Lesbian Business Association of BC, established over 35 years ago. They create opportunities for professionals and entrepreneurs within the LGBTQ2+ community in British Columbia to network, learn and grow.
Alberta LGBTQ+ Chamber of Commerce
The Alberta LGBTQ+ Chamber of Commerce aims to build a strong Alberta economy that is supported by, and supportive of, diverse communities. The Chamber enhances the ability of LGBTQ+ business-owners to access resources, build skills, and create networks, partnerships and opportunities with like-minded individuals and organizations.
Manitoba LGBT* Chamber of Commerce
For over 25 years, the Manitoba LGBT* Chamber of Commerce (formerly LAMBDA) has worked to cultivate, contribute to, and promote a community of LGBT* owned and allied businesses, professionals, and students in Manitoba. Membership grants access to monthly business growth events and the ability to contribute to a Chamber committee.
OGLCC – Ontario LGBTQ2+ Chamber of Commerce
The OGLCC strives to help LGBTQ businesses and professionals succeed by fostering the sharing of knowledge and resources among the community. They also host an extensive directory of LGBTQ-owned and LGBTQ-friendly businesses in Ontario.
QueerTech is an online community that aims to help LGBTQ people get jobs in technology or launch tech ventures. They host events and workshops for their community to network and share their learnings, including PrideHacks, an annual hackathon bringing LGBTQ2S+ people together from Montreal's tech ecosystem.
Education, Advocacy and Development
CGLCC LGBT+ Youth Entrepreneur Program
Introduced in 2017, CGLCC's OUT For Business Initiative is a mentorship program designed to empower LGBT+ youth entrepreneurs by offering tailored support and guidance to establish or grow their businesses. Through one-on-one and team mentoring, young entrepreneurs can learn from the experience and expertise of mentors and leaders in the LGBT+ business community.
Trans PULSE Canada is a national community-based survey conducted in the summer of 2019 that examines the health and well-being of trans, non-binary and Two Spirit people in Canada. Select study results have been released as QuickStats with more findings to come over the next two years.
The Institute for Gender and the Economy (GATE)
Housed at the Rotman School of Management at the University of Toronto, GATE promotes an understanding of gender inequalities and how they can be remedied in business and in the economy. They are harnessing the power of rigorous research to change the conversation on gender equality.
Pride at Work Canada/Fierté au travail Canada
Founded in 2008, Pride at Work Canada empowers Canadian employers to build workplaces that are inclusive to employees of all gender expressions, gender identities, and sexual orientations. They coordinate events, workshops, and resources that can help employers create more inclusive environments.
TransFocus brings systems-thinking to gender inclusion to help organizations transform from the inside out. Their team works collaboratively with organizations to resolve gender issues and uncover innovative solutions.
Egale has been working to improve the lives of LGBTQI2S people in Canada and enhance the response to LGBTQI2S issues abroad through research, education, awareness and legal advocacy. They also host workplace inclusion sessions for organizations looking to learn more.
Start Proud (formerly Out on Bay Street) helps LGBTQ+ students develop their professional skills as they transition away from school and into their careers. Start Proud organizes four career conferences, regular networking events in Toronto and Ottawa (with hopes to expand across Canada), and the Let's Talk: Women's Speaker Series.
Looking for inspiration? The ArQuives (formerly the Canadian Lesbian + Gay Archives) have been celebrating, preserving, and collecting the stories and histories of 2SLGBTQ+ people in Canada since 1973. It is a critical resource to academics and historians, artists, filmmakers, writers, and playwrights.
Additional Supports
We invite you to also explore our Resources page to find additional organizations that may help you. Filter our database of resources by Location and Category to connect with the services that might best help you.
Do you know of any organizations or resources that should be included on this list? Please get in touch.