Women Entrepreneurship Knowledge Hub (WEKH) receives almost $4 million from Government of Canada – Celebrates Women's Entrepreneurship Day at TSX Market Open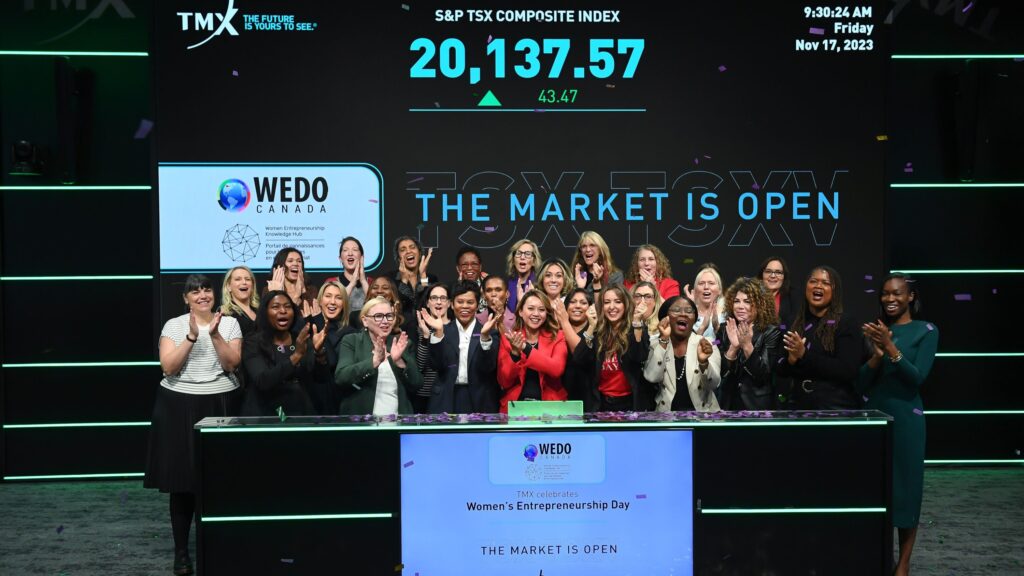 ---
Toronto, ON November 17, 2023: Today, the Women Entrepreneurship Knowledge Hub (WEKH), WEDO Canada and TMX Group celebrated Women's Entrepreneurship Day with more than 125 diverse women entrepreneurs and entrepreneurship ecosystem partners from across Canada at a TSX market open ceremony in Toronto.
During the event the Honourable Rechie Valdez, Minister of Small Business, joined by the Honourable Marci Ien, Minister for Women and Gender Equality and Youth, announced additional funding of up to $3.8 million for the Women Entrepreneurship Knowledge Hub (WEKH), which will help WEKH to continue its national research to understand barriers and enablers to entrepreneurial success and innovation, expand ecosystem partnerships and raise awareness about the success of women entrepreneurs.
Both Ministers acknowledged the critical role that women entrepreneurs play in Canada's economy while recognizing challenges that women-led businesses have to overcome to succeed. "We are committed to moving the needle for women entrepreneurs because supporting women is not just the right thing to do, it is the smart thing to do to support our economy," said Minister Valdez. Prior to becoming Minister of Small Business, Minister Valdez was an entrepreneur herself and put forward the Private Members' Bill to enact the National Women's Entrepreneurship Day in Canada.
"As Minister for Women and Gender Equality and Youth, I see up close that is not always a level playing field when it comes to women looking to start and grow their businesses," said Minister Ien. "We have to make sure that we're pushing for gender equality in our communities, in our institutions and in our economy, because it's so much untapped potential in our country. A strong resilient economy is inclusive."
Shannon Pestun, Founder, Finance Café and Senior Adviser, Business and Finance, WEKH, spoke about the importance of collecting aggregate data about women entrepreneurs, echoing a previous statement from Wendy Cukier, Founder and Academic Director of WEKH and the Diversity Institute at Toronto Metropolitan University, that "what gets measured, gets done." She added, "When the Women's Entrepreneurship Strategy was set up, we knew that data was key. Through data we can assess the market potential of $150 billion if there was full and equal participation of women in the economy. Through data we can understand the impact that COVID 19 had on women entrepreneurs, through data we can better understand intersectionality and what works for whom, and why and who is being left behind. Through data, we're also able to deepen our understanding of the barriers and how we as an ecosystem respond to those barriers through our programming, through our wraparound supports and through our genuine care to advance women's entrepreneurship."
"The Government of Canada's Women Entrepreneurship Strategy is a world-leading program that takes a 'whole of government approach' to support Canada's diverse women-led businesses and is making important and targeted investments towards breaking down the systemic barriers to the advancement of women entrepreneurs," said Cukier. "We are pleased to see the continued support of the Women Entrepreneurship Knowledge Hub and will continue to share knowledge about the importance of intersectional perspectives and the unique entrepreneurial experiences of newcomer women, and Black, Indigenous, racialized, 2SLGBTQ+ and other women of equity-deserving groups."
Co-hosts of the event, WEDO Canada had several volunteers in attendance and Milena Radakovic, Canada Ambassador, WEDO Canada, explained the importance of Women's Entrepreneurship Day, which is held annually on November 19 and is the world's largest grassroots movement dedicated to educating, supporting and empowering women entrepreneurs. "We've gathered here in the iconic platform of the Toronto Stock Exchange to celebrate entrepreneurship day—a momentous occasion. It underscores the remarkable achievements of women entrepreneurs, and a pivotal role they play in shaping the economy and the society."
Cheryl Graden, Chief Legal and Enterprise Corporate Affairs Officer and Corporate Secretary, TMX Group, welcomed everyone to the market open ceremony. "Opening the market is a long-held tradition for the TMX Group, for our stock exchanges and of course for Canada. She noted that "Most of the public companies in Canada that are listed and trade on our exchanges are in fact not large at all, and are actually medium and even quite small-sized companies. This makes Canada unique in the world and provides entrepreneurs with real options for growing and scaling their businesses." She closed the event by honouring the entrepreneurship ecosystem partners and entrepreneurs in the room by saying, "The work done by everyone here today is so important. To achieve true gender equality and to pave a path for the next generation to also reach their full potential not only for their own benefit, but also for the welfare and success of the broader community."
Click here for the full news release from Innovation, Science and Economic Development Canada.
For more information, please contact: Kathleen Powderley, [email protected], 416-803-5597.