What is Supplier Diversity & the Role of Supply Councils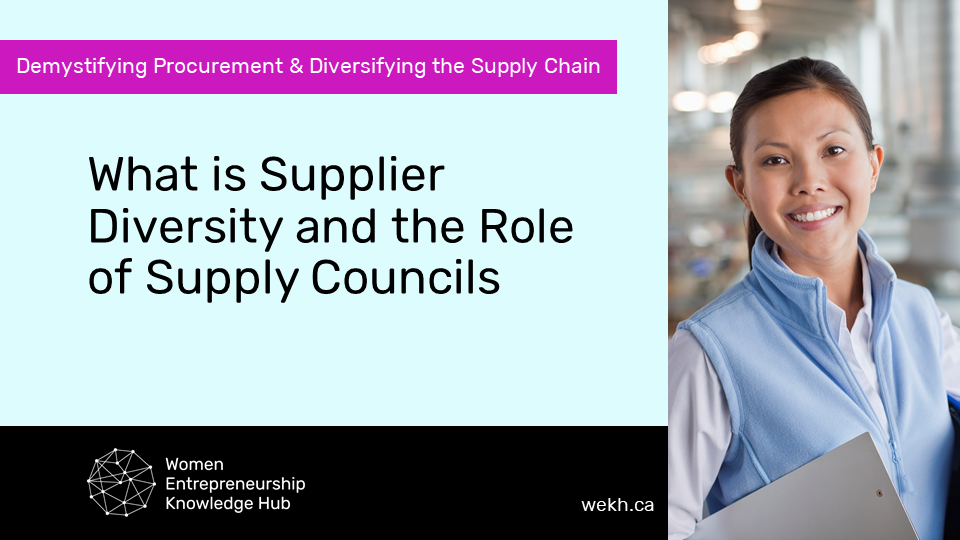 Governments and corporations are among the largest buyers of goods and services in Canada. Yet the procurement processes behind these sales are not well understood and not often on the radar screens of women and diverse entrepreneurs.
Demystifying Procurement and Diversifying the Supply Chain, a new webinar series from the Women Entrepreneurship Knowledge Hub (WEKH), aims to raise awareness about procurement as well as the initiatives, tools and resources that can support diverse entrepreneurs in accessing procurement opportunities in Canada. The first discussion in the series defined supplier diversity and the role of supply councils in Canada. Wendy Cukier, Founder and Academic Director of the Diversity Institute, set the stage by clarifying core concepts around procurement and presenting the latest research of supplier diversity.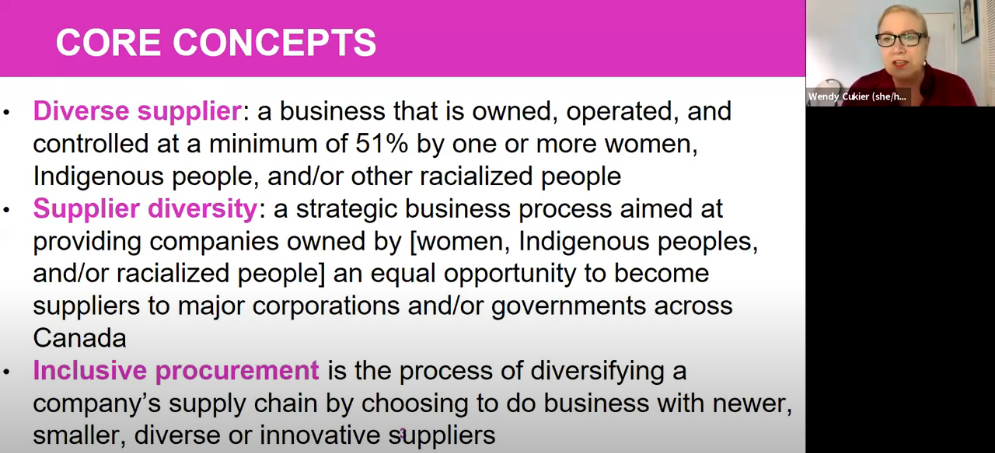 A diverse supplier is a business that is owned, operated, and controlled at a minimum of 51% by one or more women, Indigenous people, and/or other racialized individuals. By extension, supplier diversity is a strategic process that aims to provide diverse suppliers with an equal opportunity to do business with major corporations or governments across the country. Inclusive procurement is the process of diversifying a company's supply chain by intentionally doing business with newer, smaller, diverse or innovative suppliers.
Through inclusive procurement, large corporations and governments can empower diverse entrepreneurs while unlocking several other benefits, including access to greater innovation and quality in the supply chain, and the ability to better respond to customer needs in an increasingly diverse global market. Procurement can also play a powerful role in supporting diverse entrepreneurs in their recovery from the COVID-19 pandemic.
"When we talk about rebuilding better, procurement is—without question—one of the largest strategic levers we have," Cukier explained.
Yet less than 40% of large corporations have formal supplier diversity programs. While some governments do have formal programs, they are not consistently implemented. Cukier stressed that benchmarks, targets, and accountability frameworks at all stages of supplier diversity programs are central to their success.
Review Wendy Cukier's presentation for more information on supplier diversity programs, key barriers facing diverse suppliers, and tips for purchasers, diverse entrepreneurs, and organizations supporting women and diverse entrepreneurs.
In Conversation with Canada's Supply Councils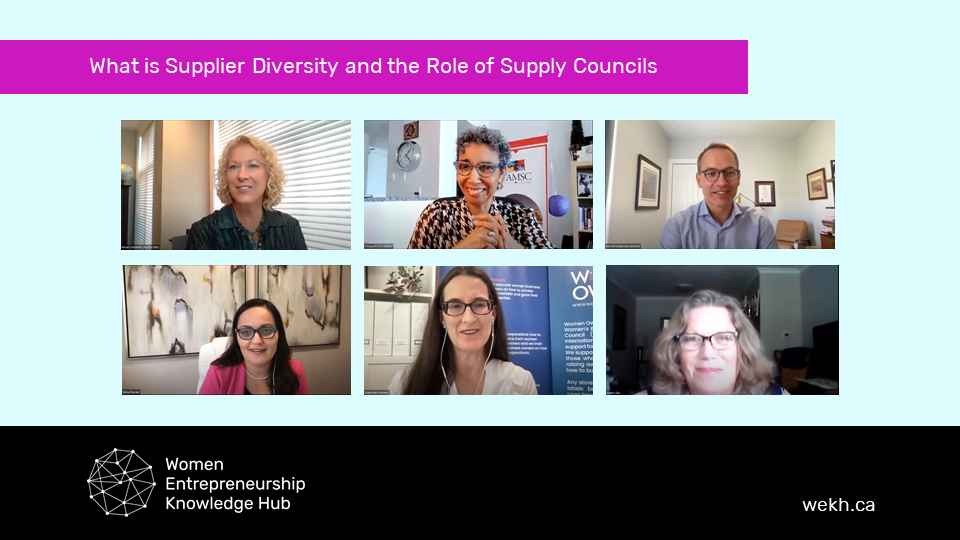 Alison Campbell, Visiting Research at the Diversity Institute, asked leaders from national supply councils to expand on these concepts, outline the role of supply councils, and discuss the benefits of certification for both suppliers and the buyers.
While individual supply councils support different communities, they do share several similarities. Silvia Pencak, President of Women Business Enterprises (WBE) Canada, explained that all councils certify diverse suppliers and organize opportunities for suppliers and buyers to connect.
Cassandra Dorrington, President of the Canadian Aboriginal Minority Supply Council (CAMSC) spoke about how supply councils also work to level the playing field and ensure diverse suppliers are able to effectively compete for procurement contracts. They focus on lessening the barriers, demystifying procurement processes, and bringing suppliers and purchasers to the same table.
Darrell Schuurman, CEO of Canada's LGBT+ Chamber of Commerce (CGLCC), added that supply councils also play a key role in providing business-building and capacity-building opportunities to diverse suppliers.
Certification can unlock new avenues of access to top purchasing professionals, Deidre Guy explained, President of the Inclusive Workplace Supply Council of Canada (IWSCC). These buyers work with supply councils specifically to connect with diverse business-owners, Guy noted, and thus are often willing to work with diverse suppliers to have them as part of their supply chains.
Several supply councils also support diverse suppliers in exporting their products and services beyond Canada's borders. Stephanie Fontaine, Regional Director, North America at WEConnect International, emphasized that while the first-step is to get certified, suppliers also need to remain visible and active by attending events and networking opportunities in order to successfully bid on, and win, procurement opportunities.
Today, supply councils are expanding their offerings to better serve diverse entrepreneurs in Canada. CAMSC is modifying their certification program to incorporate entrepreneurs of refugee experience, and the CGLCC expanded their scope to include business-owners that identify as Queer. On the buyer side, WBE Canada's "Supplier Diversity Accelerator" is supporting corporations in developing supplier diversity programs to better engage diverse suppliers.
Learn More
Watch the webinar on-demand to hear more from our expert panelists