Advancing Indigenous women entrepreneurs: Convening Alberta's Indigenous women entrepreneurs and the ecosystem that supports them
Story by Grace Heavy Runner, photos by Erica Johnson
The Women's Entrepreneurship Knowledge Hub (WEKH) hosted an inspiring afternoon on Treaty 7 territory in Mohkinstsis, which consists of the Blackfoot, Tsuut'ina and Stoney Nakoda First Nation. The land is also home to Métis Nation Region 3. Guests came together to celebrate and advance Indigenous women entrepreneurs in Alberta.
This sold-out celebration was attended by over 150 participants including Indigenous and non-Indigenous entrepreneurs, artists, and ecosystem champions. Throughout the day attendees discussed reconciliation, decolonization and the importance of building an inclusive environment.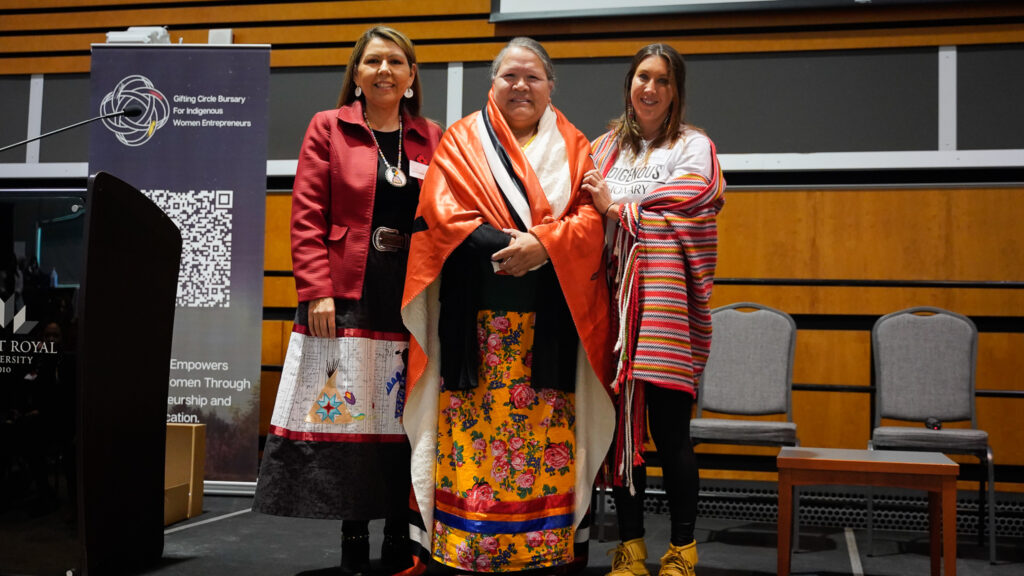 Held at Mount Royal University (MRU), the regional hub for WEKH, the gathering began with a Blackfoot prayer from Elder Ek-Kanakii Mekaisto, a residential school survivor from Siksika First Nation. She urged attendees: "Don't give up, keep going and don't let anyone stop you from achieving your goals."
Her words resonated throughout the day. Breaking down barriers and shining a light on vibrant women Indigenous talent was part of the goal of what panelists suggested needs to be the next step for transformative change: "ReconciliACTION".
The event also raised money for the Gifting Circle Bursary for Indigenous Women in Entrepreneurship at MRU which was created by Shannon Pestun, Indigenous entrepreneur, MRU Alumna and Senior Advisor to WEKH.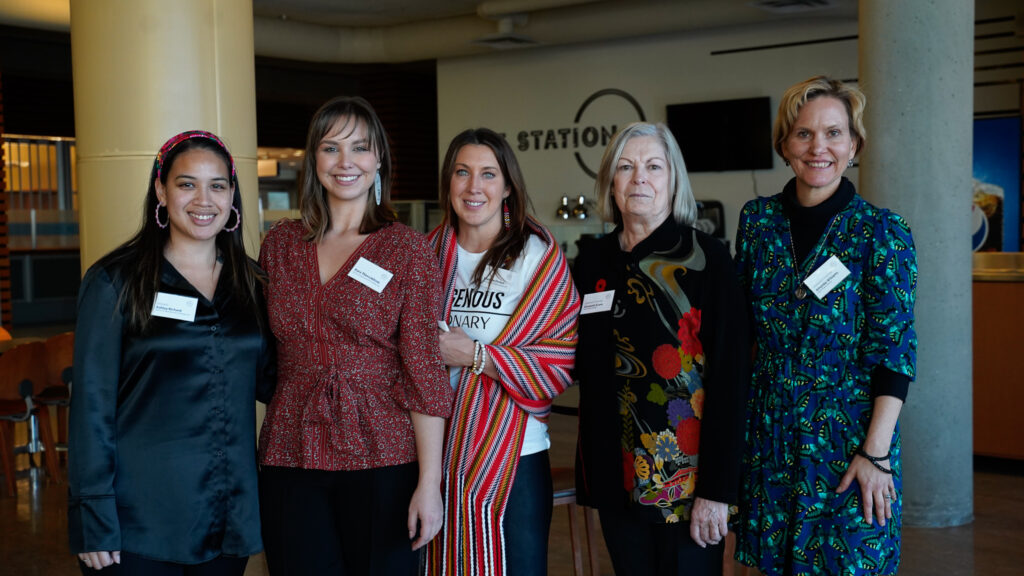 WEKH, a national network supported by 10 regional hubs, is part of the Government of Canada's Women Entrepreneurship Strategy. It offers resources and collaboration, challenges gender stereotypes, raises awareness about women-centered entrepreneurial success and opportunity, and links women entrepreneurs to the organizations that serve them.
Pestun spoke of the importance of supporting Indigenous women entrepreneurs by bringing them together with the ecosystem: "We cannot overstate the importance of building a healthy ecosystem. So often entrepreneurs don't know where to go. They don't know how to come together. Today is a really great opportunity to come together to see who's in this space, make different connections and forge deeper connections."
As a National Needs Analysis on Indigenous Women's Entrepreneurship (2021) by WEKH reveals, there are close to twenty-three thousand Indigenous women entrepreneurs in Canada, and that number is growing faster than the number of Indigenous men and at twice the rate of Canadian women in general.
The energy of this burgeoning demographic was felt throughout the day. The hashtag #AIWEAlberta22 was used on social media and promoted by the dynamic Lowa Beebe, a community leader in communication and advocacy, and the emcee of the event.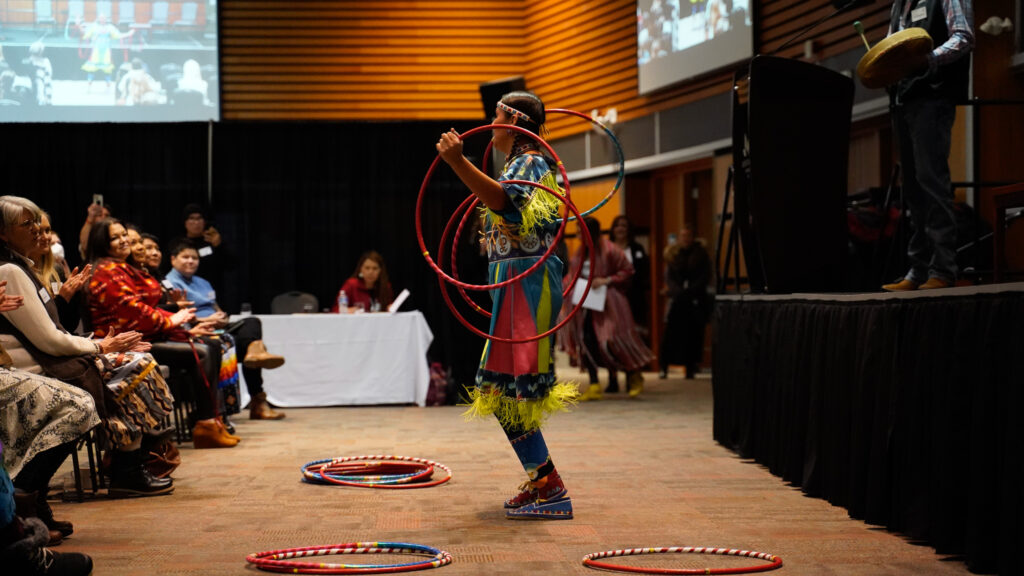 Sandra Lamouche, Hoop Dancer, graced participants with her spectacular butterfly dance rhythms with her husband drumming and singing. While, Alanna Bluebird-Onespot, provided powerful Spoken Word poetry.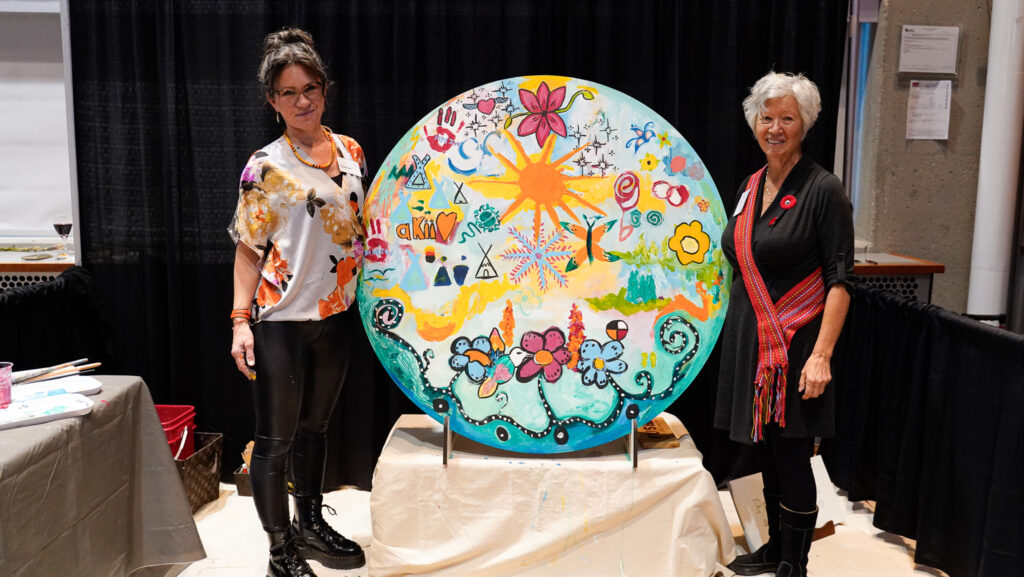 Those in attendance also got to participate in a live collaborative art piece, co-led by Cathy Pestun, a Cree Métis woman and self-taught artist and visual artist Paula Timm. A visual representation of the day's collective experience and what economic reconciliations means to those who attended was produced.
Two panels also informed, engaged, and inspired participants.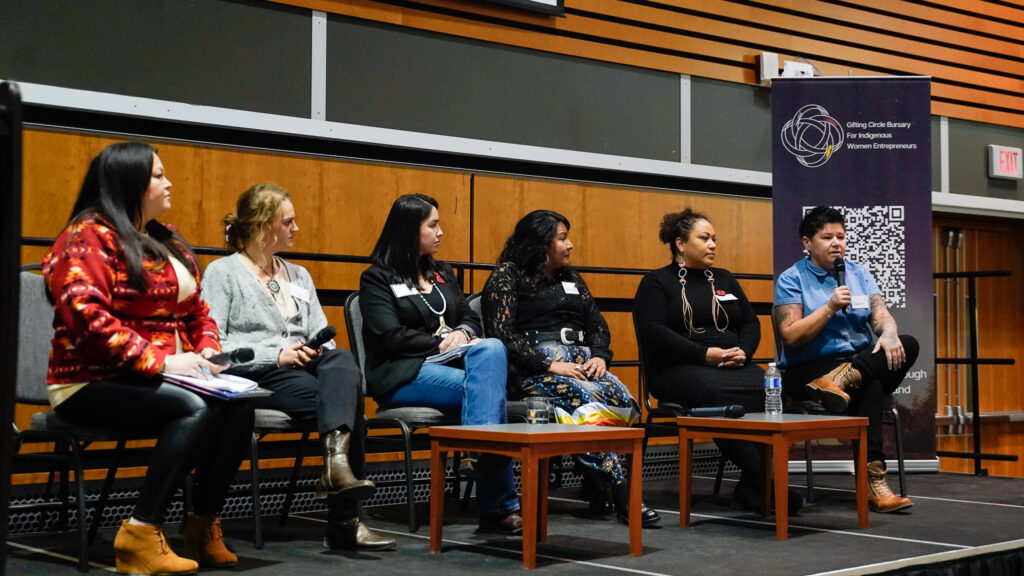 The first panel, "Entrepreneurship through the lens of Indigenous women entrepreneurs," was moderated by Holly Atjecoutay, Director of the Indigenous Entrepreneur Startup Program at Futurpreneur and included as panelists, founder of Virtual Gurus Bobbie Racette, Melrene Saloy of Native Diva Creations, Heather Black of Buffalo Stone Women, founder and owner of SKS Coby Royal, and Erin Creegan-Dougherty from Maskwa Backcountry Foods.
Racette, who received 170 initial rejections when she was starting out, recently became the first Indigenous woman to close a Series A round of funding. Having secured $8.4 million of investment for Virtual Gurus, she offered this message: "For entrepreneurs, especially future Indigenous entrepreneurs, I would say be bold and be you…Don't be afraid to just be who you are…Be out there and don't worry about what anybody else says."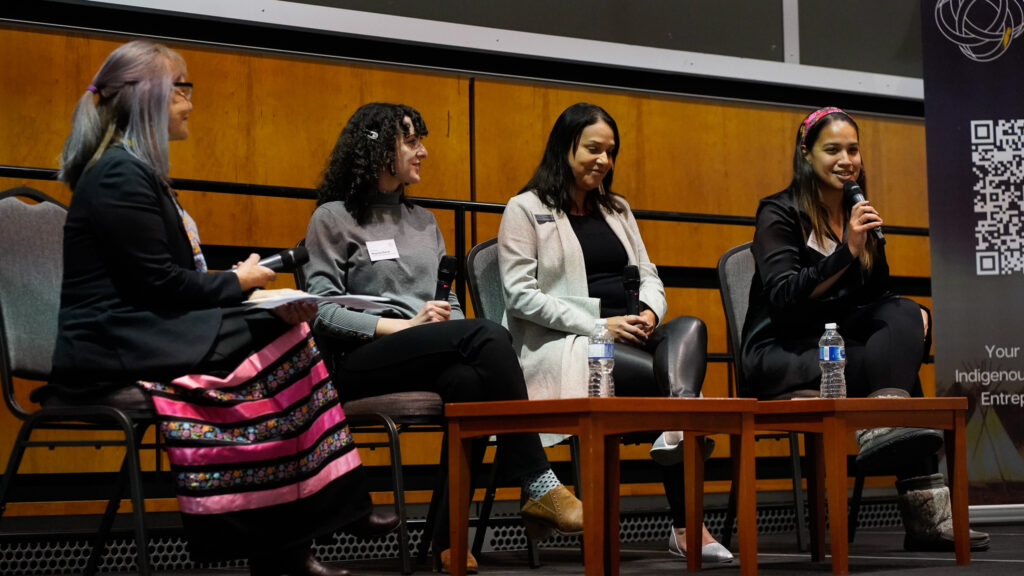 The second panel, "Advancing Indigenous women's entrepreneurship as an ecosystem," was moderated by dr. linda manyguns, associate vice-president of indigenization and decolonization at MRU and included the lead of WEKH Indigenous Ashley Richard; Magnolia Perron the lead of the Indigenous women entrepreneurship strategy at NACCA; and the CEO of AWE, Marcela Mandeville.
The day ended on a celebratory note with a donation by Cenovus Energy of $20,000 to the bursary.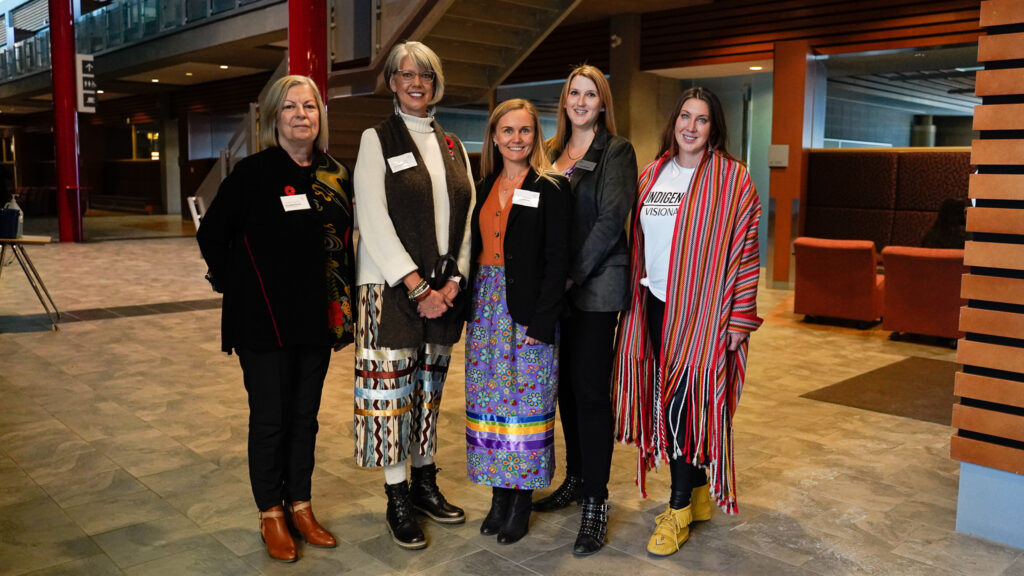 Andrea Louise, the Advisor of Indigenous Inclusion from Cenovus Energy Inc, noted the importance of these funds. "Donating to Indigenous women entrepreneurs to help ensure their success is an incredible cause. We must recognize our responsibility as a society to support reconciliation with Indigenous peoples. One of the most important ways we can do that is through economic inclusion. The connection between economic self-sustainability and entrepreneurship is undeniable."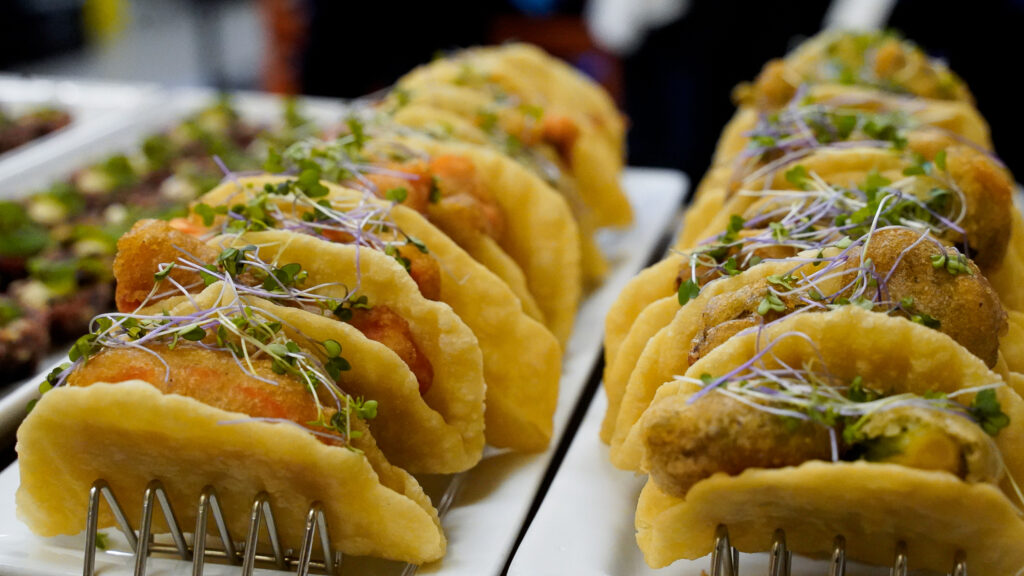 Participants got to mingle and sample Indigenous-inspired appetizers and purchase goods from five local Indigenous vendors which included: Buffalo Stone Woman's tours, owned by Heather Black; Maskwa Backcountry Foods, founded by Erin Creegan-Dougherty; Native Diva Creations, by designer Melrene Saloy; Use Less Co, operated by Métis entrepreneurs Corinne Derman and Brianna Poulsen; and Loretta's Wellness Circle, created by Loretta Tuttau.
Event supporters and sponsors included Cenovus Energy Inc, NACCA, the Government of Alberta, Mount Royal University, Fasken, Apeetogosan Metis Development Inc, The Finance Cafe, ATB and TD.
Throughout the day, Indigenous women entrepreneurs were able to connect with almost 20 organizations including government economic agencies, financial institutions, business support services, and others offering relevant programming and services.
As the event ended, all the Indigenous women present gathered on stage for a photograph together, capturing the tremendous beauty of a day filled with creativity, learning and passion.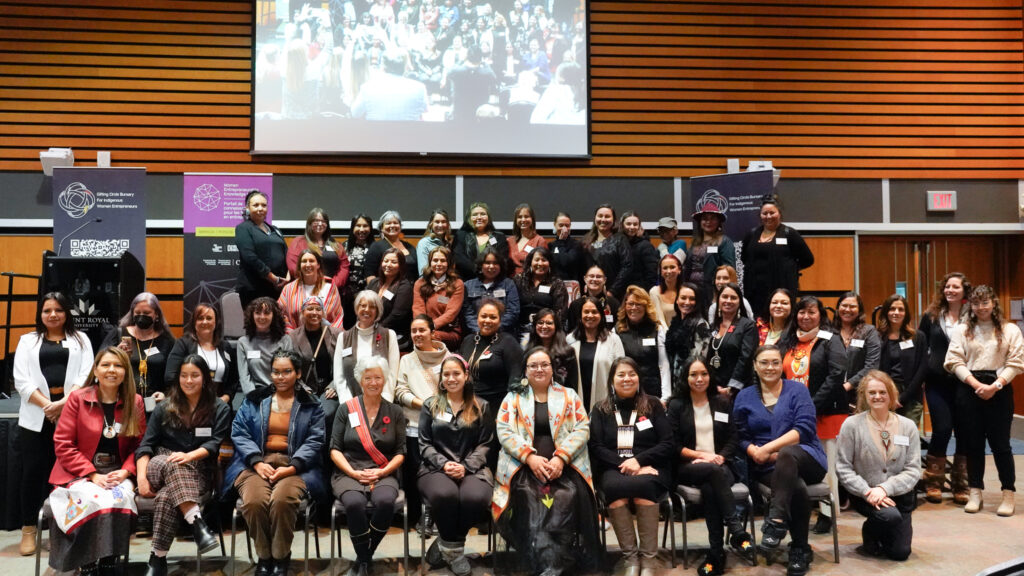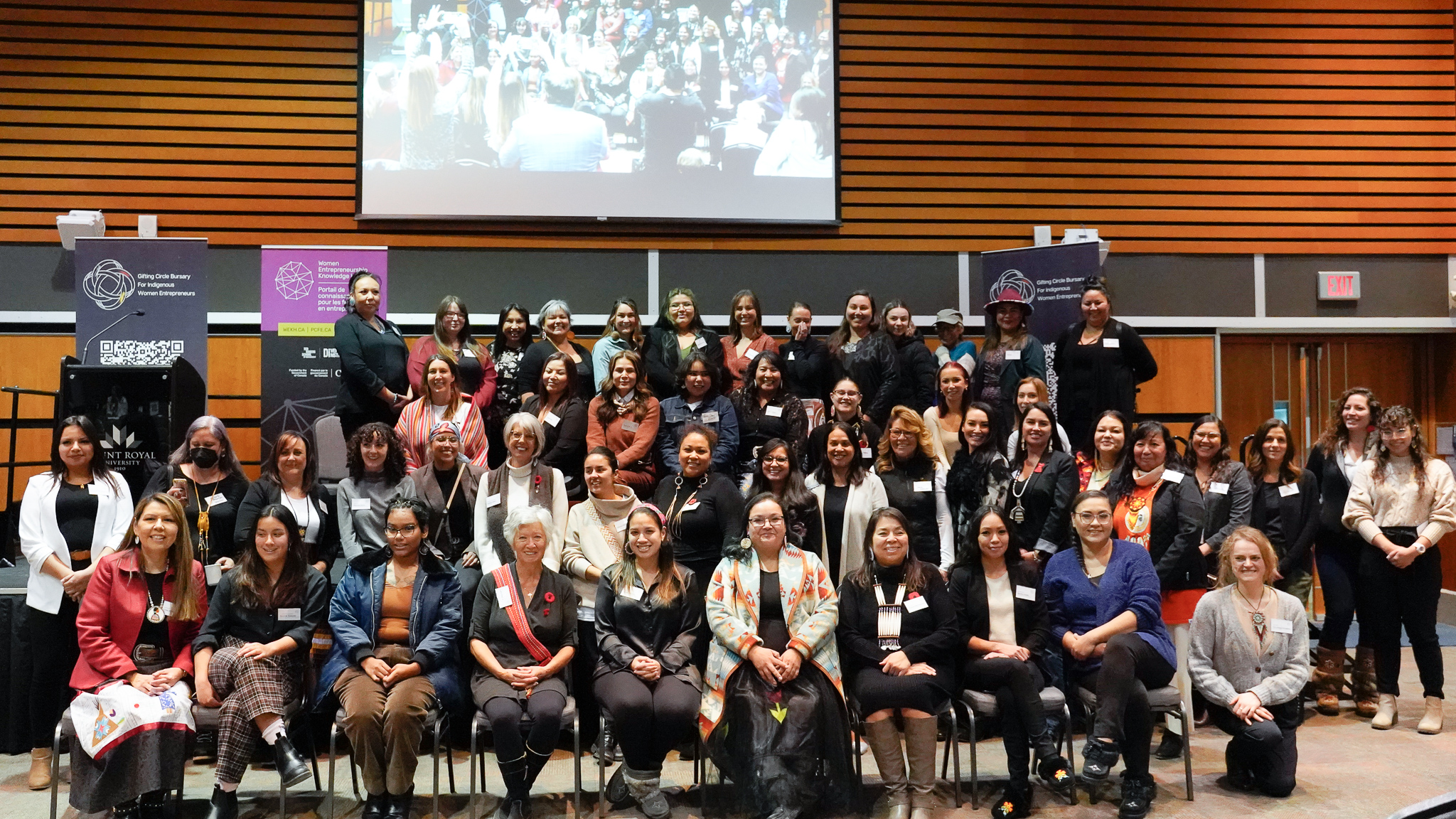 Interim MRU Provost and Vice President Academic, and lead of the WEKH Alberta Hub, Dr. Elizabeth Evans commented, "It's really just wonderful to see how women and female entrepreneurs in the Indigenous community can come together for a day like today. This conversation is so important to continue… to keep advancing Indigenous women's aspirations for building businesses, for serving their communities, for creating community, and for growing economic benefits."
A resounding success, this celebration raised over $40,000 for the Gifting Circle Bursary making it endowed. Over $65,000 has been raised for the bursary since it was launched in 2020; it is the first of its kind in Canada.
If you would like to find out more, read the profiles of panelists and key participants.
If you could not attend but still want to donate to the bursary, more details can be found on the MRU Foundation website.