"How I Raised" Series: Insights from Bobbie Racette's journey
The workshops shed light on the challenges faced by women entrepreneurs in raising funds and share success stories of resilient founders. This series provides practical guidance, knowledge, and strategies to entrepreneurs who want to secure funding and scale their businesses.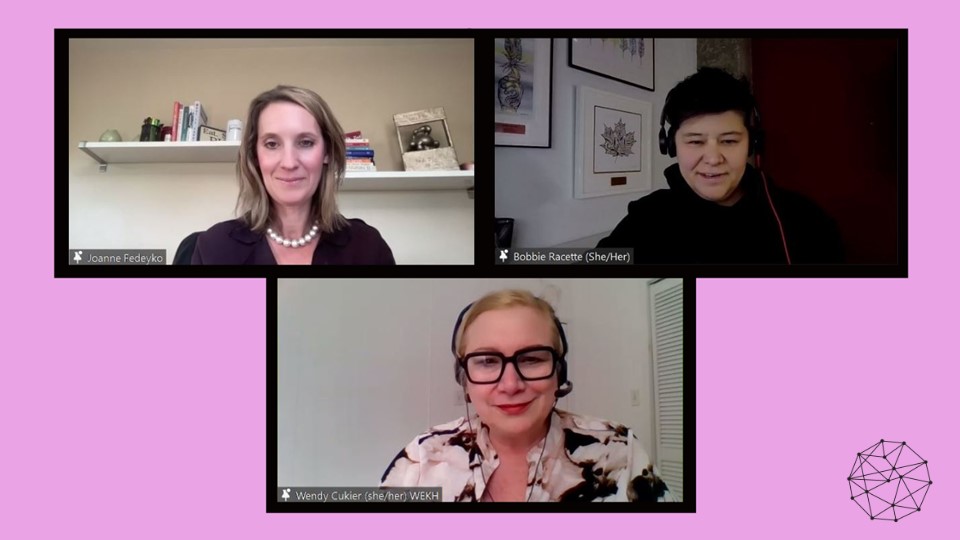 The Women Entrepreneurship Knowledge Hub (WEKH) and the Canadian Women's Network (CWN) recently hosted the "How I Raised" webinar, which featured Bobbie Racette, founder and CEO of Virtual Gurus and askBetty, two enterprises that provide virtual assistance services to professionals in need of support. The May 9, 2023, webinar showcased her entrepreneurial journey and the challenges she faced when raising capital for her business.
Dr. Wendy Cukier, founder and academic director of the Diversity Institute and WEKH, began by presenting research highlights from the State of Women's Entrepreneurship (SOWE) in Canada 2023 report. She also discussed efforts to create a more inclusive innovation ecosystem for women entrepreneurs in Canada. "One of the biggest fights that we are constantly engaged in is trying to ensure that the voices of small and medium-sized enterprises, generally, are heard when it comes to economic and innovation policy. And, of course, we also know that women, Indigenous Peoples and equity-deserving groups are often facing additional barriers in terms of access to funding," she said.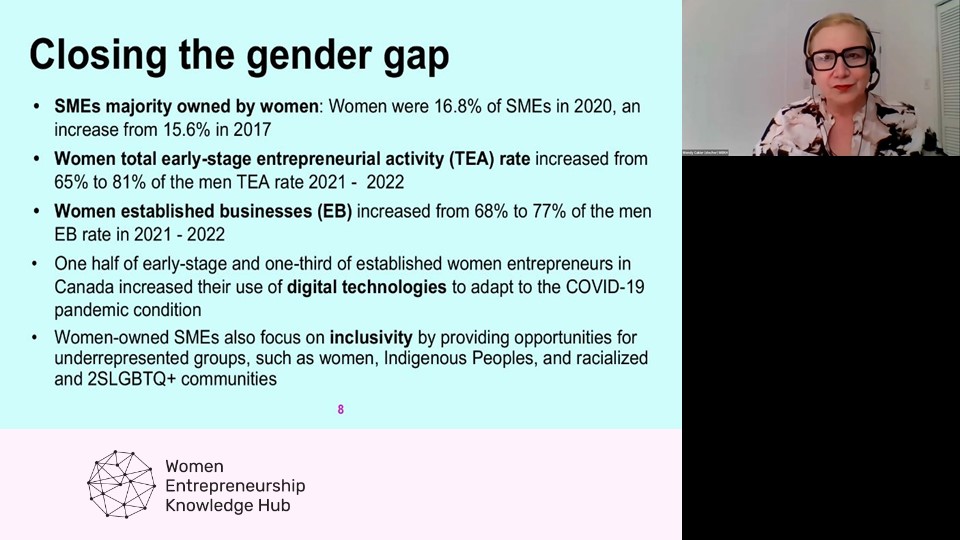 Despite the barriers that women entrepreneurs face, there are some encouraging trends within the entrepreneurial ecosystem this year, Cukier noted. For instance, 18% of businesses in Canada are majority owned by women, which is an increase from 16.8% in 2020. Additionally, despite the challenges posed by the COVID-19 pandemic, women have shown resilience and determination, she said: "In spite of COVID, women are holding their own."
"We've also seen an increase in entrepreneurial intent, and we've seen that more and more women are engaged with digital technologies and also the sustainable development goals," she added. These trends collectively highlight the ongoing efforts and achievements of women entrepreneurs, showcasing their ability to thrive and contribute to various sectors of the economy.
The highlight of the webinar was a fireside chat featuring Bobbie Racette, moderated by Joanne Fedeyko, founder & CEO of Connection Silicon Valley (CSV). Racette is a Cree Métis and is dedicated to championing the rights and empowerment of Indigenous Peoples and the 2SLGBTQ+ community. Her mission revolves around creating meaningful employment opportunities for underrepresented individuals, including First Nation, Métis and Inuit peoples, as well as members of the 2SLGBTQ+ community and racialized people.
Racette talked about her fundraising journey, providing insights on the forms of capital she has secured throughout the years and the progress she has made along the way. "Bobbie is an unstoppable force in the Canadian startup community," said Fedeyko. Racette shared that she was rejected by over 170 investors, primarily men, when she tried to fund Virtual Gurus and was told that her business was not scalable. Fortunately, Racette persisted, driven by her vision to build a successful tech company that would provide opportunities for people who come from diverse backgrounds.
A main factor contributing to Racette's success was her decision not to pay herself a salary during the early stages of her business venture. "I didn't pay myself a salary and I bootstrapped Virtual Gurus to a million in recurring revenue," Racette said. "So, I had no money, no nothing, just revenue coming in.
"I just kept going and going, and not paying myself at all. So, I was able to put all the money back into the company, and then I was able to put that money into the growth part of it and into hiring employees."
After two years of fundraising, following her strategy and bootstrapping her company, Racette secured $1.5 million in funding in 2020. Virtual Gurus then closed its Series A venture capital funding round of $8.4 million in March 2022. With this funding, Racette said she aims to expand the company's technology platform and extend its services into the United States.
For Racette, grants played a big role in her journey. She said she received funding from the National Research Council of Canada Industrial Research Assistance Program and Alberta Innovates, among others. Fedeyko praised Racette for her resilience and achievements throughout her journey. "Bobbie, there's just a lot of your drive and determination and your values, I think, that's really created this path for you," she said.
Racette encouraged founders to be self-confident and bold, and to embrace bravery. Moreover, she emphasized the importance of being true to oneself and continuously seeking knowledge to keep growing on the entrepreneurial journey.
Dr. Cukier also praised Racette, highlighting her determination and grit, and emphasized on the insights she shared during the fireside chat. "The fact that you had so many people say 'no' and you just kept going, and I think that that is probably the most important message that we can share with others: 99% can say no but if the 100th [person] says 'yes,' it's worth being tenacious and resilient, and just keep pushing forward," Cukier said.
Watch the session to hear more from the hosts and Racette's fundraising journey.