Mikwam Makwa Ikwe (Ice Bear Woman): A National Needs Analysis on Indigenous Women's Entrepreneurship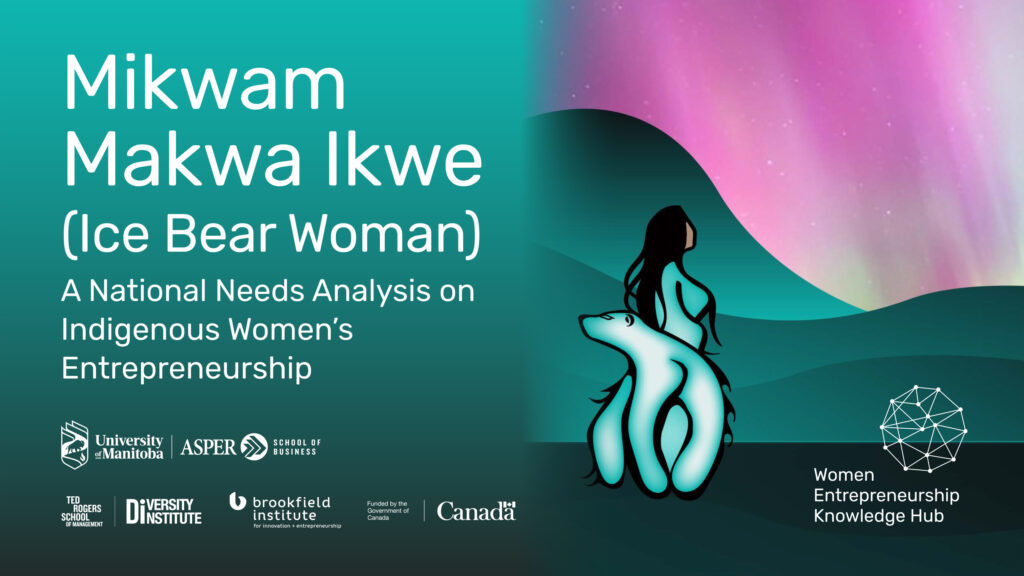 Mikwam Makwa Ikwe, Anishinaabe for Ice Bear Woman, is the name given to the Women Entrepreneurship Knowledge Hub during a traditional pipe ceremony with Elder Margaret Lavallee of Sagkeeng First Nation. The polar bear is a symbol of courage and strength. She is a protector.
We recently launched Mikwam Makwa Ikwe (Ice Bear Woman): A National Needs Analysis on Indigenous Women's Entrepreneurship, a new study based on a national series of 16 community consultations presented with over 44 organizational partners that engaged more than 350 Indigenous women entrepreneurs and members of the entrepreneurship ecosystem.
The captivating cover art, designed by Megan Currie of X-ing Design, is Currie's interpretation of Mikwam Makwa Ikwe (Ice Bear Woman). A woman, standing on the banks of a frozen lake next to a polar bear faces east and looks to the north, the future. The polar bear, looking west and to the past, represents knowledge of tradition and culture, both protecting the woman on her journey.
Ashley Richard, Indigenous Outreach and Partnership Development Lead at WEKH, opened the floor and introduced the report. During the national consultations, participants discussed three key questions, examined in detail in the paper:
What are the challenges and barriers that Indigenous women entrepreneurs face?
What does entrepreneurship mean to you as an Indigenous woman?
What does the future of entrepreneurship look like from an Indigenous woman's perspective?
The report delves into 12 groups of barriers facing Indigenous women entrepreneurs and their roots, and spotlights Indigenous women who have worked through these challenges to create successful enterprises across Canada. Importantly, it also puts forth over 30 recommendations, directed specifically toward Aboriginal and mainstream financial institutions, enterprise support organizations, all levels of government, and postsecondary institutions.
Richard emphasized how better supporting Indigenous women entrepreneurs, who struggle against racism, discrimination and bias deeply entrenched through colonization, can not only help uplift Indigenous communities and the larger economy but create role models and mentors that can support generations of women and girls. She shared a moving memory of her grandmother, Mary Richard, to illustrate this point.
"My spirit name is Forever Women. When I was young my grandmother told me that that means I am going to grow up to be a powerful woman. 'Even more powerful than me,' she said. My grandmother was a fearless advocate for the Indigenous community and she was extremely fundamental in building a lot of the Indigenous organizations and initiatives we still see today," Richard explained.
"I had a role model and she incepted me with that belief in myself. Despite every challenge I faced, I knew, because my grandma told me, that I was going to continue to push forward."
Leading the Way in Inclusive Program Design
Following Richard's presentation, Kara Thorvaldson (Indigenous Research Strategist, WEKH) led a panel discussion that explored how organizations can better support Indigenous women entrepreneurs through inclusive program design.
Bev Latter, Program Specialist at Alberta Women Entrepreneurs (AWE), has been leading the NextStep to Success program for 10 years. The program has an impressive 80% success rate in helping entrepreneurs develop a business plan. That success, Latter explained, was built through consultations with communities and Indigenous women entrepreneurs themselves that uncovered what participants needed from the program. These relationships also allowed AWE to build a culturally appropriate curriculum.
Melissa Lunney, Market Access Officer at the Joint Economic Development Initiative (JEDI) and founder of Appdigenous in New Brunswick reinforced the notion that programs designed to support Indigenous people require Indigenous people to be included from the start. Lunney suggested that program designers and coordinators must be flexible, listening to the concerns and criticisms of participants and remaining open to change to respond to the needs of one's clients.
Lunney added that it is also important to think through programs to identify, and eliminate, any barriers that may exclude potential participants. The language used in an application, for instance, can be alienating to individuals who may not identify themselves as "entrepreneurs." Others may not have the tools or broadband access to benefit from online resources. To ensure their programming remains accessible, JEDI provides program participants with a Chromebook that they may keep upon program completion, paired with digital literacy training, in addition to other wraparound services like childcare.
Misty Ireland, Associate Director of EntrepreNorth, underlined the importance of having people that participants can relate to deliver programs for Indigenous women entrepreneurs. As an Indigenous person and former participant of EntrepreNorth herself, Ireland is better able to serve the individuals who may have been socialized to believe that they are unable to find success through entrepreneurship.
"When we believe that we deserve to have enough, and that there is more than enough to go around, this mindset creates more opportunities, more creativity, and more possibilities for us to make an in-path and do good in the world," Ireland explained.
A Spotlight on Indigenous Women Entrepreneurs
Richard closed the program with an inspiring discussion with three Indigenous women who are featured in the report on their experiences as entrepreneurs in Canada, including their motivations and the role community plays in their businesses.
Charlene SanJenko, Founder and CEO of PowHERhouse, got her start in social impact entrepreneurship when asking, "What role could we play, with the gifts that we have, as a small group of Indigenous women and non-Indegnous women on my team? What's needed?" For the past eight years, PowHERhouse has been using impact media production, specifically digital arts, to help women express themselves and clearly communicate what they need next.
"I love to brag about amazing women in my community who are maybe too shy to do it themselves. And I do that anyplace and any time I can," SanJenko added.
When Joella Hogan had the opportunity to buy the Yukon Soaps Company, she took the chance to align her passions for science with her passion for her culture. "What I try to do is share my learning of my language and culture, and invite others to join me in that learning. I really try and share the hard and real parts of being an Indigenous woman in the North and in a small community, but also share the fun parts of cultural revitalization and all of those beautiful moments that come along with that," Hogan explained. Her product packaging, for example, incorporates bits of her grandmother's language, and Indigenous teachings about the ingredients used in her soaps are sent to customers.
"My impact really is more about storytelling and using storytelling to share stories of survival, our culture, and teachings from knowledge-holders and hopefully try to bring light to issues facing us up here," Hogan said.
Stacie Smith has created a shop that graces customers with smells from the land as owner of Flowers North with plants and barks that she has foraged with her kids. For Smith, it is important to not only be a role model, but a teacher and supporter of the community. She hires Indigenous people and mentors Indigenous students. Smith also offers local artisans space to sell their products in her store. "I want to be there to support them because I had people support me along the way."
Panelists agreed that this report is an important component in efforts to advance Indigenous women entrepreneurship in Canada. They also noted that non-Indigenous Canadians are important in these efforts, and may include mentorship, buying Indigenous products and services, and listening to and amplifying Indigenous voices.
SanJeko put it simply: "We've got the fire going. Now we need to breathe a little oxygen on the fire."
Watch the webinar on demand to hear more from our terrific speakers.
See It. Be It.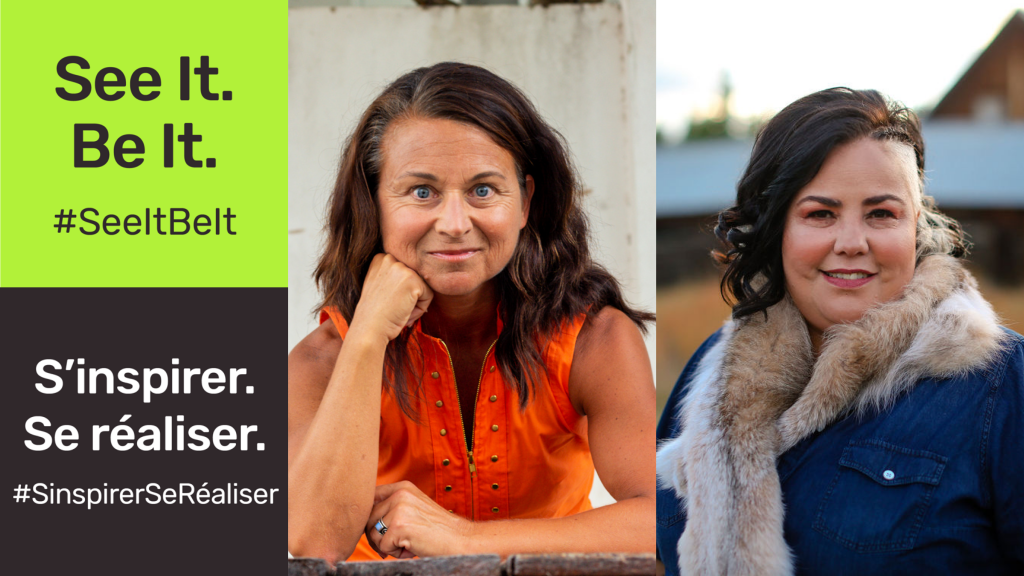 Stereotypes that tie the word "entrepreneur" to [white] men and technology are one of the most challenging barriers facing women in entrepreneurship. We know that entrepreneurs are so much more than that, and include Indigenous women working across sectors.
Our See It. Be It. campaign is challenging these stereotypes and celebrating successful women entrepreneurs who may serve as role models and inspiration to other women. We are also building a database of more than 1000 diverse, award-winning, women entrepreneurs and sharing their stories.
Use the hashtag #SeeItBeIt across social media to join the conversation and learn more at wekh.ca/seeitbeit/