Promote Her: Conference and Workshop
It is important to recognize the great contribution that Black communities have made, and continue to make, in Canada. It is equally important to recognize the ongoing barriers and challenges faced by Black communities.
In partnership with Canada International Black Women Excellence (CIBWE) and Future Black Female, the Women Entrepreneurship Knowledge Hub (WEKH) hosted the Promote Her: Conference and Workshop for Black girls and women aged 16 to 25 years focusing on creating pathways for the Black female gen Z workforce.
This conference and workshop featured keynote speakers and highlighted the experiences of Black women entrepreneurs:
● Vivian Kaye, business & empowerment expert, Founder & CEO of KinkyCurlyYaki
● Chantelle Kent-Brown, therapist & registered Social Worker
● Nancy Mitchell, research program manager, Diversity Institute, presented the 50-30 Challenge
● Sabine Soumare, executive director, WEKH
● Siobhan Calderbank, senior director of talent management, LCBO
● Emma Todd, CEO, MMH Blockchain Group
Sabine Soumare, Executive Director of WEKH, provided an overview of the work of WEKH and the importance of supporting women's entrepreneurship. She also highlighted some motivations for Black women to pursue entrepreneurship, including increased flexibility, opportunities to provide their products and services, and addressing their community's needs. She also shared some resources from the Diversity Institute's collaborations with the Black Business Professional Association including the BBPA's Boss Women Entrepreneurship Training as well as the Black African and Caribbean Entrepreneurship Leadership (BACEL) Training Program developed with support from the Future Skills Centre. These programs may be very useful for young Black women interested in learning new skills for personal development, and receiving mentoring and training to start or grow their business.
The conference ended with a panel discussion moderated by Soumare. Panelists Siobhan Calderbank and Emma Todd shared their stories and experiences, and answered questions from the youth attendees. One of the pieces of advice was the importance of moving forward even when something does not go your way: "Don't dwell on it for too long, because that's where it starts to play mind games," Calderbank said. "And you don't feel like you are good enough." On that note, she also recommended listening to motivational speeches, which can shift your mood, allowing you to radiate a more positive energy and increase your self-confidence.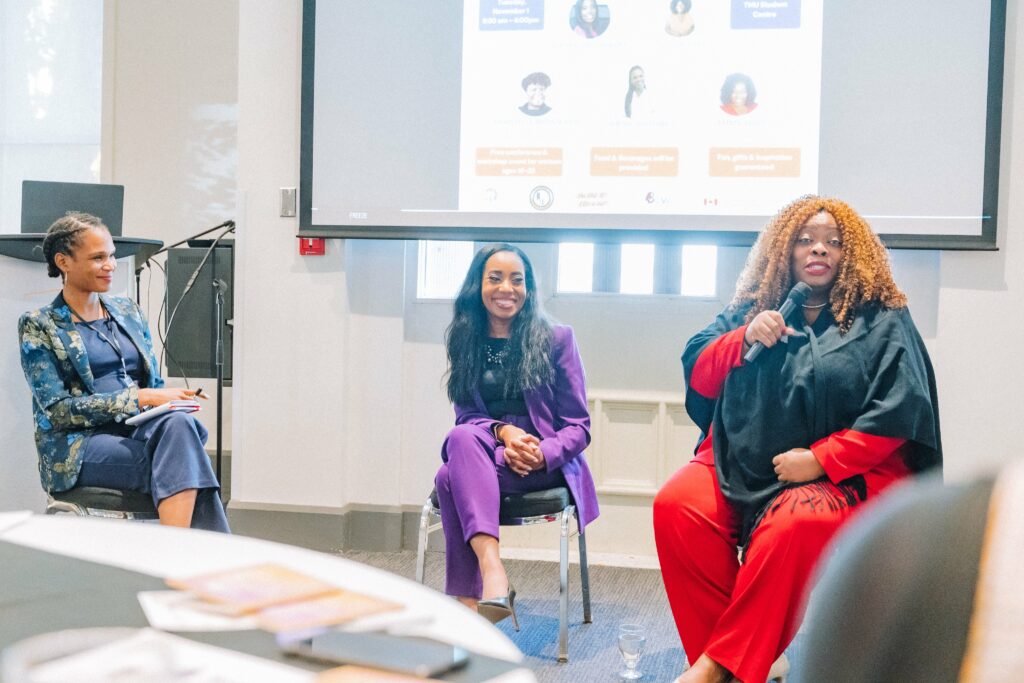 "You have to fight a little bit harder. Work hard and you will get the rewards that you deserve," Todd said, as she explained that Black women generally need to put in more work to get their desired results. Todd encouraged everyone to be the best person they can be and to keep going despite the challenges, because they will be able to look back on their career and be proud of how they've come.
About the Promote Her Project
Led by CIBWE, Promote Her is a three-year pilot project which aims to strengthen diversity in Canadian organizations and companies and elevate Black women into higher status levels professionally. This initiative also aims to uplift Black women and help them enter and grow in the labour market. Through coaching and training programs, these women will get the opportunity to learn and acquire new skills that can be useful in their fields of work.
Resources
● Black African and Caribbean Entrepreneurship Leadership (BACEL) Training Program in collaboration with the Future Skills Centre
● The 50 – 30 Challenge: Your Diversity Advantage
● Black Business and Professional Association (BBPA) – Boss Women Entrepreneurship Training
● Government of Ontario – Summer Company program
● Lifelong Leadership Institute – Summer Up
● The State of Women's Entrepreneurship in Canada 2022 report
● Rise Up: A Study of 700 Black Women Entrepreneurs report
● Join the WEKH/The Forum: Sharing Platform
● Check out our See It. Be It database and nominate a woman entrepreneur
● Subscribe to our newsletter