Unlocking the Export Potential of Women Entrepreneurs in Canada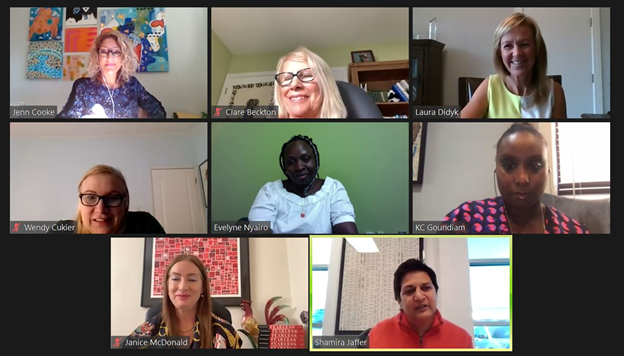 Women entrepreneurs can access profitable international markets, new business development pathways, diverse talent pipelines, and engaged networks through exporting. With more consumers shopping and working online now than ever before, women entrepreneurs are faced with an enormous opportunity to grow their businesses far beyond a relatively small domestic market.
The Women Entrepreneurship Knowledge Hub, in partnership with the BDC and Export Development Canada, recently hosted an insightful discussion with women entrepreneurs in Canada who are finding success in global markets through exporting. Hosted by Jennifer Cooke, Corporate Lead, Women in Trade at Export Development Canada; and Laura Didyk, Vice President and National Lead, Women Entrepreneurs at BDC, the insightful discussion featured KC (Karima-Catherine) Goundiam (Founder and CEO of B2BeeMatch, CEO of RED DOT DIGITAL Inc, and Founder of Tech Canada Advocates); Shamira Jaffer (President, Signifi Solutions Inc.); and Evelyne Nyairo (Founder of Ellie Bianca All Natural Skin Care).
Janice McDonald (Founder of The Beacon Agency) and Clare Beckton (Founder at Own your Own Success and Executive in Residence at CRIW Carleton) also joined the conversation to discuss their findings published in a new WEKH report, Grow Global: Women Entrepreneurs and Export.
WEKH Director Wendy Cukier set the stage for the panel by noting that women entrepreneurs export activity is growing. From 2011 to 2017, women-owned SMEs representation amongst exporters has increased from 5% to 11.1%. The gender gap between exporters in Canada has also narrowed, with 13.6% of men-owned businesses in 2017 engaged in export activity. As a whole, however, Canadian companies have not fully taken advantage of export opportunities and the potential of international markets.
For women entrepreneurs, deep structural barriers are holding them back. Our research has found that women are less likely to incorporate their businesses, and are thus unable to access exporting programs and supports designed for incorporated firms. Women-owned businesses also tend to be newer and less well-financed than those owned by men, leaving less resources available to reach beyond local markets. Fortunately, many women entrepreneurs have responded to the COVID-19 pandemic by pivoting their businesses online—making exporting a more viable option.
"We really have to build this understanding that exporting is tied to growth and to economic prosperity for Canada. We really have to encourage both men and women to set their sights higher, rather than just focusing on local markets," Dr. Cukier explained.
Think Big—Think Global
For KC Goundiam, "International was something that made sense from the beginning." Having lived and studied in multiple different countries throughout her life, her "strategic intuition" led her to look globally when debuting Red Dot Digital. Goundiam understood that launching a business that helped companies undertake digital transformations at a time when Canadian markets were not yet ready for the service she was offering required a broader scope. Three years after its launch, three-quarters of her portfolio was located outside of Canada. But as she found success across the globe, her client-base within Canada also grew.
Similarly, Evelyne Nyairo worked around the world before starting Ellie Bianca All Natural Skin Care, and saw exporting as part of her business plan from the very beginning. Nyairo knew that the Canadian market for oil-based skin care products was not large enough to find the level of success she sought so worked to find markets more amenable to her products.
Shamira Jaffer was born in East Africa, and lived in Europe as a child before moving to Canada at 13-years-old. "I always thought big. I always thought globally," she explained. This year marks the first time that Signifi Solutions Inc., a developer and manufacturer of automated retail solutions, has seen Canadian purchases make-up 30% of its sales—despite having been in business for 15 years prior.
Each entrepreneur did face hurdles in bringing their products and services to international markets. But government resources and support networks, paired with their flexibility and adaptability as business-women helped them succeed in spite of the challenges.
Jaffer recalled when her business was contacted by a large company in Dubai that expressed interest in purchasing nearly two million dollars worth of product. Jaffer was faced with a challenge in building the trust required to secure a sizable deposit and the funding needed to fulfill an order of such magnitude. At the time, Jaffer looked to EDC's Export Guarantee Program for assistance, and successfully closed the deal.
In selling a service that many did not understand, Goundiam relied on her networking prowess and personal relationships to succeed as an exporter. Goundiam built an international presence online as an expert in her field, and built relationships as a member of international and national business networks. She recommended entrepreneurs get involved in OWIT-Toronto, a non-profit organization supporting women doing business internationally, and consider investing in travelling to forge international relationships with support from a program like CanExport.
Nyairo initially struggled with financing her business and the regulatory challenges involved in selling skin care products in international markets. At first, Nyairo hoped to build a formidable brand without taking on any debt and instead opting to fund her efforts with her personal assets. That approach was flawed, Nyairo explained, and suggested that women entrepreneurs tap into grants and government funding opportunities to fuel their businesses. When it came time to sell internationally, Nyairo turned to the Trade Commissioner Service for coaching and guidance in obtaining regulatory approvals and protecting her brand. "Are there challenges? Yes. Is it worth it? Absolutely," she said.
Each entrepreneur emphasized that it is necessary to be flexible and adaptable to succeed as an exporter. While working with suppliers from China, Nyairo explained, it has been necessary to adjust to communicating over applications like WeChat and WhatsApp rather than email. To accommodate meetings with interested parties in Dubai, for instance, Jaffer needed to adjust her working hours. Goundiam noted that building cultural understanding of the markets entrepreneurs hope to break into is key to expanding and growing their businesses through exporting.
"The challenges are there," Goundiam explained. "But is it worth it? I would do it ten times over if I had to."
Jaffer noted that Canadian entrepreneurs in particular have an enormous opportunity to succeed internationally because of the positive reputation Canada has earned worldwide. "We go into competition with American companies and I know we have an edge because we are Canadian."
"I think it's a mistake not to think of exporting," Jaffer explained.
A Place to Begin
Janice McDonald and Clare Beckton conducted 96 in-depth interviews with women entrepreneurs and a survey of 815 entrepreneurs and some key decision makers to better understand their exporting behaviour. McDonald noted that with so many resources, programs, and networks available, women entrepreneurs considering exporting for the first time may not know where to start. That is why conversations like that between Goundiam, Jaffer and Nyairo are essential: "Hearing from women entrepreneurs themselves is so important because it demystifies exporting."
Clare Beckton echoed this point, and underlined how organizations that work to support women entrepreneurs across the country can be a good starting point for business-owners who may be overwhelmed by the abundance of resources available.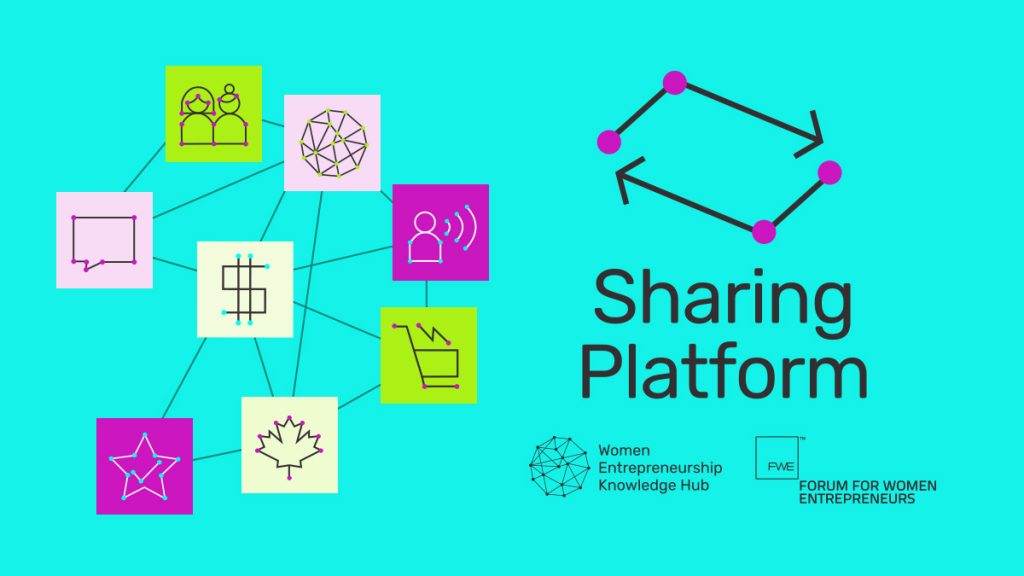 We encourage women-identifying and non-binary entrepreneurs to create a profile on the WEKH/FWE: Sharing Platform to connect with other entrepreneurs as well as support organizations who may be able to offer assistance. Simply post an Ask requesting what you or your business may need, and you will be notified by email once a member of the ecosystem replies. Are you part of an organization working to support women entrepreneurs? Post a Give with details on what you offer to reach-out to entrepreneurs across Canada. Find out how to get started.
Were you unable to attend the webinar? Watch it on-demand.