Women and Innovation
On March 8, 2023, La French Tech organized a Franco-Canadian event called "Women and Innovation" to spotlight organizations that support women entrepreneurs in STEM (science, technology, engineering and mathematics).
This event was organized in person simultaneously in Paris, Toronto, Montreal and Vancouver, and it was animated by La French Tech Toronto, La French Tech Grand Paris, and Chambre de Commerce et d'Industrie française au Canada. Panelists were invited to share their work and experiences, as well as the ways in which they take steps to promote women in innovation.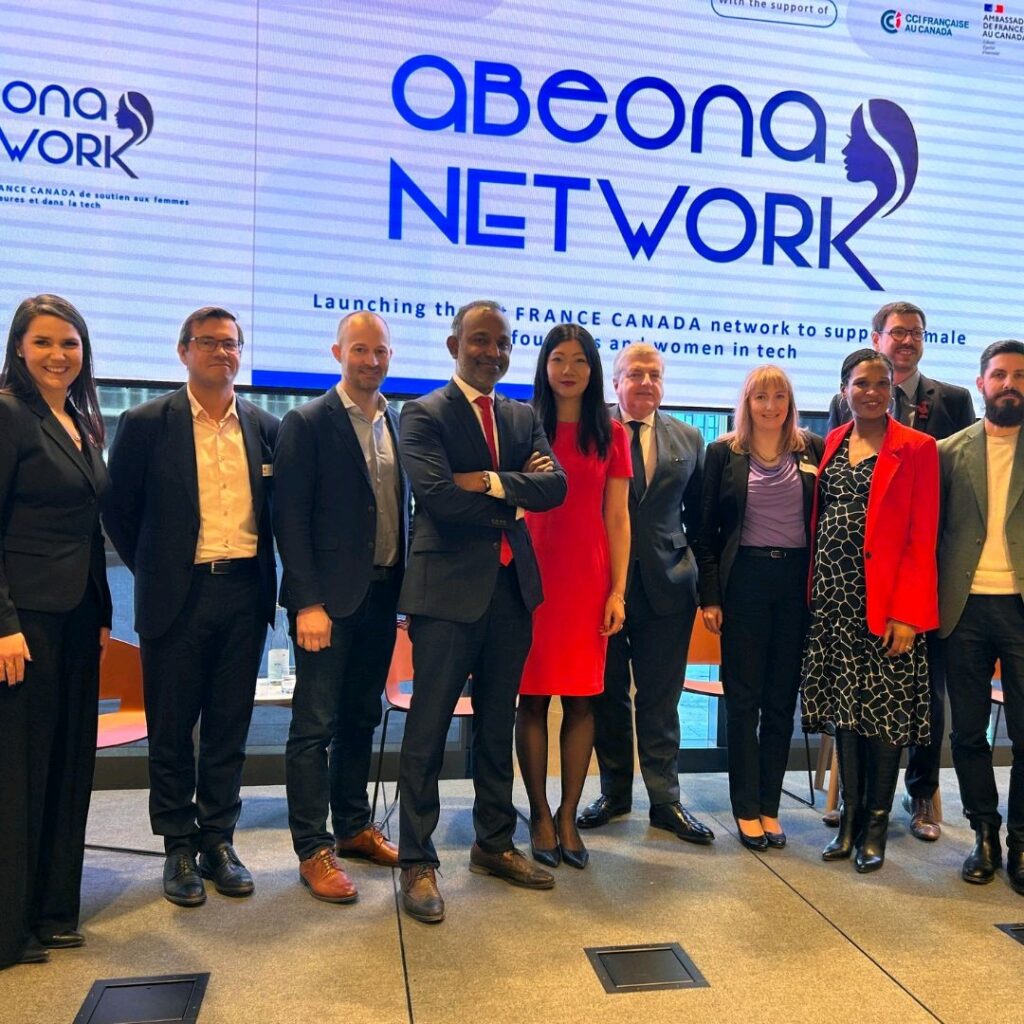 The event marked the launch of the Abeona Network, the first French-Canadian support network for women in STEM. This network aims to share knowledge and best practices between the two countries, to advocate for equal representation and opportunity for women in STEM, to provide access to tools and resources, and to lead the technology sector toward a more diverse ecosystem.
This was also an opportunity for La French Tech to share the publication of their new report, "Women and Innovation: Encouraging Female Entrepreneurship and Increasing the Role of Women in Tech – Crossed Perspectives France – Canada." This report identifies the obstacles faced by women in technology, considers some recommendations to promote their inclusion, and gathers the services and programs provided by different French and Canadian startups, incubators, investors, associations and companies, including the Women Entrepreneurship Knowledge Hub (WEKH), Women's Enterprise Organizations of Canada (WEOC), The Forum,  Information and Communications Technology Council (ICTC) and others.
"This network will bring together the French and Canadian organizations presented in these pages to implement concrete actions, share best practices and influence strategic decisions in our countries to promote parity and diversity in technology," Clara Chappaz, director of La French Tech, wrote in the report's introduction.
Panel discussions
In each city, panelists were invited to share their work and experiences. The panel in Toronto was animated by Estelle Chen, co-president at La French Tech Toronto, and it featured:
Sabine Soumare, executive director, Women Entrepreneurship Knowledge Hub (WEKH)
Kayla Isabelle, CEO, Startup Canada
Olivier Damour, COO, Zenika Canada
Sabine Soumare shared key research highlights and WEKH's tools and resources. The stereotype of a successful entrepreneur is often associated with men and this is deeply embedded in culture shaping aspirations and opportunities for women. The Women Entrepreneurship Knowledge Hub challenges these stereotypes with the See It. Be It. Campaign profiling and celebrating the success of women entrepreneurs across sectors. The database includes the profiles of more than 1,800 diverse and successful women entrepreneurs working across the country and across sectors. As the campaign underscores, women need to see successful entrepreneurs so they can dare to become one.
Kayla Isabelle is the chief executive officer at Startup Canada, an organization that supports entrepreneurs and gives them the tools and resources they need to build and grow their businesses. She noted that it is important to inspire young women entrepreneurs and give them the support and recognition they need to keep growing in their sector. Startup Canada is one of the many organizations that has emerged to join the French and Canadian tech ecosystems, and to encourage more inclusion for women in tech.
Olivier Damour is the chief operating officer of Zenika Canada, a technological and innovation consulting firm, which supports companies in their digital transformation. Zenika offers a range of programs, services and training to both small and large companies. This company also supports women in tech and encourages their participation in the industry by offering programs that can boost their confidence, give them the chance to take the lead on projects and promote them to serve as an example to attract other women to the tech industry. 
Women and Innovation was an important event that brought together French and Canadian companies and organizations with the same goal of promoting equality and inclusion for women in STEM. The launch of the Aboena Network will also make the process of connecting with other actors of the entrepreneurial ecosystem easier, as well as bring support to women entrepreneurs and foster a more diverse and inclusive innovation ecosystem.