Newcomer women making their way forward in entrepreneurship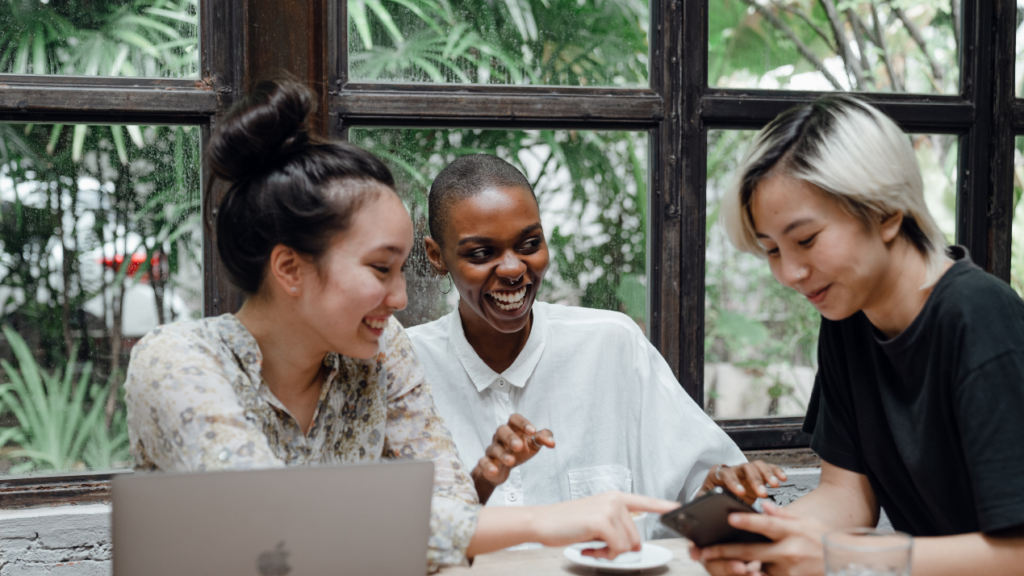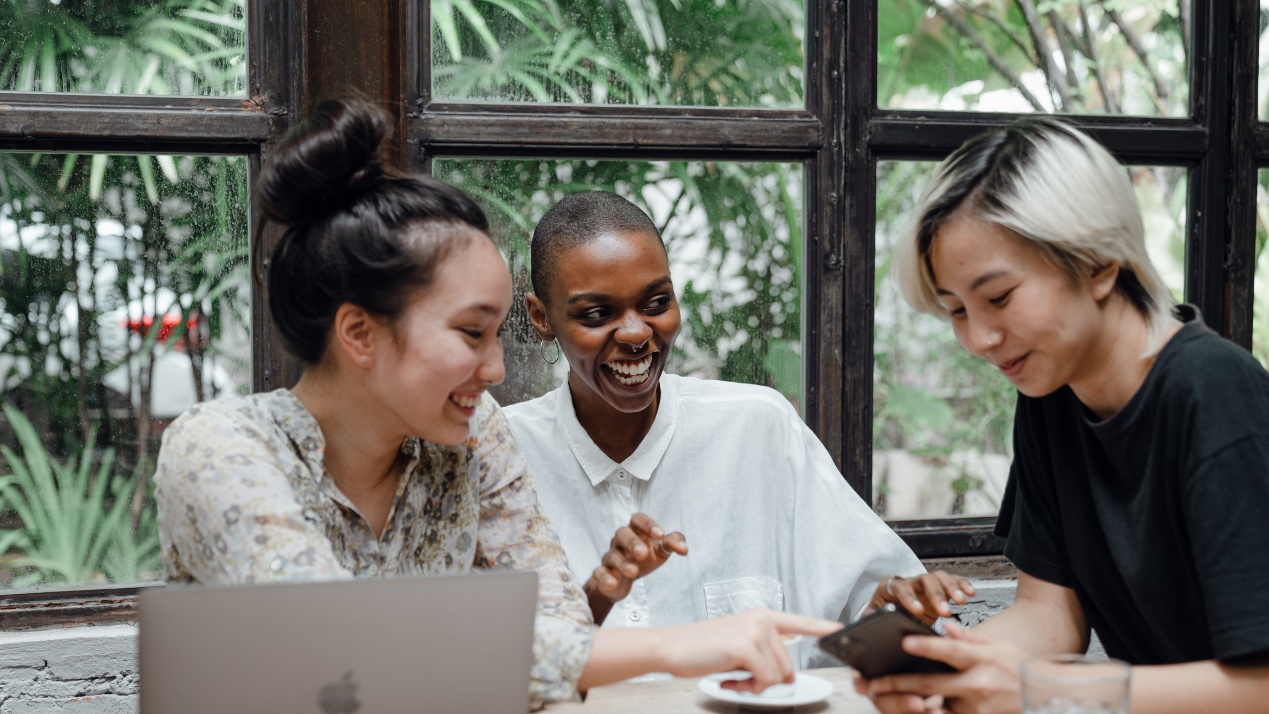 The Newcomer Women's Entrepreneurship Forum 2023, organized by the City of Toronto's Economic Development and Culture Division on April 27, 2023, brought together newcomer women entrepreneurs to network and gain access to entrepreneurial support during a miniature trade show. The event shared tools and resources, including Scarborough-based resources, with newcomer women who want to launch or grow their business in Toronto.
The event featured a keynote speech by Nadia Ibrahim, founder of The Wifey Collection. Originally from Ghana, Ibrahim moved to Canada as a young child. She said she has always had a passion for fashion and started her collection to design clothes that would allow Muslim women like herself to be dressed modestly while still being stylish. Ibrahim shared her journey as an entrepreneur and how she turned her passion for fashion into a successful business. "My brand is about fashion without compromising faith," she said. Ibrahim added that she hopes to continue inspiring and providing support and encouragement to aspiring entrepreneurs who want to establish a business.
Dr. Wendy Cukier, founder and academic director of the Diversity Institute and the Women Entrepreneurship Knowledge Hub (WEKH), presented recent State of Women's Entrepreneurship (SOWE) in Canada 2023 research insights as they relate to newcomer and immigrant women entrepreneurs. "One of the things that I find useful with the research is that it validates people's experience," Dr. Cukier said. "The other thing that it does is that it helps us identify success factors and ways to help people move forward."
The research indicates that 18% of businesses in Canada, including small and medium-sized enterprises (SMEs), are majority-owned by women, and nearly 90% of women entrepreneurs are self-employed rather than majority owners of incorporated businesses. Dr. Cukier noted that SMEs play an essential role in moving the economy forward and it is important to recognize them as drivers of innovation and growth.
Research from SOWE also shows that women are narrowing the gap with men in the entrepreneurial ecosystem. In addition to this, Dr. Cukier noted that "immigrants drive economic success" and immigrant women entrepreneurs, particularly South Asian, Black and Chinese women, are more likely to pursue entrepreneurship than are members of the general population in Canada.
"The other thing that is critically important, and this has already been mentioned, is that the experience and pathways of women are different," Dr. Cukier added. Women often start "side hustles," or businesses that bring personal flexibility and allow them to meet the needs of their communities. Therefore, it is important to tailor policies and programs to meet the needs of women entrepreneurs, so that we can continue to move towards a better and more inclusive ecosystem.
During the presentation, Dr. Cukier shared resources available for diverse women entrepreneurs from the City of Toronto, the Government of Canada, banks, universities and other organizations. The Canada Digital Adoption Program (CDAP), for instance, helps SMEs adopt new digital technologies and establish an online presence. She also highlighted the Black African Caribbean Entrepreneurship Leadership, a program led by the Black Business and Professional Association (BBPA); and CPAC, which offers many training programs and services for internationally educated professionals.
Moreover, Dr. Cukier noted the importance of programs that promote supplier diversity, which encourage organizations to use their purchasing power to create opportunities for women entrepreneurs. "Forty per cent of large businesses currently have supplier diversity programs," Dr. Cukier said. There are many opportunities around supplier diversity, and the federal government, organizations and others are now showing more support for it.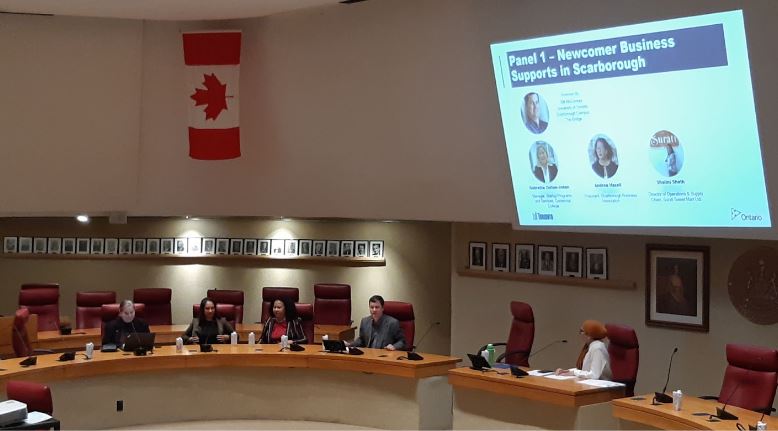 The event also featured an engaging panel discussion that was moderated by Bill McConkey, professor of Strategy and Entrepreneurship at University of Toronto Scarborough, who highlighted an investment to support inclusive entrepreneurship in Scarborough and the GTA. The panel brought together organizations that are based in Scarborough and support newcomer businesses with advice and resources, like an online learning course, for newcomer entrepreneurs.
Andrea Hazell, president of the Scarborough Business Association and founder of Winspire National Women's Network, said that Canada is one of the best countries in which to start a business. She encouraged newcomers to visit the City of Toronto's Small Business Enterprise Centre website to explore its resources. Starting a business is not easy, and one must have determination to succeed, Hazell said: "Grit and resilience; you've got to have that in your gut."
Gabriella Zoltan-Johan, manager of startup programs and services at Centennial College, agreed with Hazell and encouraged entrepreneurs to use the resources that are free and available in the City of Toronto. Zoltan-Johan also shared that Centennial College's programs are available online, making them accessible for all. Furthermore, she noted that most of the programs at Centennial College encourage "entrepreneurs to interact with people to learn what to improve and what to change, if needed, in your business idea so that you have a flourishing enterprise."
For Shalini Sheth, director of operations and supply chain at Surati Sweet Mart Inc., it is important for entrepreneurs to find support networks so that they don't have to go through the challenges of entrepreneurship on their own. "Leverage the support around you because you will find, a lot of the times, a lot of people are going through the same thing that you are," Sheth said. "If you are able to speak to it, you will be able to get that support back."
The discussion ended with the topic of resilience, which is an important trait for entrepreneurs, as it allows them to go through challenges and continue to pursue their goals and aspirations. "As an entrepreneur, you need to find this resilience because we keep telling you that you are going to be told 'no' and that it is hard. But it is all worth it if that [entrepreneurship] is your calling," McConkey said.
On a final note, Dr. Cukier spoke about WEKH's Sharing Platform, which is a tool that allows entrepreneurs to ask for what they need and to give what they have, while building connections across the country. "We are trying to get people to recognize what they need and ask for it, and very often you will be surprised with who steps up," Dr. Cukier said.