WEKH Celebrates Women Entrepreneurs and Helps #BreakTheBias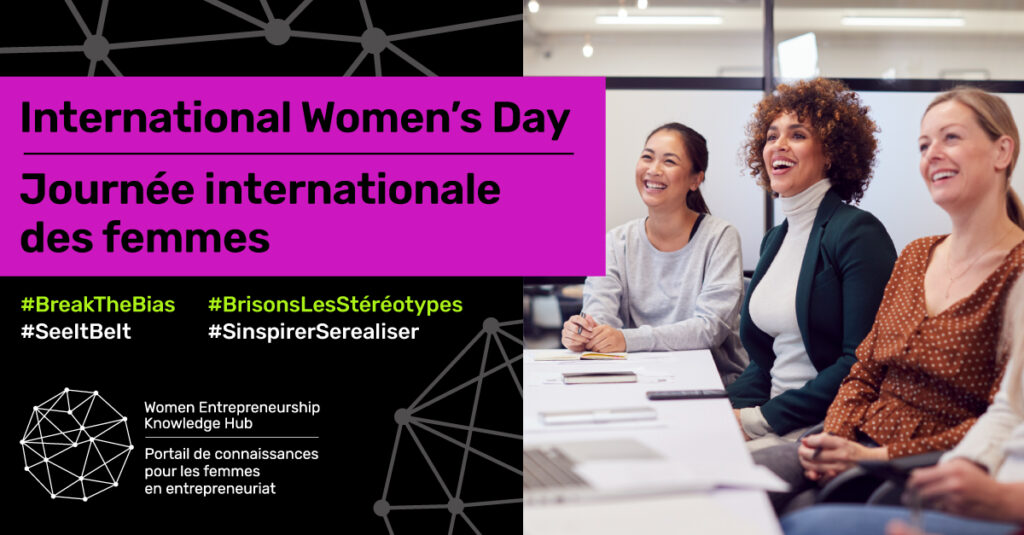 On International Women's Day, WEKH celebrates the resilience of women entrepreneurs and challenges stereotypes
As the world recognizes International Women's Day (IWD), Women Entrepreneurship Knowledge Hub (WEKH) is celebrating the success and resilience of women entrepreneurs while asking that we challenge stereotypes in entrepreneurship. Despite their significant contribution to Canada's economy and wider societal contributions, women entrepreneurs are often overlooked because of the stereotypes that persist in and around entrepreneurship.
WEKH's research shows the way in which we think of entrepreneurs has a profound impact on who is included and excluded and that entrepreneurship stereotypes and systemic bias are among the most challenging barriers women entrepreneurs face, especially those who are Black, Indigenous and racialized.
In short, "if you can see it, you can be it". Women need to see successful women entrepreneurs so they can dare to become one.
"Widely-accepted definitions of measuring innovation and economic impact tend to focus on technology and manufacturing sectors, where women are largely absent," said Wendy Cukier, founder of the Diversity Institute and Academic Director of the Women Entrepreneurship Knowledge Hub. "The association between entrepreneurship and men shape the aspirations and career goals of young women. We know that most people associate the term 'entrepreneur' with men in technology, like Bill Gates, Steve Jobs, and Mark Zuckerberg. These stereotypes shape program design, who they serve and how financing and investment decisions are made, creating structural, systemic barriers for women entrepreneurs."
Now is a critical time to speak up about the contributions and stereotypes of women entrepreneurs as the disruptions of the COVID-19 pandemic have continued to disproportionately affect women and women-dominated sectors, leading some to define the current economic landscape as a "she-cession." But, women entrepreneurs have also shown great resilience and innovation during this difficult time.
Our upcoming State of Women Entrepreneurship in Canada 2022 report will provide new data on how women entrepreneurs are weathering the economic turmoil and turning to recovery, thanks in part, to the strong support provided by Canada's women entrepreneurship ecosystem and because women entrepreneurs are daring to defy stereotypes.
In an effort to help redefine who an entrepreneur is, what they do, and how they look, WEKH's See It. Be It. campaign will continue to share and feature over 1,000 successful women entrepreneurs from diverse backgrounds, sectors, experiences and regions across Canada.
Meet some of the Canadian women crushing entrepreneur stereotypes:
Sheena Brady, founder of Tease Teas
Founded in 2013 by Tea Sommelier Sheena Brady, Tease Teas creates all natural, tea and botanical based products to support your everyday wellness rituals without compromising sustainability, convenience or impact. Tease's core product line includes the world's first fully biodegradable and refillable collection along with complimentary bath and beauty products. Tease is a certified Benefit Corporation, and invests in women founders with every purchase through its sister organization, Founders Fund, supporting over 500 women across Canada in receiving mentorship for their business while raising over $150,000 in micro grants for early-stage businesses. In recent years since receiving support through the Women Entrepreneurship Fund, Tease Teas has expanded into 150 new retailers, online sales have more than doubled and the team has also doubled in size.
Christa Bruneau-Guenther, founder of Feast
Born and raised in Winnipeg, Manitoba, and proud member of Peguis First Nation, Christa has spent nearly 20 years refining her cooking skills and expanding her knowledge of Indigenous foods. Christa started Feast Café Bistro with a focus on community and a goal of becoming a pillar in the West End. She wants each visitor to experience modern dishes rooted in traditional First Nation foods while celebrating the spirit of her culture. In the six years since opening and receiving support through the Women Entrepreneurship Fund, Christa has expanded, created several new jobs and increase revenue by more than 35%. Her recipes have also been featured in publications such as Canadian Living, Chatelaine, and on Food Network Canada.
"I wanted to bring new energy, narratives and food stories to life. Unfortunately, our Indigenous food pathways are rooted in trauma. My goal is to educate people about Indigenous cuisine and culture all while providing an authentic dining experience, with tasty traditional local food. We've created a space to celebrate that! Feast prides itself on providing job opportunities to people who have barriers to employment, we are an inclusive employer." – Christa Bruneau-Guenther
Sylvie Ouellette and Rana Khartabil, co-founders of Versatil
Co-Founded in 2010 by Sylvie Ouellette and Rana Khartabil, Versatil is an IT solutions and professional consulting services company with core competencies in data management, governance, analytics, artificial intelligence (AI) and cyber security. From simple road maps to end-to-end solutions, Versatil helps clients turn data into meaningful insights, allowing decision-makers to make evidence-based impactful business decisions. Versatil operates primarily in Ottawa and Montreal, with expansion plans into Toronto and the United States. In recent years since receiving support through the Women Entrepreneurship Fund, growth revenue has been consistently over 50% every year. As the only Canadian company to hold all four certifications, the team at Versatil is proud to be certified by WBE Canada (Women Business Enterprises Canada Council), CAMSC (Canadian Aboriginal and Minority Supplier Council), CCAB (Canadian Council for Aboriginal Business), and CGLCC (Canada's LGBT+ Chamber of Commerce).