Women Business Owners: Advancing Sustainability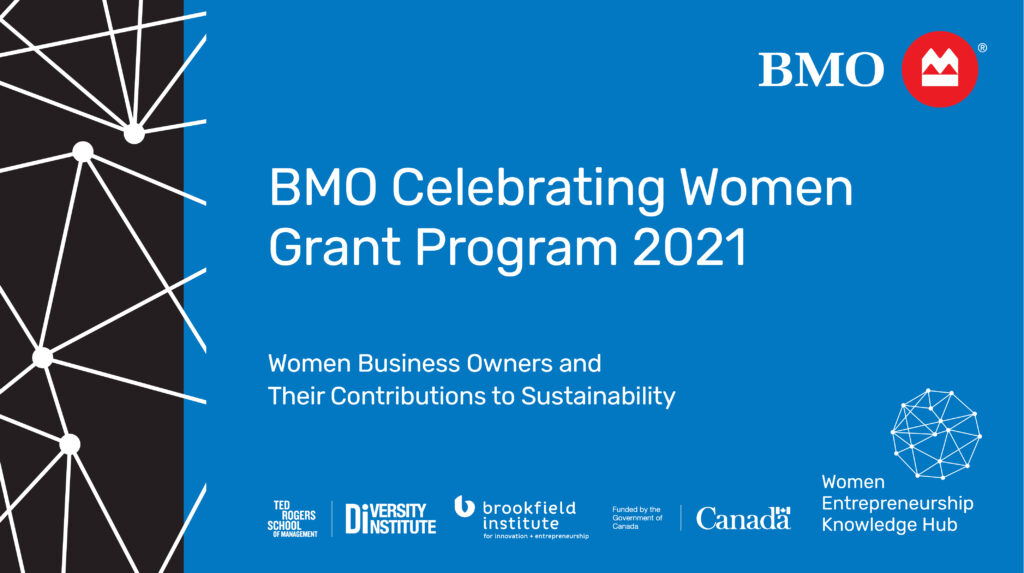 Awareness of the fragility of our environment has led to a significant shift in the priorities of consumers, communities, and businesses. Studies suggest that women entrepreneurs are more likely to develop businesses that combine economic sustainability with social and environmental goals.

On the first day of International Women's Month, WEKH joined BMO for a virtual event on the intersection between women business owners, sustainability, and climate change.
The Honourable Mary Ng, Federal Minister of International Trade, Export Promotion, Small Business and Economic Development opened the event by commenting on the role that public and private partnerships play to collectively move the dial towards a more inclusive, sustainable entrepreneurship ecosystem.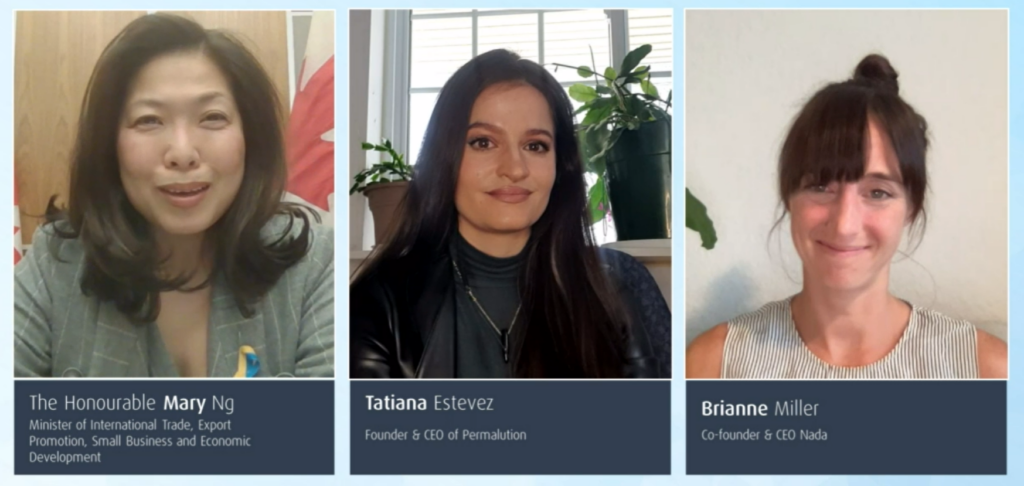 Minister Ng also moderated a panel discussion between two BMO Celebrating Women Grant Recipients who own sustainable businesses on their experiences and challenges they face balancing their sustainability practices with scaling growth. Panelists included:
Brianne Miller, Co-founder & CEO, Nada
Tatiana Estevez, Founder & CEO, Permalution
"When you're inherently a company that is based on social good, it becomes easy to rally folks around your cause." – Brianne Miller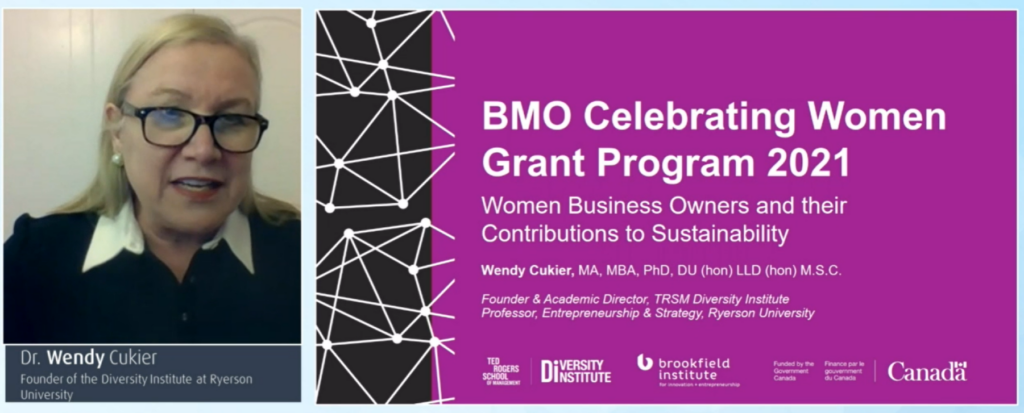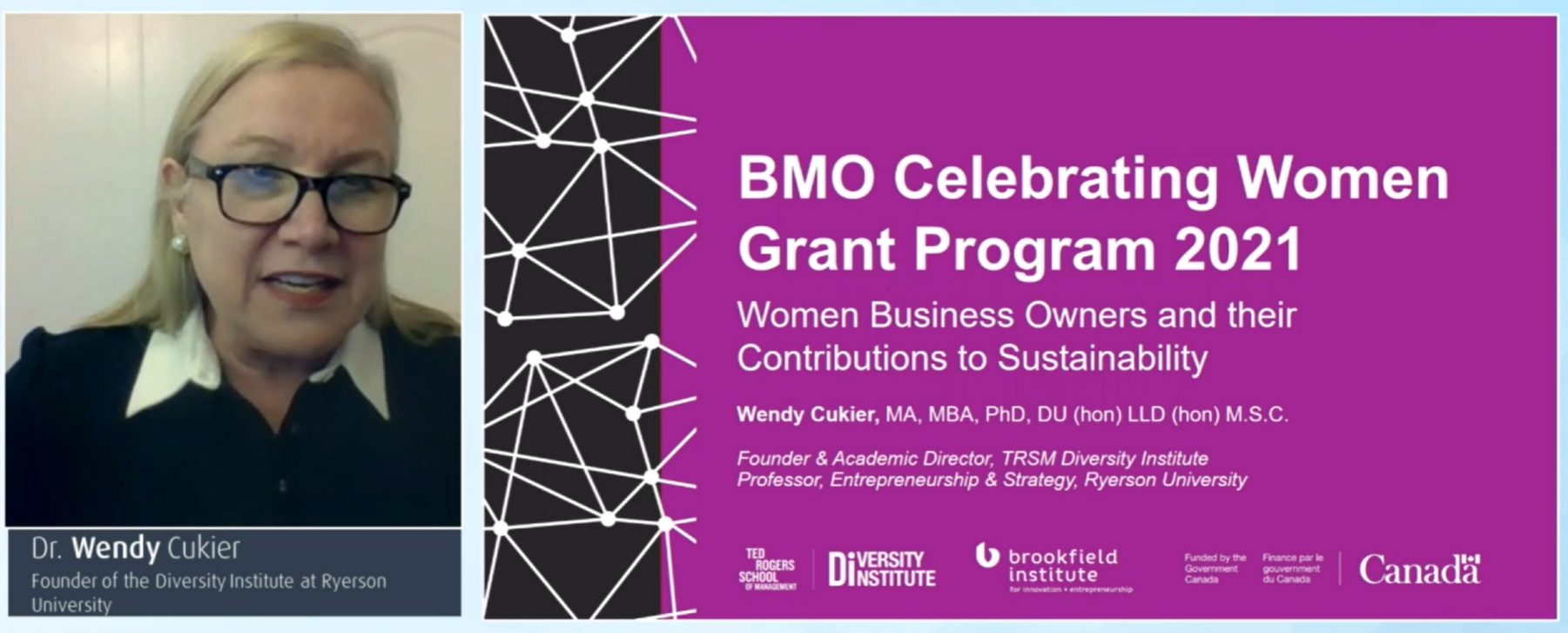 Dr. Wendy Cukier, Academic Director of the Women Entrepreneurship Knowledge Hub, presented findings on Women Business Owners & Sustainability from research conducted by the Women Entrepreneurship Knowledge Hub using anonymized applicant data from the 2021 BMO Celebrating Women Grant Program. The research demonstrated that women business leaders are a driving force behind sustainable development in their communities, and the breadth of their innovative business practices that combine economic sustainability with social and environmental goals.
"Small business is the engine that drives the Canadian economy, but they're often working on very small margins, they've been hard hit by the COVID-19 pandemic, they don't have the resources and infrastructure. Yet still we see evidence that increasingly, they are really starting to look at their value chains and embed commitments to sustainability – from procurement to product development and design," Cukier observed.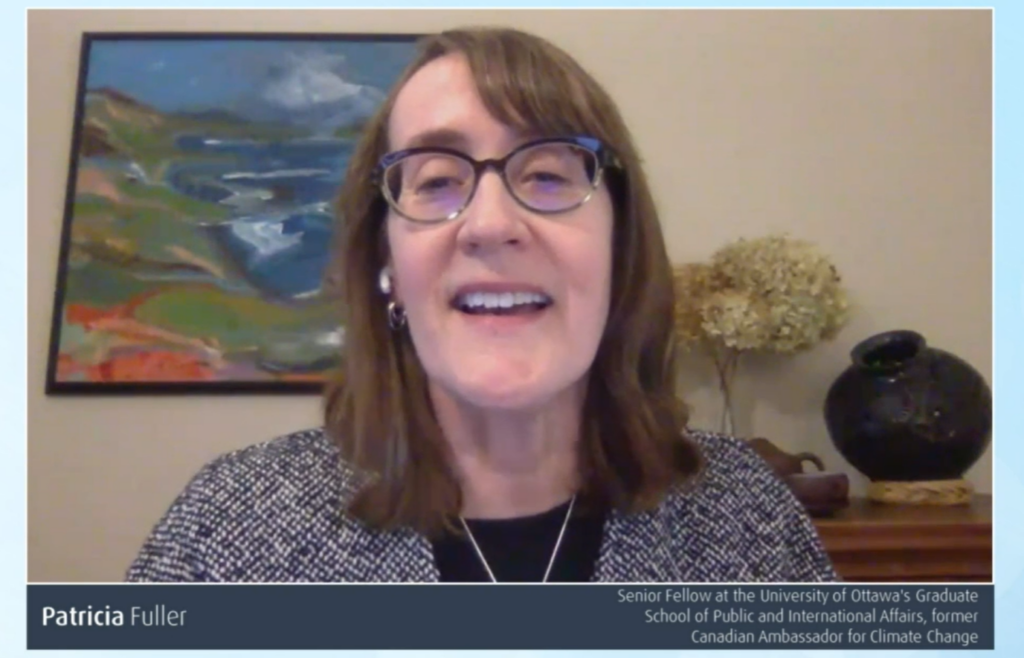 Patricia Fuller, Senior Fellow at the University of Ottawa's Graduate School of Public and International Affairs and former Canadian Ambassador for Climate Change noted the disproportionate impact of climate change on women, but framed climate change and gender equality as complementary goals.
"Canada has been an early supporter of the agency of women in fighting climate change… The transformations that are required to address climate change create opportunities for advancing gender equality." Fuller said.
Stay in Touch
Join the WEKH mailing list and follow us on Twitter, LinkedIn, Instagram and Facebook to stay up-to-date on the latest research, opportunities and events from WEKH.