Supporting Rural Women Entrepreneurs Through COVID-19 and Beyond
An urban-centric focus on entrepreneurship often ignores the challenges and unique needs that rural women entrepreneurs in Canada face. This has a negative impact on economic growth and communities across the country.

We recently hosted Dr. Gina Grandy, Dean at Hill and Levene Schools of Business at the University of Regina, to discuss the difficulties rural women entrepreneurs face in Canada, as well as the opportunities. Rosalind Lockyer, CEO & founder of the PARO Centre for Women's Enterprise, and Joella Hogan, owner of The Yukon Soaps Company, also shared their insights. The discussion was moderated by Meagan Trush, Associate Director, Partnership Development & Stewardship at the Diversity Institute.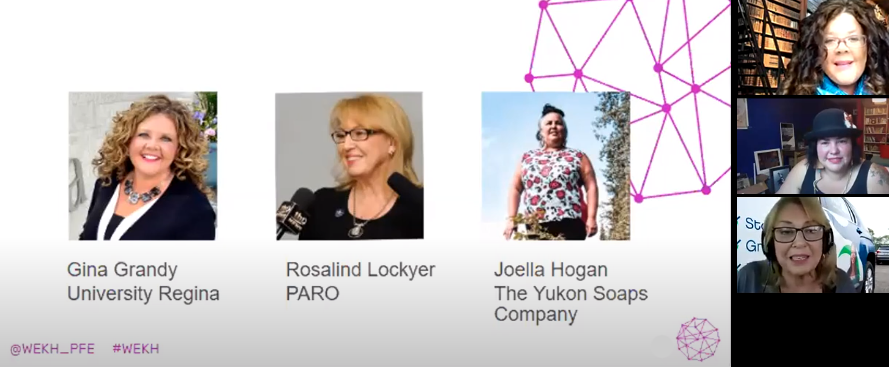 Dr. Grandy began the conversation by sharing findings from a report published by the WEKH Saskatchewan regional hub earlier this year that examined the state of women entrepreneurship in agriculture and agri-food in Saskatchewan. Boosting Economic Growth: A Report on Women Ag Entrepreneurship in Saskatchewan found that many of the challenges women entrepreneurs in the sector face stem from structural issues and the construction of agriculture and agri-food as male-dominated industries. The report outlines eight recommendations to industry, governments, and women entrepreneurs to advance women entrepreneurship in the sector.
Rosalind Lockyer highlighted the work that the PARO Centre for Women's Enterprise is doing to support thousands of women entrepreneurs through more than 150 PARO Peer Lending Circles across Ontario. Lockyer also emphasized the value of partnerships between service providers supporting women entrepreneurs through COVID-19.
Dr. Grandy echoed this point and explained how WEKH is helping to strengthen the women entrepreneurship ecosystem across the country. "One of the gifts of WEKH is the opportunity to bring everyone together—to bring all of the service organizations together so we have that platform to share," she said.
Joella Hogan shared her story as an Indigenous woman entrepreneur in the Yukon living in the small town of Mayo. Hogan noted that the costs of shipping and transport are a significant challenge to her and many other business-owners in rural communities. Accessing finance to make bulk purchases needed to create her product, for instance, is another real barrier as the practices and policies of financial institutions and lenders exclude Indigenous women entrepreneurs. Despite these challenges, Hogan has found success by embracing her connection to her community and to the land.
"When I really started to make it more about community, and small business, and connection to the land, and sharing the stories of women in the North—that's the part that people are really attracted to."
Change is Needed
Change is necessary to better support and empower more rural women entrepreneurs in Canada. Lockyer noted that women in rural areas are already well-prepared to succeed as entrepreneurs. "Women don't need to change. It is the systems and the biases that need to change," Lockyer noted. Practical challenges limit the potential of rural women entrepreneurs as well. In addition to high shipping and travel costs, entrepreneurs in rural areas continue to have unreliable access to high-speed internet and basic infrastructure. This makes it incredibly difficult to engage with potential business contacts and consumers online as COVID continues to impact businesses. Dr. Wendy Cukier, Director of WEKH, wrote about some of these challenges in Inclusive Innovation: Using Technology to Bridge the Urban-Rural Divide. With better support and access to what they need to build and operate vibrant businesses, rural women entrepreneurs can make a tremendous contribution to the rebuilding and recovery of Canada after COVID-19.
Elevating Rural Women Entrepreneurs
Panelists highlighted some of the grants, loans and business supports that are now available to rural women entrepreneurs during the pandemic and beyond. These include:
Joella Hogan also suggested that rural women entrepreneurs look to their communities and networks for support and to uplift one another. In her own business, Hogan spotlights beadwork from Northern Tutchone women from the community of Mayo in her products and employs community members to ship products to gift shops around the Yukon.
Support from WEKH
Were you unable to watch the discussion live? View it on-demand.
The WEKH network continues to share the latest programs and resources available to women entrepreneurs building and guiding their businesses through the COVID-19 pandemic. Visit our resource guide.
Many members of the women entrepreneurship ecosystem in Canada have joined the WEKH/FWE: Sharing Platform to connect and guide one another to the resources women entrepreneurs need to succeed.
We invite you to learn more about the Sharing Platform, sign-up, and contribute to the platform by posting an "Ask" or "Give," or responding to another members' post.
The Importance of Women's Entrepreneurship for Economic Recovery
Save the date! We are launching the first-of-its-kind "The State of Women's Entrepreneurship in Canada" report on August 11th during the She Leads; Canada Prospers webinar presented in partnership with the Ontario Chamber of Commerce. Spots are limited—reserve your seat today.