She-Covery: The Role of Women's Entrepreneurship in Pandemic Recovery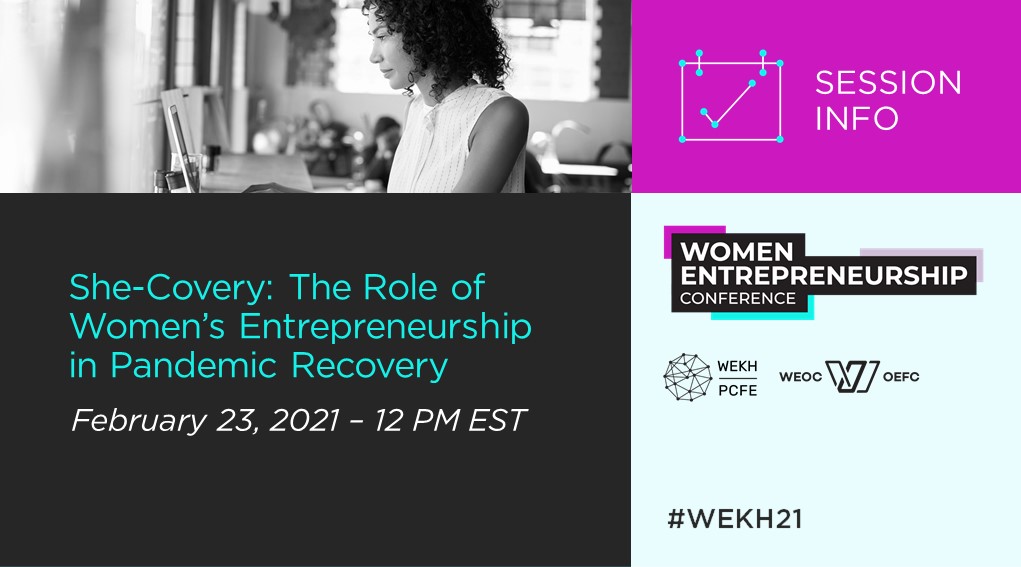 As Canada begins to focus on post-pandemic economic recovery, supporting women entrepreneurs is more critical than ever before. It is clear that structural barriers long-faced by women entrepreneurs have been exacerbated by the COVID-19 pandemic, and swift action is required to help women entrepreneurs regain their footing and contribute to Canada's recovery at their fullest potential.
The 2021 Women Entrepreneurship Conference opened on February 23rd with "She-Covery: The Role of Women's Entrepreneurship in Pandemic Recovery," an invigorating presentation and discussion that considered how best to do so.
Presented by the Women Entrepreneurship Knowledge Hub (WEKH) in partnership with Women's Enterprise Organizations of Canada (WEOC), the Conference is bringing together leaders in the ecosystem with women entrepreneurs for a series of free events examining the opportunities and challenges facing women entrepreneurs in Canada amid a global pandemic, and beyond.
The Honourable Mary Ng, Minister of Minister of Small Business, Export Promotion and International Trade, opened the conference with a message to participants reiterating the federal government's commitment to an inclusive, feminist recovery. "We know this pandemic has disproportionately impacted women and communities that were already underrepresented in our economy," Minister Ng explained.
Minister Ng noted that Canada is now at a critical point, faced with an unprecedented opportunity to address these inequalities and build back better.
"This pandemic has highlighted and exacerbated existing inequalities, and the work that the Knowledge Hub is doing is more critical than ever."
What the Research Shows
Wendy Cukier, WEKH Director and Founder of the Diversity Institute, shared an overview of the latest research on women entrepreneurs in Canada. Cukier explained that Canada's overarching Women Entrepreneurship Strategy—a public investment totalling nearly $5-billion that aims to increase women-owned businesses' access to the financing, talent, networks and expertise—is unique in the world. Not only is the financial commitment to strengthening the ecosystem essential, but the Strategy's whole-of-government approach that positions women entrepreneurship as an integral part of Canada's growth strategy is potentially transformational.
However, the disproportionate impacts of COVID-19 on women entrepreneurs risk undoing hard-fought gains women have made in entrepreneurship. In fact, research shows that women-owned businesses have been forced to lay-off more employees than those led by men, and are more likely to have experienced revenue decreases of 50% or more amid other challenges.
Cukier explained that the characteristics of women-led businesses, as well as the differences between diverse women entrepreneurs themselves, are important to note to understand why that is, and to uncover what must be done to adequately support women entrepreneurs going forward.
Women-owned businesses tend to be newer, smaller, and less well-financed than those owned by men
Women-owned businesses are concentrated in hard-hit sectors like accommodation and food services, retail, and health care and social assistance
Many women face a crushing burden of unpaid work at home and a lack of access to affordable childcare
When an intersectional lens is applied to the situation, the picture is even more stark. WEKH research has found that Black entrepreneurs face unique barriers—including anti-Black racism and gender bias and the disproportionate impacts of COVID-19. A recent survey conducted by the Black Business and Professional Association (BBPA) suggests that Black entrepreneurs are twice as affected by the negative impacts of the pandemic, and nearly half as likely to have access to government programs or private loans that other entrepreneurs have relied on to weather this storm.
The further one looks out from urban centres, the more pressing the need for affordable broadband connectivity becomes, especially as the worldwide reliance on the internet skyrockets. "Many of the rural and Indigenous women who are most in need of access to resources and support, are least likely to have access to the internet," Cukier said.
WEKH is working not only to support the Women Entrepreneurship Strategy and advocate for the needs of diverse women entrepreneurs, but to open up the doors for women at mainstream organizations and institutions that invest billions more across Canada in economic development, innovation, and entrepreneurship. Ultimately, the goal is to create an Inclusive Innovation Ecosystem by addressing challenges through a systems approach at the Societal, Organizational, and Individual levels of our nation.
"We want to make sure that women get their fair share," Cukier said.
One way to do that is to change the narrative around entrepreneurship, and uncouple the word "entrepreneur" from high-growth technology companies led by generally white men. WEKH's See It. Be It. campaign is exposing the harmful impacts of this stereotype and celebrating award-winning diverse women entrepreneurs across the country and across sectors.
"If we can start to shift the stereotype of 'entrepreneur' so that people don't think of Gates, Zuckerberg, Musk, and Jobs when we say the word, we will have made a big difference. Because if you can't see it, you can't be it."
Creating a More Inclusive Entrepreneurial Ecosystem
"These are not just women's issues, they're economic ones, and public policymakers really need to take note. The inclusion of women and other disadvantaged groups in the entrepreneurial ecosystem is necessary for economic recovery," asserted Michelle Eaton, Vice President, Public Affairs at the Ontario Chamber of Commerce, and moderator of the kick-off event's expert panel.
The discussion featured Jill Earthy (CEO, Women's Enterprise Centre of BC), Marcela Mandeville (CEO, Alberta Women Entrepreneurs (AWE)), Maya Roy (CEO, YWCA Canada), and Nadine Spencer (President, Black Business and Professional Association (BBPA)).
"We are strength, we are a force to be reckoned with, and it is absolutely time to start planning for the future that is inclusive of women in a meaningful way," Mandeville began.
"Women are the matriarchs of families, and we need to strengthen them," Spencer added. There are, however, significant issues beyond the entrepreneurial ecosystem that also present considerable challenges to women across the country. Spencer recalled the story of one participant from the BBPA Boss Women Entrepreneurship Training Program, who phoned her after a workshop and shared that her husband hit her and belittled her for trying to advance herself through entrepreneurship.
"Those are the challenges that nobody talks about," Spencer explained. Discussions such as these, Spencer said, can be useful in addressing issues like misogyny and domestic abuse. "When we know the challenges, then we can begin tackling them."
Maya Roy has been running labour-market access and entrepreneurship training programs for women of colour for 20 years, and has heard from YWCA program participants about their experiences during the pandemic. Roy has seen community support become even more important for marginalized women entrepreneurs, especially in traditional communities, at a time when the mental health and wellbeing of many have been negatively impacted. Some entrepreneurs are facing burnout while juggling household responsibilities, plus child and elder care, with their own work. One participant put it simply: "Life does not fit into a 9-5 box."
Jill Earthy has been working to democratize financing and create greater access to funding for diverse women entrepreneurs throughout her career. It is important, she argues, to acknowledge that women often approach business, growth paths, and risk in different ways. It can be damaging to devalue women-owned businesses simply because they do not follow the same path that a high-growth tech enterprise, for instance, may take. Earthy explained that it is also incorrect to assume that women entrepreneurs are "risk averse" because they are more likely to self-finance their businesses or obtain smaller loans.
"I like to say that women entrepreneurs are 'risk astute'…We like to do our research, we like to understand the options—I'm generalizing, but this is backed by data—when we access capital it tends to be that we want to access smaller amounts over a longer period of time. And the result is actually amazing: It is sustained business growth," Earthy said.
It is thus critical that governments, institutions, and organizations meet women entrepreneurs where they are.
Mandeville noted that in order to do so, financial institutions need to closely examine their policies to remove bias and accommodate the unique pathways and challenges women entrepreneurs navigate. Wraparound supports like mentoring and advising can also be provided to empower diverse women entrepreneurs seeking funding. AWE has been lending for 25 years, coupled with similar wraparound services, and has seen excellent success rates. Mandeville believes that that model can be extended to mainstream financial institutions as well.
"The challenges that have really been brought to the surface through COVID show that the time is now. We can't wait 5 or 10 years to make these changes," Mandeville stressed.
Roy underlined the importance of collecting and analyzing disaggregated data to find ways to better support marginalized women entrepreneurs. This could mean comparing revenue numbers for racialized women entrepreneurs against those of non-racialized women entrepreneurs. "If we follow the data we can start to see solutions and where we can start to fine-tune and create better systems and processes."
"This is a time for change. This is a time to reframe how we think, redefine it. And make sure we are doing that through an entirely inclusive lens," Earthy added.
Spencer reinforced this point and emphasized that it is critical that financial institutions, governments and support organizations understand the realities of diverse women entrepreneurs.
"When we show up, look at me. See me, the woman, sitting there. We want to be seen."
Watch the webinar on-demand to hear more.
Join us at the Women Entrepreneurship Conference
We will be launching the See It. Be It. database—a collection of over 1,000 award-winning Canadian women entrepreneurs—on Friday, March 5th, 2021 for the next installment of the Women Entrepreneurship Conference.
Register for "See It, Be It: Crushing Entrepreneurial Stereotypes" now!
Connect with us on Twitter, LinkedIn, Facebook and Instagram—and subscribe to our mailing list—for the latest news and updates from WEKH.