Building an Inclusive Innovation Ecosystem for Women Entrepreneurs
This fall, the Canadian Council for Small Business and Entrepreneurship (CCSBE) annual conference included a new special conference track on women's entrepreneurship with support from the Women Entrepreneurship Knowledge Hub. The "Women's Entrepreneurship Panel: Building an Inclusive Innovation Ecosystem" outlined how WEKH research and initiatives are tackling structural barriers and bias facing women entrepreneurs across our society, within organizations, and due to individual attitudes and actions.
WEKH Director Wendy Cukier joined Suzanne Gagnon (Canada Life Chair and Director, James W. Burns Leadership Institute, Asper School of Business, University of Manitoba) and Tania Saba (BMO Chair for Diversity and Governance, Université de Montréal) for an illuminating discussion moderated by Abigail Slater (Director, BL Management Holdings).
Dr. Gagnon opened the presentation by sharing key findings from her research examining macro-level barriers facing women entrepreneurs at the societal level, particularly in the representation of entrepreneurship in the media. Dr. Gagnon has found evidence of bias that creates and perpetuates stereotypes about women entrepreneurs that in turn shapes cultural norms, influences decision-making, and affects the aspirations of young and diverse women.
More specifically, Dr. Gagnon identified a language of deficit in relation to women entrepreneurs. She found there is often a focus on what women lack, and a suggestion that women are at fault for the structural challenges that they face as entrepreneurs. "Narrow definitions of innovation and entrepreneurship have tended to have the unintended consequence of excluding women," Dr. Gagnon noted.
It is important to change these narratives. While the cultural norms that flow from them are a powerful barrier, they are an equally powerful tool, Dr. Gagnon explained. A major objective of WEKH is to shift those norms, and an upcoming campaign is set to challenge many of the stereotypes women face in entrepreneurship.
"This discourse is very entrenched so fighting it will also take collective action," Dr. Gagnon said.
Dr. Cukier outlined how WEKH and the Diversity Institute are working to drive change in the ecosystem at the societal, organizational and individual level. Of particular importance is the work that the Institute has done over the last decade to develop its Diversity Assessment Tool which can be used to surface barriers facing women and diverse entrepreneurs with key players in the ecosystem including funding agencies, financial institutions, incubators and accelerators, business support and training programs, universities and others. The tool addresses issues in six areas—governance, human resource, metrics, culture, the value chain and outreach to provide an evidence based assessment of existing policies and practices and help organizations develop new strategies. Its Diversity and Inclusion playbook provides a range of leading practices which can assist organizations in implementing new approaches. Working with networks of incubators, the innovation superclusters, funding agencies and financial institutions, the goal is to open up the ecosystem to provide better support at every stage of the entrepreneurship journey. 
"The $5B investment in the Women Entrepreneurship Strategy without a doubt makes Canada a global leader but we can do even more by unlocking access to resources across government and the ecosystem" said Dr. Cukier.
Dr. Cukier stressed that it is essential to also address issues at the individual level by focusing on attitudes, skills and behaviours. On one hand, this includes tackling conscious and unconscious bias among decision makers and influencers. At WEKH, we are also building capacity among women entrepreneurs and the organizations that serve them by sharing key resources and best practices, including demystifying the process of incorporation and the potential benefits of exporting.
As leader of the WEKH Québec Hub, Dr. Saba studied how women entrepreneurs in Québec have been impacted by the COVID-19 pandemic. Her work examined how women entrepreneurs can build capacity to survive the crisis, and the confidence to overcome it. "To survive in a turbulent environment, SMEs need to be flexible and willing to change their activities according to the environment," Dr. Saba found.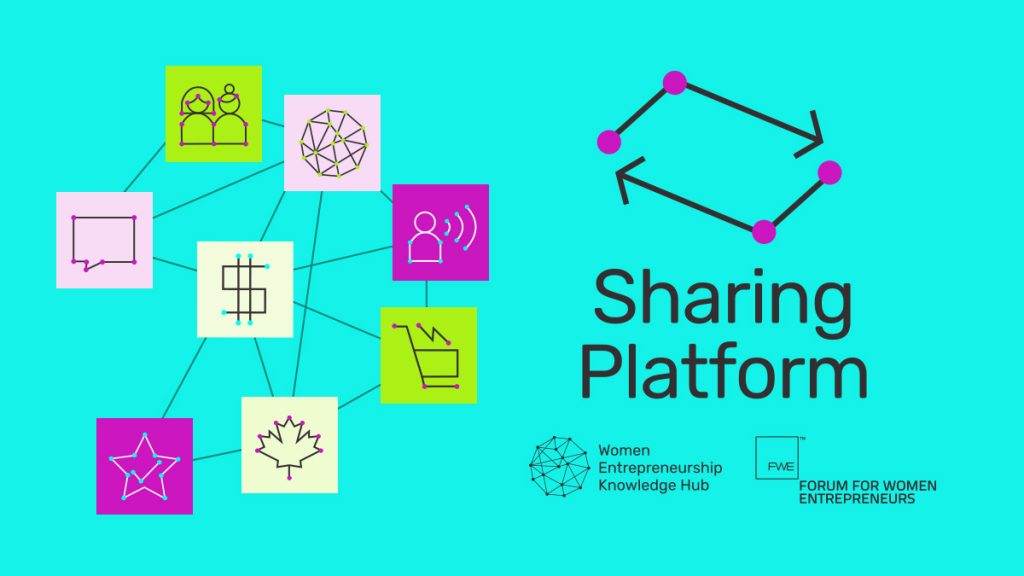 Dr. Saba highlighted how the WEKH/FWE: Sharing Platform can help women entrepreneurs across Canada overcome the crisis. The free, bilingual platform helps women-identifying and non-binary entrepreneurs and the organizations that support them more easily connect and share resources, guidance and expertise. Simply Ask for what you or your business may need, or post a Give detailing what you can offer to other members on the Platform. Learn more about the Sharing Platform and create your own account.
Connect with WEKH
Join our mailing list and follow us on Twitter and LinkedIn for the latest news about research, events and initiatives from WEKH and our network.